The WSOP on ESPN: Shulman's Triumph, Negreanu's Heartbreak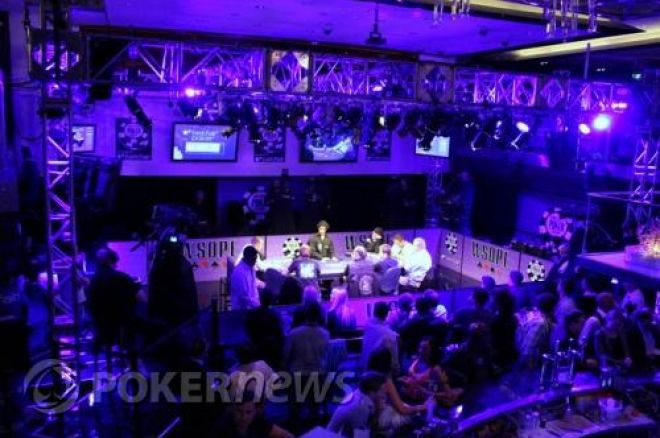 The final two episodes of ESPN's World Series of Poker-Europe Main Event coverage aired Sunday night, bringing poker fans all the drama from what was one of the most exciting final tables of the year. Multiple themes were at work on this final day of play, which ended well into the next morning after more than 17 ½ hours of flops, turns, and rivers. Dominant chip leader Jason Mercier was looking for his second title on British soil after winning the EPT London High Roller Event last year. Barry Shulman made the final table of the WSOPE Main Event in the same year that his son Jeff made the "November Nine." Two other "Niners" had accomplished the unthinkable—James Akenhead and Antoine Saout making the final table of the WSOP and WSOPE Main Events in the same year. Londoner Praz Bansi wanted to bring the title home to England. The biggest potential spoiler, however was one of the greatest no-limit hold'em tournament players of all time and a man who had been there before—Daniel Negreanu, who finished fifth in this event in 2008.
Cast of Characters: Mercier came into the final table with nearly a third of the chips in play. Shulman had perhaps the most disadvantageous position at the table, with the two largest stacks (Mercier and Akenhead) on his left. Filling out the final nine were Chris Bjorin, Matt Hawrilenko, and Markus Ristola.
Cooler costs Mercier: Negreanu set to work immediately, picking up several pots in rapid succession to increase his stack by 40%. His biggest chip infusion, however came from Mercier when Negreanu hit a set of nines on an
flop and Mercier turned a set of threes. Mercier led out on the turn, Negreanu shoved and Mercier called, the river blanking with the
to send 1.3 million Negreanu's way. Mercier lost close to half his stack on that hand.
A one-man wrecking ball: Daniel Negreanu eliminated six players at the final table. Akenhead's
lost to Negreanu's pocket kings to end his run in ninth place. Saout lost a coinflip against Negreanu for his tournament life, his pocket fives falling to
when Negreanu flopped the nut flush draw and filled it on the turn. Chris Bjorin exited in sixth place when his
couldn't catch up to Negreanu's
and Markus Ristola departed in fifth, his
unable to improve against Negreanu's
. In the second hour of the broadcast, we also saw Bansi and Mercier fall to Negreanu in third and fourth places respectively.
Well, we could have done without that: I used to be in show business. I understand the need to create drama. But those cheesy scripted intros featuring Daniel Negreanu? ("I've won 4 WSOP bracelets. I've won the WSOP Player of the Year I've won the WPT Player of the Year. The only thing that's missing is a WSOP Europe Main Event bracelet. Maybe that will change this year.") They simply must go. Don't try that again, guys.
Shulman's superfan: It was impossible to ignore (1) the beautiful full bar behind the final table and (2) the whoops, hoots and hollers of Allyn Jaffrey Shulman who screeched with glee every time her husband won a pot.
Quote of the week: "My wife's gonna have a fit" – Barry Shulman as he realizes his wife was M.I.A. when he won a big hand.
This coulda been it: With four players remaining, Shulman moved in for his last 1,075,000 with
and Negreanu called with
. Shulman outflopped Negreanu, hitting top pair on the
flop. Another ten on the turn left Negreanu drawing dead and gave Shulman new life.
Mercier's meltdown concludes: Negreanu opened for 115,000 with
, Shulman flat-called with
and Mercier three-bet shoved for nearly 1.7 million. Facing a decision for more than half his stack, Negreanu made the call, eliciting a fold from Shulman. Mercier looked like he wanted to die as he turned over his
and discovered what a dire situation he was in. The board ran out
, Negreanu eliminating Mercier in fourth place and ending his precipitous fall.
The hand of the tournament: Shulman picked up pocket aces and made it 250,000 to go. Negreanu called with
. Negreanu checked the
flop, Shulman led out for 300,000, and Negreanu put in a check-raise to 900,000 with his top pair. Shulman moved all-in.
"Is this the one?" wondered Negreanu as he stretched his arms and leaned back in his chair. "I think it is the one. I think it's gotta be one."
Negreanu called. He had Shulman covered, but was in bad shape. Then, as if a bolt of lightning pierced the roof of the Empire Casino, the
hit the turn. Suddenly, Negreanu was one card away from his fifth bracelet.
Then the
appeared on the river. Shulman made a set of aces. Negreanu looked as if he'd been stabbed.
"That didn't just happen, did it? said ESPN's Lon MacEachern. The audience hummed in stunned amazement as Allyn Shulman screamed "YEAH! YEAH! WOOOOOOO!"
It's all over now: Negreanu committed his remaining 2.2 million with
, shoving over Shulman's 250,000 opening raise. Shulman made the call and turned over pocket tens. Negreanu looked positively shattered as he saw another ten in the door, Shulman making top set. Negreanu held back tears as Shulman and his wife celebrated.
He's still on a roll: This was no one-off performance for Barry Shulman. His amazing run continued at the 2010 PokerStars Carribean Adventure where he finished in third place. It was his second million dollar-plus cash in less than four months.
It's time to build that bankroll--the 2010 World Series of Poker is less than three months away. Sign up for one of our online poker rooms and get cracking!