World Series of Poker Europe Main Event Day 5: Barry Shulman Knocks-Out Daniel Negreanu in Epic Fashion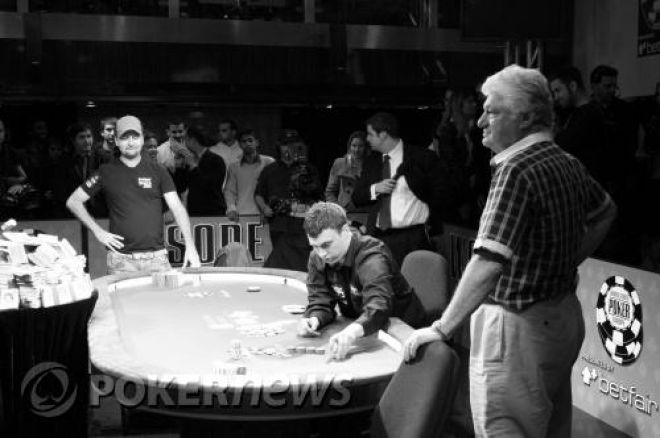 Nine players began the day at noon in the Empire Casino, London, for the conclusion of the World Series of Poker Europe Main Event, but unfortunately, only one person could walk away as the WSOPE Main Event champion. Seventeen hours after play began, play ended in a way that will forever be remembered in poker history with Barry Shulman defeating Daniel Negreanu to win his second World Series of Poker gold bracelet.
The day's play began much like the heavyweight boxing match it would end up becoming, with all the players bobbing and weaving through the early levels trying to feel one another out. The chip leader to start the day, Team PokerStars Pro Jason Mercier, wielded his large stack with some efficiency, at one point raising it from 3.1 million to 3.7 million.
The feeling-out phase couldn't last forever and when first blood was finally drawn it was the local November Niner James Akenhead who was eliminated in ninth place by Negreanu. The players were all-in before the flop with Akenhead's
needing some serious help against Negreanu's
. The kings held, and Akenhead walked away with £66,533.
Akenhead's elimination must have lit some sort of fuse because over the next hour or so the crowd at the Empire was treated to a flurry of nonstop excitement. Matt Hawrilenko was eliminated in 8th when he moved in with his short stack holding the paltry
. Barry Shulman looked him up with
, and the flop, turn and river brought no help to Hawrilenko who banked £87,074 for the eighth place finish.
The very next hand — the second and final November Niner left in this event — Antoine Saout moved all-in with pocket fives. Negreanu made the call with
, and even though he couldn't find an ace or a queen on the flop, a fifth spade on the river gave him the nut flush, strengthening his stack while busting the Frenchman in seventh place, good enough for £114,228.
With a quick two-hand break between knockouts, Chris Bjorin would be led to the exit next in sixth place, £150,267 richer. It was once again Negreanu who was the executioner, this time dominating Bjorin's
with
. The flop gave Bjorin a gut-shot straight draw, however, the turn and river would not cooperate for Bjorin, sending him off and giving Negreanu the chip lead with about 3.1 million.
With the chip lead in hand, Negreanu seemed keen to keep the pressure on his opponents and he picked on Markus Ristola next. Opening to 100,000 from under the gun, Negreanu made a surprisingly quick call with
when Ristola moved all-in with
from the big blind. When the turn brought the
, the fans cheering on the rail when Negreanu called for an ace. The poker gods were listening, dropping the
on the felt, sending Ristola home in fifth place with £200,367.
The final four broke for dinner with Praz Bansi holding the chip lead with 2.9 million, Negreanu with 2.8 million, Mercier with 2.3 million, and Shulman trailing behind with 1.9 million.
Mercier, fresh off the 90-minute break,surged to the chip lead before slipping back in the counts after getting involved in an more than 3 million chip pot with Negreanu. The players were all-in preflop and when the cards went on their backs, Mercier knew he'd need some help with his pocket sevens trailing Negreanu's pocket nines. One of two sevens did not materialize for the young PokerStars Pro and Mercier was eliminated in fourth place but good for £267,267.
Fans at the Empire were rooting against Negreanu when Bansi found himself short-stacked and all-in against Negreanu after an earlier confrontation in which Shulman left him crippled. The fans chanted for a deuce with Bansi's
battling Negreanu's dominating
but cheering did no good and Bansi was eliminated in third place, taking home £360,887.
By knocking out six of the seven eliminated players, Negreanu had the momentum, experience and a 6,180,000 to 3,855,000 lead when heads-up play began with Shulman. Those factors made him a clear favorite and it actually looked like he would seal the deal early in their match when both players saw a
flop. Shulman led out and Negreanu announced he was all-in. Shulman snap-called flipping over
for the nut-flush draw while Negreanu was ahead with two black aces. The
turn card ruined Negreanu's celebration and Shulman took a commanding chip lead.
While Shulman landed the first staggering blow, Negreanu refused to give up. His chip stack often slid into dangerous territory, which led the crowd to think the match was almost over. Without showing down many if any significant hands, Negreanu clawed back each time, never yielding to Shulman's attacks.
After a ten-minute bathroom break around 4 a.m., Negreanu made his surge. "Kid Poker" won small pot after small pot, closing the gap in a way nobody thought possible. Negreanu, who had looked like the hunted over the past two hours, became the hunter. Then, without any fanfare or huge all-in pots, Negreanu regained the chip lead, a small one at first, but one that over three to four hands grew to about 2 million over Shulman.
At just about 5 a.m. the hand that is sure to be replayed on television for years to come took place. The preflop action was unclear, but the flop came down
and Shulman bet 300,000. Negreanu responded by raising to 900,000, and Shulman moved all-in, standing up to see what Negreanu's would do.
Negreanu turned to the rail and in his typical fashion began to speak his mind saying "So you all wanna go home, right?" The responses were difficult to make out, but Negreanu retorted "ah, I shouldn't listen to the rail. I call," before flipping over the
. Shulman triumphantly flipped over the
and was in the lead, in great shape to double up.
With the crowd madly cheering for a queen, the entire room erupted when the
hit the felt, prompting Negreanu to cover his mouth with his hand to conceal his awe at now being one card away from winning arguably the biggest event of his career.
The frenzied crowd was buzzing, cheering and ready for a celebration before Tournament Director Jack Effel instructed the dealer to deal the river card. Words can't quite describe the energy in the room when the
hit the felt, catapulting Shulman to a commanding chip lead, and once again knocking the valiant Negreanu, who had just fought for hours, back down to 2 million in chips.
Although he had come back just an hour earlier from a similar deficit, this time Negreanu, who battled like a warrior all night, would not be able to regain his footing. Just a few hands later, Negreanu was all-in holding pocket fours against Shulman's pocket tens. The
on the flop was the final knock-out blow, sending Negreanu to the mat one last time. As badly as he wanted to continue, it truly was just not in the cards for him.
Negreanu, as always, was dignified in defeat, telling the crowd he was taught to never give up by his mother who is currently batting back from a stroke she suffered earlier this year. He then congratulated the new World Series of Poker Europe Main Event Champion, Barry Shulman.
Shulman, with a smile on his face and his wife at his side, gladly accepted the WSOP bracelet from Commissioner Jeffrey Pollack who congratulated him as well saying it was a very special year for the Shulman family, with son Jeff also in contention for a title during November's WSOP Main Event final table. While only time will tell what happens on the felt when the November Nine reconvene, what happened tonight at the Empire Casino will surely go down as one of the most epic final tables in World Series of Poker history.
PokerNews is the industry leader in news, bonuses, and live tournament coverage. Follow us on Twitter and please check out our Facebook page as well.