Tony G Worried About Phil Hellmuth's Mental Health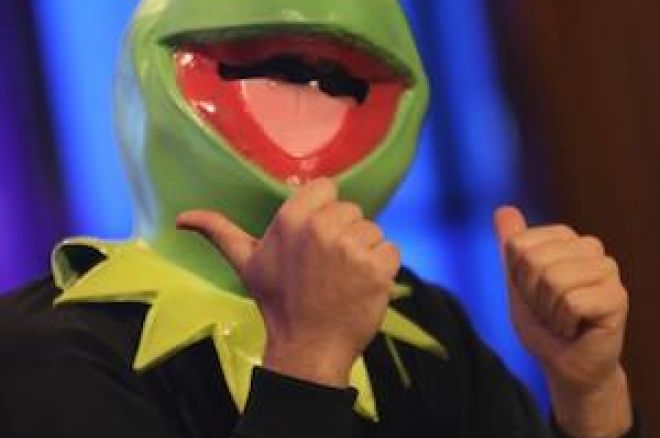 Friday night, just moments after Phil Hellmuth was eliminated in sixth place at the World Poker Tour Bay 101 Shooting Star, this image of Hellmuth curled up in a ball on the side of the stage struck a chord with PokerNews' own Tony G who is a member of Team Party Poker. Yes, that's Tony G in Kermit the Frog mask.
Tony G immediately took to his blog with an open letter to Hellmuth, letting him know he was genuinely worried.
"Dear Phil, I heard you talking in Vegas about PEMM (Positive, Exercise, Moment and Meditation) and laughed heavily. Yes Phil, all the A List action and people coming up to you recognising you all the time had flipped you out. Quite frankly, this is the sort of Hellmuth talk that makes me LMAO and opens you up to serious ridicule. Now, however, I think my attitude has changed – get well Phil! Actually, you are already there mate…I hate to see you in the state you are in in this picture and it disturbs me."
Tony G went on to stroke Hellmuth's ego, letting him know he was convinced this final table is the start of a "mega, mega comeback," so long as this Bay 101 final table does not leave "lasting psychological damage." He continued, asserting what a valuable asset Hellmuth is to the poker world, and that he hopes to see him at the PartyPoker cash game in April.
The G signed off, "I might not be feeling as generously spirited as I am now but I want you to know that the G is here in your hour of need. I have big heart, you know that." Whether or not Hellmuth reaches out to Tony after the brutal beat Friday night or decides to stick with mindset coach Sam Chauhan, with whom he has been working with for a number of weeks now is unclear. It is, however, safe to say we'd all like to see the Phil and Tony G together on a leisurely bike ride in the near future.
To read the full letter be sure to check out Tony G's blog here.
Follow us on Twitter for up-to-the-minute news, and also become our fan on Facebook.