PokerStars.net NAPT Mohegan Sun High-Roller Bounty Shootout: Jason Mercier Wins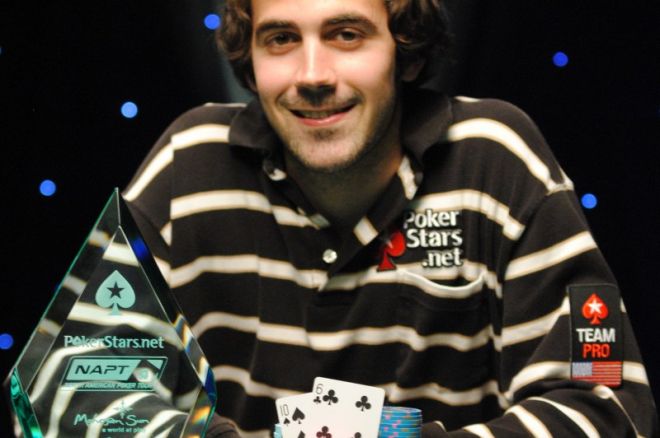 Tuesday night saw the 2010 PokerStars.net NAPT Mohegan Sun come to a close with the conclusion of the $25,000 High Roller Bounty Shootout. A stunning group of 35 poker players plopped down the big buy-in to make this event happen on Monday, but only six of them returned to play it out for the winner-take-all $350,000 first-place prize a day later. Here's how they stacked up at the final table.
Seat 1: Sam Stein – 150,000 (3 bounties)
Seat 2: Jason Mercier – 150,000 (3 bounties
Seat 3: Matt Glantz – 150,000 (2 bounties)
Seat 4: Shawn Buchanan – 150,000 (4 bounties)
Seat 5: Faraz Jaka – 150,000 (3 bounties)
Seat 6: Luis Vazquez – 125,000 (4 bounties)
As you can see, Luis Vazquez began the day at a slight disadvantage in chips. His first-round table was the only table with five players instead of six, so he brought fewer chips to the final table. When Vazquez was asked beforehand about what he thought about the ruling, he said, "It's no big deal, I'm used to starting with less chips. I'm used to coming from the bottom, this is my time to make it happen."
Starting with fewer chips may not have been a big deal to Vazquez, but the cameras proved to be. Vazquez was bluffed off trips jacks early on in the event and it cost him a good amount of chips. Matt Glantz raised to 3,000 from middle position before action moved over to Faraz Jaka on the button. He reraised to 8,000. Vazquez made the call out of the small blind and Glantz folded, leaving Vazquez and Jaka heads up to the flop.
The flop came down
and Vazquez checked. Jaka checked behind. The turn paired the board with the
and Vazquez fired 11,000. Jaka made the call before the river card produced the
. Vazquez fired 19,000. Jaka took a moment and then raised, making it 81,000 to go. Vazquez went into the tank for a little while. He seemed really confused by the raise from Jaka and eventually folded his hand, showing that he was letting the
go. Jaka showed only the
, meaning there was no way he could beat Vazquez's trip jacks.
About two levels later, Vazquez was sent to the rail when he lost a battle with top pair versus Jaka's better top pair. With all his chips gone, Vazquez mentioned that the bright lights and television cameras altered his game. He didn't want to make a mistake and fell into a different style of play. "Too much camera for me, next time I'll be ready!" he said.
About an hour after Vazquez went out, the next player was sent to the rail. Shawn Buchanan got involved with Jason Mercier, and after a flop of
, the two found all the money in the middle. Buchanan was at risk and holding the
. Mercier held a flush draw with the
. The turn card was the
and kept Buchanan alive, but the river card was the
to give Mercier a flush and send Buchanan home in fifth place.
Glantz was the next to go, and Mercier eliminated him, as well. The two picked up pocket pairs and all the money went in preflop. The only problem for Glantz and his pocket tens were that he ran into Mercier's pocket queens. After a board of
, Glantz was out and Mercier was rolling with the chip lead.
It wasn't long before the next player, Jaka, went out in third and left Sam Stein heads up with Mercier. Jaka's luck ran out when he took his
up against Mercier's
. Although Jaka got his money in dominating Mercier, someone forgot to tell Jaka how good Mercier runs. The only member of Team PokerStars Pro to make the final table spiked a seven on the flop to come from behind.
From there the match was set with Mercier pitted against Sam Stein. The two were almost deadlocked in chips when heads-up play began with Mercier holding 468,300 to Stein's 406,700.
Mercier pulled ahead first when he made a sick call with fourth pair to pick off Stein's bluff, and for the first couple of hands, it looked like he was going to run away with the show. Stein held tough, though, and battled back to the chip lead after doubling through Mercier with a straight. The two battled until the dinner break rolled around, which saw Mercier with about 449,000 chips and Stein with 426,000.
Stein began to pull away after dinner break, and it looked like Mercier left his game back at the restaurant. Then, a series of miraculous river cards turned the tables in rapid fashion.
First, Mercier was saved on the river to chop a hand and stay alive. He got all in with
against Stein's
. The board ran out
and the players split up the chips. Next, Mercier was all in with
against
. The board ran out
and another river card saved Mercier. This time, though, he was able to double up and not just chop the pot. Then, the biggest pot of the night all but finished the match.
Mercier and Stein got all the money in preflop with Mercier holding two threes against Stein's
. Stein flopped a better pair when it came
, but the turn and river ran out with the
and
to give Mercier a miracle straight. Does the online name "treysfull21" ring a bell? Well, that used to be Mercier's online name. Although he didn't make a full house, it's pretty fitting that he won the largest pot of the tournament with pocket threes.
Stein was left with just 13,000 chips after that hand. He was able to double up twice, but couldn't last more than a few hands. He fell short but did take home $75,000 total for his efforts. Mercier, on the other hand, took the lot and scored $450,000 total. On top of that, he earned the most bounties and gained a free entry to the next NAPT High Roller Bounty Shootout. Here's how the players finished at the final table.
1st: Jason Mercier - $450,000 (7 bounties)
2nd: Sam Stein - $75,000 (3 bounties)
3rd: Faraz Jaka - $80,000 (4 bounties)
4th: Matt Glantz - $70,000 (2 bounties)
5th: Shawn Buchanan - $80,000 (4 bounties)
6th: Luis Vazquez - $70,000 (4 bounties)
Be sure to follow us on Twitter for up-to-the-minute news.