World Poker Tour World Championship Day 1: Buchanan Leads Stacked Field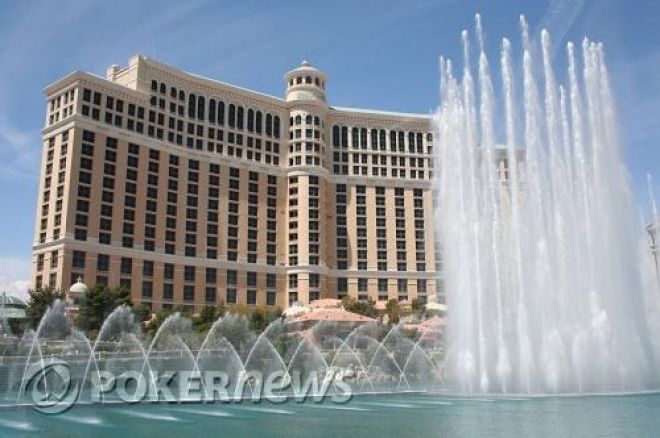 The World Poker Tour's eighth annual $25,000 World Championship kicked off Sunday at the famed Bellagio in Las Vegas. This event is lumped into an elite handful of events boasting one the toughest fields on the circuit. Although numbers were down this year, so far, with only 161 entrants compared to last year's 388, there's still an abundance of well-known players well-known players and talent.
All three previous years' champions were in the mix today. Carlos Mortensen won the event in 2007 for $3,970,415, David Chiu came back to defeat Gus Hansen in 2008 to claim $3,389,140, and Yevgeniy Timoshenko reigns as defending champion after taking home $2,149,960 last year. All three winners finished with above-average stacks, but it was Timoshenko who bagged up the most and will go into Day 2 with 277,375 chips – good enough for fourth place on the leaderboard. Mortensen and Chiu bagged up 117,300 and 140,950 respectively.
Although Timoshenko is making a big splash in his title defense, it is still early. Sitting ahead of him are David Benyamine with 291,275 chips and Brian Lemke with 298,825. Those two aren't the story though; it's Shawn Buchanan who finished out the day with the largest stack at 388,600.
Lemke was able to get most of his chips thanks to one big hand in which he sent two players to the rail. One players was young star Vivek Rajkumar. Lemke raised a pot from early position and was called in three spots. The four players took a flop of
and up first was Beth Shak after calling the preflop raise from the small blind. She checked before Lemke fired 2,500. Rajkumar was next and raised to 7,500. The next player reraised to 12,500 and Shak folded before action moved back to Lemke. He made the call. Rajkumar opted to put in another raise and made it 27,500 to go. The player behind him called and then Lemke came along as well. The turn brought the
to the board and Lemke checked. Rajkumar shoved in and the player behind him moved in, as well. Lemke made the call and had both his opponents covered. Lemke held a set of kings with the
, Rajkumar a set of queens with the
, and the third player two pair holding the
.
Lemke had both of his opponents drawing dead when all the money went in and he was able to rake in a massive pot. The river was dealt the
but had no effect on the outcome of the hand. That pot put Lemke up to 320,000, and he was able to set it in cruise control for the rest of the day.
In the last level of the day one level later, Buchanan took over the lead from Lemke after he took his pocket queens up against Kevin Saul's pocket kings. Despite being behind when the money went in, with the help of the dealer, Buchanan found a queen on the flop and went on to win the hand to eliminate Saul and move to 385,000 chips.
When the day ended after five levels of action, 138 players remained in the field. Besides the aforementioned survivors, Phil Ivey, Prahlad Friedman, Andrew Lichtenberger and Cliff "JohnnyBax" Josephy are all moving onto Day 2. As always, there are the less-fortunate ones who will be seeking their poker elsewhere including Chad Batista, Annette Obrestad, Scott Seiver and McLean Karr. Here's a look at the top ten stacks from Day 1.
1. Shawn Buchanan - 388,600
2. Brian Lemke - 298,825
3. David Benyamine - 291,275
4. Yevgeniy Timoshenko - 277,375
5. Soheil Shamseddin - 244,000
6. Chris Moore - 243,700
7. Cody Slaubaugh - 231,300
8. Phil Ivey - 230,250
9. Todd Terry - 213,825
10. Christian Harder - 211,675
The final number of entrants is expected to reach over 200 and there's still time to register for the event. Registration will remain open until 5:00 p.m. PST for those who wish to sign up late. Among those expected to show up a day late are Phil Hellmuth, Andy Bloch and Tom "durrrr" Dwan. Play resumes on Monday at noon out in Las Vegas.
Follow us on Twitter for up-to-the-minute news.