The NAPT on ESPN: Buchanan, Vazquez Lead Bounty Race in $25,000 Shootout at the Mohegan Sun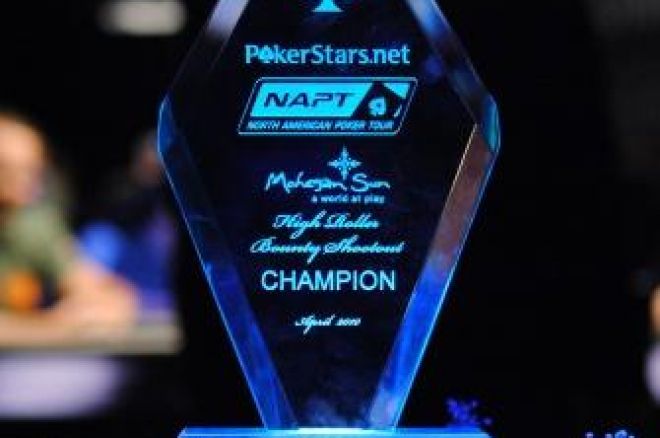 ESPN's coverage of the PokerStars North American Poker Tour turned east this week, moving from the Nevada desert to the Connecticut woods as two one-hour episodes featuring coverage of the Mohegan Sun $25,000 High-Roller Bounty Shootout hit the airwaves. Thirty-five players bought in for a shot at the winner-take-all $350,000 prize and among them were a number of repeat customers. Six of the seven Venetian Bounty Shootout final tablists were back for more at Mohegan Sun including winner Ashton Griffin, runner-up Hoyt Corkins, Joe Cassidy, Scott Seiver, Faraz Jaka, and Brett Richey. Joining them were Jason Mercier, Chau Giang, Greg Raymer, Barry Greenstein, Sorel Mizzi, and Venetian Main Event runner-up Sam Stein, who was probably hoping he'd look a lot better on television this week than he did last week.
The featured table: Captained by Daniel Negreanu, the TV table included Faraz Jaka, Sorel Mizzi, Brian Lemke, and amateur players Joe Gibbons and Perry Horwich.
Marchese falls first: NAPT Venetian Main Event champion Tom Marchese was the first player eliminated from the Bounty Shootout when he took his
up against Luis Vazquez's
. Vazquez took a commanding lead on his table with Marchese making his exit during the first level.
Stein "Steins" 'em again: Sam Stein was up to his old tricks again, catching cards like they was going out of style. He got his chips in on the turn as a 9 percent favorite, his
trailing Brian Powell's two red aces on a
board. The
, however, spiked on the river to snap off the pocket rockets, decimating Powell's stack and giving Stein an early lead.
Ease off the Red Bull, Daniel: Or is it some sort of special vegan energy extract? Whatever Daniel Negreanu was on during his stint at the TV featured table, it certainly gave him diarrhea of the mouth. He was so amused by Faraz Jaka that he called the 24-year-old pro "Jaka-Jaka" for the entire day. He tried the same with Sorel Mizzi, but unfortunately, "Mizzi-Mizzi" doesn't sound as cool as Jaka-Jaka!
Jaka-Jaka double-doubles: Faraz Jaka was the early short-stack at his table, his chip count plummeting to 6,025. Needing to make a move, Jaka moved all-in behind Daniel Negreanu's 1,100 opening raise. Negreanu made the call, his
needing to improve against Jaka's
. Jaka's hand held up and he doubled his stack to just over 13,000. A few hands later, Lemke opened for 1,025 holding
. Jaka looked down at
and three-bet to 2,400, and earned a flat-call from Joe Gibbons with
. With the action back on Lemke, he moved all-in and Jaka called. Gibbons folded, leaving Jaka at risk with his kings. The board ran out
and Jaka doubled again, but Gibbons felt sick to his stomach — had he stayed in the hand, he would have busted both players.
"S-t-e-i-n, right?": On a
flop, Greg Raymer flopped two pair with
, only Sam Stein had flopped a better two pair with
. All the money went in on the flop, Raymer groaning at the bad news. The turn was the
, no help to Raymer.
Raymer double-checked the spelling of his opponent's surname as he pulled out a Sharpie and prepared to autograph one of his trademark fossils for his executioner. The river was the
and Raymer shipped his shiny fossil, along with his $5,000 bounty over to Stein. Raymer exited the tournament after collecting one $5,000 bounty, leaving Stein three-handed with William Reynolds and Barry Greenstein.
Stein "Stein's" 'em again, Part II: All-in with
against William Reynolds'
, Sam Stein flopped top two pair and picked up his second bounty. Stein finished off his table when he eliminated Barry Greenstein with pocket aces against pocket fives and advanced to the six-handed final table with $75,000 in his pocket — $15,000 for three bounties and $60,000 for the table win.
Meanwhile, at the featured table: Sorel Mizzi was the first player eliminated from the TV table. Holding
, he moved all-in on a
flop and was called by both his opponents — Perry Horwich with
(two pair) and Joe Gibbons with
. Horwich improved to a full house on the
turn and he and Gibbons got the remainder of their stacks in the middle, as well. Gibbons was drawing only to an ace and couldn't get there, the river falling the
to give the radiologist scores the KO. Mizzi was eliminated and Gibbons' stack was decimated.
Gibbons fell to Faraz Jaka a few hands later. He limped in for 600 with
, Perry Horwich raised to 1,800 with
, and Jaka three-bet to 5,600 with
. Gibbons cold-called the reraise and Horwich called, too. The flop was gold for Jaka, coming down
to give him top and bottom pair. He led out for 1,200, Gibbons shoved with his flush draw, and Jaka quickly called. Negreanu could hardly believe his eyes when Jaka turned his hand over.
"Jaka's gambling! Jaka-Jaka!" squawked Negreanu.
"I want a heart so bad," Gibbons said as the
fell on the turn. He couldn't find one, though, the
hitting the river to give Jaka the knockout.
Sick hand of the day: In an Ivy League brawl, Harvard grad Greg Dyer took his
up against Brown alum Seiver's
. Simple coinflip, right? Wrong. Seiver flopped a set when the first three came down
. Dyer turned a straight when the
hit the turn, but Seiver bonked quads on the river when the
fell.
Daniel's radar malfunctions, part I: Faraz Jaka opened for 1,500 with
and Negreanu called with
. Negreanu hit middle pair and a gutshot straight draw on the
flop and checked over to Jaka, who bet 3,500. Negreanu called and they went to the turn, which fell the
. Negreanu checked again and Jaka bet 5,500. Something spooked Negreanu and in an uncharacteristic move, he folded the best hand.
Daniel's radar malfunctions, part II: Sick of Faraz Jaka's soul-reading and amazing ability to flop two pair, this time, Negreanu went after the lone amateur remaining at his table. Negreanu opened ace-eight for a min-raise and Perry Horwich defended his big blind with
. Horwich led out for 2,600 on the
flop, a move that made Negreanu raise an eyebrow. He called and the
came on the turn. Somehow, Horwich's 6,000 bet convinced Negreanu that his opponent had three jacks and he folded the best hand yet again. The radiologist looked positively giddy as he stacked up his chips, having taken a pot off Negreanu on national television.
No bounties for Negreanu: "You don't have a good hand, I can tell! Ha ha ha ha ha!" cackled Daniel Negreanu in a sing-song voice. After Faraz Jaka opened for 1,500 with
, Negreanu made a stand, shoving for 8,6,75 with
. Practically tasting the $5,000 bounty, Jaka decided to call.
"Just put an ace, don't do anything stupid" pleaded Daniel, but it was all but over on the
flop as Jaka flopped two pair. The
on the turn locked up the hand for Jaka with a full house and the inconsequential river card fell the
. Negreanu exited his second NAPT bounty shootout without a single $5,000 chip.
"I just got Jakaed!" screamed Daniel to the cameras in his post-elimination interview. "He's probably a nice boy but today he frustrated me to no end."
Best of the rest: Luis Vazquez eliminated Greg De Bora and Peter Jetten to collect two more bounties and win his table, the only five-handed one in the field. He picked up $50,000 for the win along with four $5,000 bounties. Faraz Jaka whittled down Perry Horwich and advanced to the final table with three bounties. Matt Glantz and Scott Seiver went heads-up on the featured table with the former options trader defeating the young pro.
Shawn Buchanan locked up the sixth seat at the final table after defeating Steve Sung. Sung moved all-in with
on an
flop and Buchanan called with
, freerolling with his flush draw. He hit it on the turn when the
fell and advanced to the final table with $80,000 for his table win and four bounties.
The final table of the NAPT Mohegan Sun $25,000 Bounty Shootout and the final table of the $5,000 Main Event both air next Monday at 9 p.m. EDT on ESPN2. Check your local listings.
Are you following us on Twitter yet? Well, why not?