The NAPT on ESPN: A Pair of Online Stars Earn Live Victories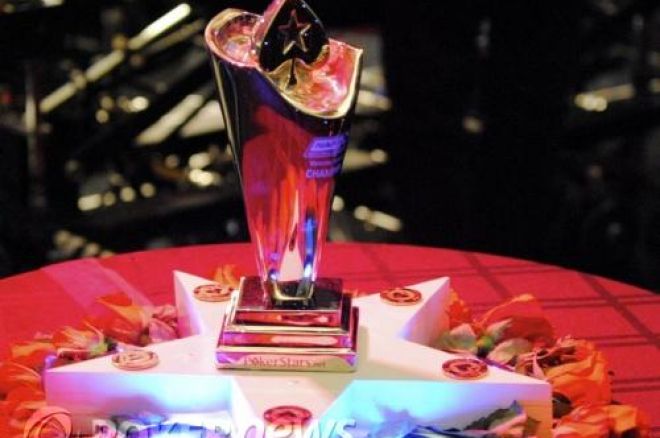 "Everyone here is in their twenties. Here I am, 50 years old," Hoyt Corkins quipped to ESPN's cameras before taking his seat at the final table of the North American Poker Tour Venetian $25,000 Bounty Shootout. In ESPN's third hour of coverage of this event, the black-clad "Alabama Cowboy" found himself up against a sextet of twenty-somethings; themselves a mixture of online superstars, high-stakes live cash-game pros, and World Series of Poker champions. Once a champion was crowned in the winner-take-all shootout, viewers got a taste of the NAPT Venetian $5,000 Main Event with a one-hour look at the final table action.
Hour one: The $25,000 NAPT Venetian Bounty Shootout final table
In the $25,000 Bounty Shootout, the final table players started out with equal chip stacks. All were already in the money, having collected $75,000 for winning their first table, as well as varying amounts of cash for picking up bounties. Additionally, the player who earned the most bounties would receive a $100,000 bonus. Scott Seiver was leading that race when the final table got underway.
Scott Seiver: $105,000 ($75,000 + six $5,000 bounties)
Hoyt Corkins: $95,000 (four bounties)
Faraz Jaka $95,000 (four bounties)
Joe Cassidy: $95,000 (four bounties)
Brett Richey: $90,000 (three bounties)
Ashton Griffin : $85,000 (two bounties)
Peter Eastgate: $85,000 (two bounties)
Eastgate falls fast: Things started out rough for Peter Eastgate and the 23-year-old Dane wasn't able to turn it around. Although he picked up pocket kings early on, Ashton Griffin had him one better with pocket aces and flopped a set to boot. Eastgate lost the minimum on that hand, but ended up running an ill-timed bluff against Seiver later on. Eastgate made a stone bluff, betting 25,000 with
on an
board. The only problem was that he had rivered a flush with
. Seiver made an easy shove and Eastgate was forced to give up the ghost.
Seiver would be Eastgate's executioner, his pocket jacks holding up against Eastgate's pocket eights. Eastgate exited in seventh place and Seiver picked up his seventh bounty of the tournament.
A man who's not afraid of color: Faraz Jaka donned another borderline outlandish outfit at the final table, his mauve button-down shirt accented with a loud paisley tie. Topping it all off? A blue fedora, naturally.
He's a...what? When Ashton Griffin isn't owning souls online as "theASHMAN103" he's - a wrestler? Must be a lightweight because the kid is maybe a buck-thirty soaking wet. And in his spare time Brett Richey is - a rapper? You know, if this poker thing doesn't work out, there could be a future for him in forming a trio with Prahlad Friedman and Jeff Madsen.
"I always have an out": We're pretty sure those words will be ringing in Brett Richey's ears the next time he lays eyes on Ashton Griffin. Holding
, Griffin opened for 6,000 from under-the-gun and Richey shoved with
. Griffin didn't like it, but he made the call. The
flop was pretty safe for Richey, but Griffin still held out hope.
"I always have an out," the 21-year-old mumbled in a voice not unlike one of those creepy kids who can see ghosts in horror movies.
The
didn't help Griffin, but the
eerily spiked on the river, fulfilling his prophecy and eliminating Richey in sixth place.
The bounty hunter: Seiver collected his eighth bounty when he eliminated Faraz Jaka, his
holding up against Jaka's queen-ten. At that point, any of the remaining players needed to knock out all the others to catch Seiver for the $100,000 bonus. Seiver ultimately fell to Hoyt Corkins after four-bet shoving with pocket fives and running into Corkins' jacks.
Fun fact #1: Hoyt Corkins has been playing poker for 32 years, longer than anyone else at the final table has been alive.
Fun fact #2: The last time Hoyt Corkins and Joe Cassidy played a final table together was five and a half years ago at the 2004 U.S. Poker Championships in Atlantic City.
Laydown of the night: Cassidy and Corkins both limped in, Cassidy with
and Corkins with
. Corkins hit trips when the flop came down
. He led out with a bet and Cassidy decided to float him in position. The
on the turn was the perfect card for Cassidy, opening up flush and straight draws for him. Corkins led out again, betting 20,000, and Cassidy made the call. The river was the
, making Cassidy's flush, but Corkins did his bidding for him, firing out 32,200. Cassidy responded by shoving for 153,300.
"Joe's all-in made all of Hoyt's hair fall out," Norman Chad quipped as Corkins tanked.
Somehow, some way, Corkins found a fold.
The cowboy vs. the wrestler: Griffin took Cassidy out in third place, locking up the bounty race for Scott Seiver and leaving the online wunderkind heads-up with cowboy Corkins. Their final hand was a bit of a cooler, both players hitting top pair on a
flop. All the money went in right there, Corkins'
outkicked by Griffin's
. Corkins could not improve and Griffin claimed the victory, earning a grand total of $560,000.
Hour two: The $5,000 NAPT Venetian Main Event final table
Just as Ashton Griffin hoisted his trophy over his head, viewers were whisked off to the final table of the NAPT Venetian $5,000 Main Event. Eight players remained out of the 872-strong field, with Sam Stein in the chip lead. Here's how they stacked up as the cards went in the air.
Sam Stein (6,135,000)
Thomas Fuller(4,735,000)
David Paredes (4,700,000)
Yunas Jamal (3,940,000)
Tom Marchese (2,370,000)
Eric Blair (1,690,000)
Daniel Clemente (1,345,000)
"Miami" John Cernuto (1,310,000)
Mama's boy: Sam Stein's mother helped her son get his start in poker by depositing money for him online. She's his biggest fan and even supported his decision to drop out of college to play poker.
One-man wrecking ball: Sam Stein knocked out three of the first four players eliminated at the final table. Eric Blair hit the rail in eighth place after Stein's
flopped top pair against his pocket sevens. "Miami" John Cernuto got his stack in with
against Stein's
and picked up an ace on the flop, but Stein hit runner-runner two pair to send Cernuto packing in seventh. Then, in the worst beat of them all, Stein five-bet shoved with pocket jacks right into David Paredes' pocket aces. Stein bonked a jack on the flop and took an overwhelming chip lead, eliminating Paredes in fifth place.
Stein gets "Steined": On the very next hand shown, Stein looked down at
and raised to 255,00. Daniel Clemente called with
and they saw a
flop. Clemente check-raised Stein's 330,000 bet to 800,000 only to face a shove. Clemente called with his middle pair, then hit running diamonds to make a flush, snapping off Stein's aces and giving him a taste of his own medicine.
Semper Fi: Daniel Clemente is a former U.S. Marine and credits the Corps for teaching him mental toughness. He has also apparently traded in his dress blues for a wardrobe by Ed Hardy. Clemente endured some wicked river beats in this tournament, but ultimately went out when he made a loose call after Tom Marchese three-bet shoved with
. Clemente's
did not improve and he ended his run in third place.
Second-place Sam: Clemente's exit left the two 22-year-olds heads-up for the title. Stein was trying to get the monkey off his back, having finished second at the PokerStars Caribbean Adventure earlier this year, while Marchese was in the midst of a great run in the high-stakes online cash games under his handle "kingsofcards."
Stein began heads-up play with a 2.5-1 chip lead, but could not close the deal. Stein relinquished control of the match after making a "hero call" that turned out to be very, very wrong. Marchese opened for 500,000 with
and Stein called with
. Stein checked the
flop over to Marchese who bet 625,000. Stein called. The turn was the
and Stein checked again. Marchese bet 1.45 million, and Stein called, Lon MacEachern referring to him as a "calling station" on-air. The river fell the
and Stein checked a third time. Marchese shipped in the rest of his stack and Stein made a hero call, somehow believing his hand was good. Marchese doubled up instead and assumed the chip lead.
Another "hero call" did Stein in, Marchese opening for 500,000 with
, and Stein calling with
. Stein checked the
flop to Marchese, who bets 675,000. Stein called and this time Norman Chad was the one to label him a calling station. When the
hit the turn, Marchese made it 1,825,000 to go and somehow Stein found another call with third pair. The river was the
making Marchese top set. Stein checked, Marchese shoved for 2,895,000 and Stein called off the rest of his chips, his instincts wrong a second, fatal time.
Stein was a bridesmaid once again, and Marchese took down his first major title, adding $827,648 to his bankroll.
ESPN's coverage of the North American Poker Tour continues next Monday at 9 p.m. EDT with the first two hours of coverage of the NAPT Mohegan Sun $25,000 Bounty Shootout.
Have you followed us on Twitter yet? Well why not?