A Closer Look at the PokerStars.net NAPT High-Roller Bounty Shootout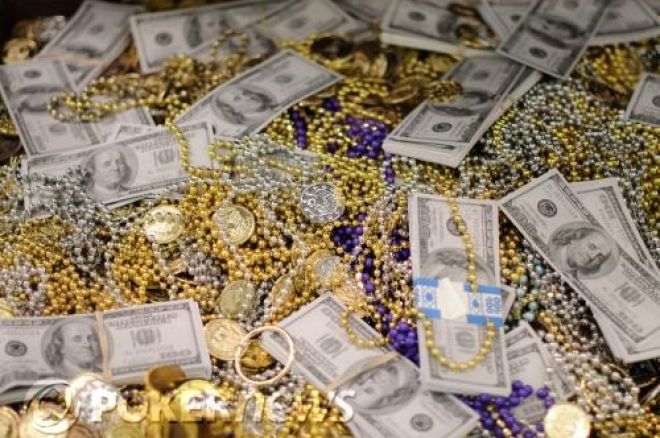 The PokerStars.net North American Poker Tour High Roller Bounty Shootout event is under way today at the Venetian Resort & Casino, and players have been eagerly anticipating this unique format and competition.
Unlike high-roller events in the past that we've seen at the European Poker Tour and at the Aussie Millions, this Bounty Shootout uses a very exciting format. Instead of using a standard multitable tournament, there will be seven single tables and only the winner of each table will advance to the final table.
For winning a preliminary table, players will earn $75,000. Each time a player knocks out an opponent, the winner earns an additional $5,000. To further the madness, PokerStars.net is tossing in $100,000 of its own money to the player who collects the most bounties.
Phil Hellmuth, who is playing today, is excited about the event. "Well, I haven't won my table in a shootout in maybe eight years, so I think I am due," he said. "I like playing against great players, because they are predictable." Hellmuth also told PokerNews that the bounty format could significantly change the way the final table is played out.
PokerNews tournament reporter Don Peters has spent a lot of time on the circuit watching these events and thinks the variations will provide for a much more exciting event for the fans. "The added gimmick of having $5,000 on each player's head, with the overall bounty winner getting $100,000 should add a lot more gamble to the tournament," Peters said. "Each all-in situation will have an extra $5,000 of equity tossed into the mix for the person looking to knock the other out."
Tony G has become a regular on the high-roller circuit and recently cashed in the $100k AUD buy-in event at the Aussie Millions. "These are the only events I want to play," he said. "I have had enough of the long boring multitable tournaments, and while the $25k buy-in is a great move, I think it needs to be $100k, with more money added. I'd even suggest a $250k buy-in once each quarter. People all around the world would be watching it."
In his mind, the bounties don't change much. "The bounties don't change anything for me," he said. "I will treat that as a small bonus, but will be out there to win the event. That's all the counts for me."
Team PokerStars Pro Daniel Negreanu is also thrilled about the event and thinks it is a great way for people to get involved at home with fantasy drafts and prop bets. Negreanu has provided extensive analysis on each of the table draws and made his picks on his website FullContactPoker.com.
PokerNews will have extensive coverage of this exciting event in both our live reporting pages, as well as with a stream of the NAPT Live broadcast.
Interested in playing a shootout tournament yourself? PokerStars has plenty for you, so sign up now for a PokerStars account and get a great bonus.