PokerStars.net North American Poker Tour Day 5: Tom "Kingsofcards" Marchese Is The Last Man Standing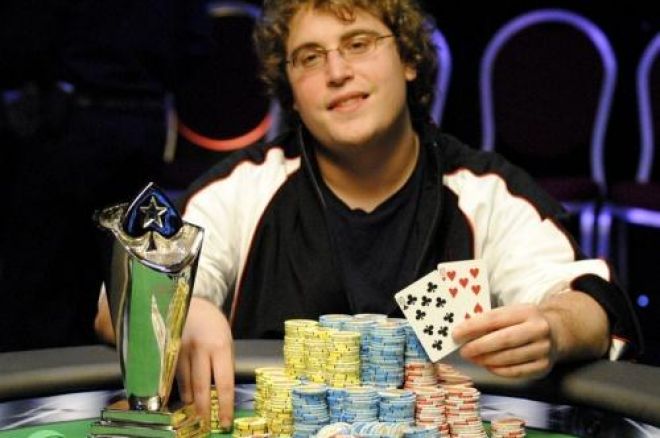 The final table of the PokerStars.net North American Poker Tour Venetian was a tale of two stories: (1) the sheer dominance of Sam Stein who came into Wednesday's final table as chip leader and proceeded to obliterate the table; and (2) Stein's fall during heads-up play during which the newly crowned champion, Tom "Kingsofcards" Marchese, turned the tide in little over an hour and accumulated all of Stein's chips on his way to victory. For the win, Marchese earned $827,646 and the honor of being the first NAPT champion on American soil.
When play got heads-up, Stein enjoyed a 16.38 million to 9.46 million chip lead over Marchese. Stein employed his bulldozer strategy early on, pushing back all of Marchese's attempts to snatch a few early pots. It seemed as if the match would be over quickly, with Stein disposing of Marchese much like he did the rest of the final table. David Behr, PokerNews tournament reporter, noted that "Marchese's body language indicates that right now he's just trying to hang on."
Hang on is exactly what Marchese did, and just a few moments after it looked like a Stein win was a certainty, Marchese made his move. The two players went to a
flop, and Stein checked to Marchese who bet 625,000 getting a call from Stein. The
hit the turn, and again Stein checked, allowing Marchese to fire a second bullet. This time his bet was 1.45 million, and Stein made the call. When the
hit on the river after Stein checked a for a third time, Marchese slid his entire stack into the middle. Stein stood up, had a look at the stack and announced "call." Marchese flipped over
, which was a monster next to Stein's measly
, and put Marchese in the driver's seat with the chip lead.
Just ten minutes later, Stein's day was all over as the two saw a
flop. Marchese led out for 675,000 and Stein made the quick call. The
on the turn got Marchese firing out again, sliding 1.825 million into the pot. Stein went into the think tank before making the call. When the
hit on the river, Stein checked and Marchese moved all-in. After thinking things through for five minutes, Stein finally made the call. Marchese leaped from his seat as he tabled pocket tens for top set, which he immediately knew was good even before Stein rolled over his inferior
.
While over a half million dollars is nothing to sneeze at for Stein's second-place finish, anything but a win must be a disappointment. It seemed as though he was destined to win this title. He came from behind hitting two-pair to eliminate "Miami" John Cernuto when Cernuto held top pair against Stein's middle pair after they were all-in on the flop. Stein then got it in bad again with top pair, which was well behind Daniel Clemente's overpair, but was saved by two running cards to make Stein a straight. In yet another situation, Stein eliminated David Paredes when both got it all-in preflop, Stein holding pocket jacks and Paredes pocket aces. A jack materialized immediately on the flop, sending Parades to the rail. That is the cruelty of poker, one minute you have it and the next you don't, and Sam Stein is a great reminder of how quickly things can turn around in this game.
Kristy Arnett caught up with the new NAPT champ right after the win.
Final Table Results:
1. Tom Marchese - $827,648
2. Sam Stein - $522,306
3. Daniel Clemente - $309,366
4. Yunus Jamal - $241,064
5. David Paredes - $184,816
6. Thomas Fuller - $ 144,639
7. John Cernuto - $ 104,461
8. Eric Blair - $ 60,266
Although this leg of the PokerStars.net NAPT is almost over, there is still plenty of time to qualify for the next stop at Mohegan Sun. Sign up for a PokerStars account today, and start grinding your way to the final table.