The PokerNews Mailbag: NBC Heads Up Poker Championship, NAPT and More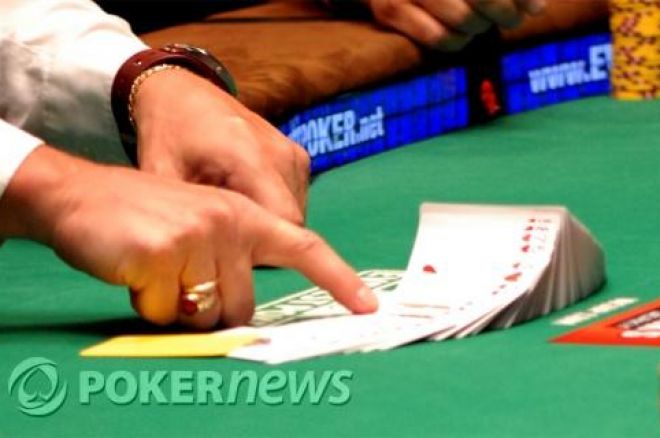 In this edition of the PokerNews mailbag, we dig into the NBC Heads-Up Poker Championship, discuss the impact of the PokerStars.net North American Poker Tour, and weigh in on which players are standing out so far in 2010.
What are your thoughts on the NBC Heads-Up Championship field? — James, Ann Arbor, MI
First off, I'd like to just say that the NBC Heads Up Poker Championship is by far one of the most exciting, fun poker tournaments of the entire year. This will be its sixth year, and although I missed the first one, I'm very fortunate to have been in attendance for the last four years. That being said, I think that while, yes, this tournament does have a considerable amount of weight and prestige, it is very much a made-for-television event and seems to be following that road more each year.
I think seven qualifiers are just too many for this event. With only 64 spots and so many deserving players left out of the mix, why allow ten percent of the field to come from online qualifiers? I understand it probably has a little something to do with sponsor dollars, but do we really need that many qualifiers? Mix that ten percent with another handful of players who are only in the field because they make for good TV and I think you've got maybe 40 to 45 great players in this field.
I really like the automatic bids that the producers introduced last year, like the Bluff and CardPlayer players of the year getting automatic bids, as well as players who won two or more bracelets at the WSOP during the trailing year also getting bids. I'd actually like to see more of those automatic bids or at least more of a process for selecting the rest of the field. Maybe a media and a player poll similar to what happens in college sports. People often compare this event to college basketball's March Madness, so why not stick with that theme and allow for a little more competition and hype around the selection process. I am not saying to eliminate the biggest names in poker because I realize this event is going to be broadcast on national television, but I think the poker community is filled with unique, interesting, and very talented poker players, and that too many of them are left out of this field to make room for someone like Don Cheadle.
Have there been any players that have surprised, or impressed you so far this year? — Louis, Ontario, Canada
The first half of the year in poker is very exciting to me. We are still in the pre-WSOP stage, meaning most of what people will remember about 2010 is still unwritten. Having paid very close attention to the tournament circuit so far this year, though, I'd have to say Dan Shak is a name and story that stands out for me. Here is a guy who has a very successful career outside of poker, yet he still has enough passion and love for the game to travel the circuit and to compete at an extremely high level.
Shak has five cashes so far this year, all in main events. He not only won the Aussie Millions high-roller event, but he also beat Phil Ivey heads up. Shak then rode the momentum into the Aussie Millions main event and just missed the final table, finishing 11th.
Whether or not Shak can continue at this pace is uncertain. Between jet-setting around the world, going deep in every poker tournament he seems to play, while running back and forth between a laptop for work and the poker table, the man is sure to need some sleep soon. Right?
Other players who have impressed me this year are Hoyt Corkins, who has earned himself nearly a million already in 2010; Sorel Mizzi, who had a great Aussie Millions; and Annette Obrestad. Although Obrestad has not won anything huge yet, she had a good Aussie Millions with a win in one of the prelims and a deep run in the Main Event. I am interested in seeing what she does now that she is old enough to legally play in Vegas. If you haven't been doing so already, keep an eye on her for sure.
The NAPT Venetian had a massive turnout, was it because it's the first ever NAPT or do you think the next stop will be this big too? — William, Las Vegas, NV
I can't even tell you how excited I am about the PokerStars.net North American Poker Tour. People have been talking about it for years, and to see it finally happen is absolutely amazing. We finally get to witness the power of online feeders to major events again on our own continent.
The driving force behind the absolute peak of the poker boom, when Jamie Gold won the World Series of Poker Main Event, was the abundance of online qualifiers. Now that players can once again win seats online to tournaments close to their homes, I think we may see the beginning of a second wave. I think the NAPT Venetian field could easily have reached 1,000 players if the venue and PokerStars had allowed for it. And I think at Mohegan Sun, and wherever the NAPT decides to go next, we will regularly see fields exceeding 1,000 players. Then, once the first few event air on ESPN, the buzz for the NAPT will only get stronger.
Unlike others who feel the NAPT will hurt the World Poker Tour, I tend to think the two will complement one another nicely. Many people believed the WPT LA Poker Classic would see smaller numbers because of dates so close to the NAPT Venetian's. Clearly that has not been the case, with this year's LA Poker Classic exceeding 700 players and paying out over a million to both first and second place. I am not going to give the NAPT the credit for drawing those players to LA because Matt Savage and his tournament staff put on absolutely amazing events, but I do think the two events being back-to-back in a similar region benefited them both. I hope this trend will continue and that both the NAPT and WPT can live alongside one another giving poker players all the tournament action they can possibly desire.
Want to weigh in with some questions, or thoughts of your own? Head over to our Facebook page to discuss, leave us a comment below, or start up your own blog right here at Blogs.PokerNews.com.