2010 World Series of Poker: Bets Bigger Than Bracelets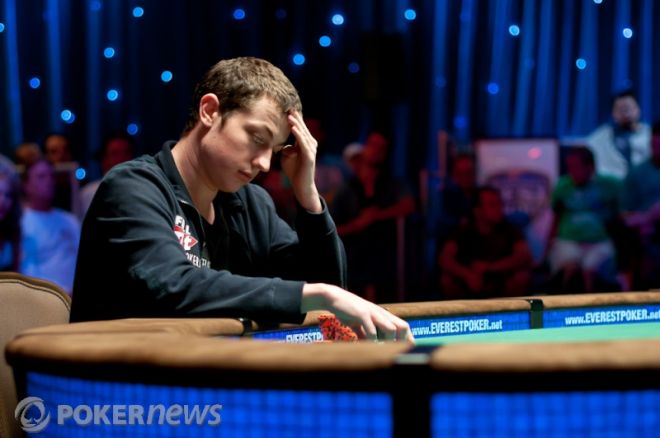 The biggest story so far at the 2010 World Series of Poker is not about someone winning a bracelet. It's about someone not winning one.
Most of us mere mortals sweat tournament pay jumps. Seventh-place money might buy you a new Acura, but third could buy you a house. For many of the seasoned pros making their homes at the Rio this summer, the WSOP always has been more about bracelets than money, but this week inside the Amazon Room, the dedicated souls who stuck around to watch Tom "durrrr" Dwan make a run at his first bracelet got to witness the largest pay jump in WSOP history — and it's not a number you'll find on the official payout sheet.
Second place in Event #11, $1,500 NLHE paid $381,885 and first paid $614,248, a difference of $232,363. To put that pay jump in perspective, it's the equivalent of a decent-sized pot in Dwan's regular pot-limit Omaha game on Full Tilt. But as Erik Seidel wrote on Twitter that night, "durrrr was a player away from winning the Main Event of the WSOP 5 months early."
I heard the number $9 million floated around a lot that night as the amount Dwan could have won in his bracelet bets against a cabal of high-limit pros. The following day, Mike Matusow said in interviews that the actual number was closer to $12.5 million. So that whole thing about "bankrupting the poker economy?" It really wasn't too far off.
The WSOP evolves almost as constantly as the game of poker itself. It has always been a proving ground — a place for anyone to come out, show what they're made of, and join the elite fraternity of bracelet winners. With the massive infusion of amateur players in the post-Moneymaker era, the WSOP also became a great value for professional players. Not only were there bracelets to chase after but also some seriously inflated prize pools, especially in the large-field no-limit events. There was also television. From 2004 through 2006, ESPN taped a heavy schedule of preliminary events. Many high-stakes cash-game players decided to get up from their chairs in the Bellagio poker room and take the WSOP more seriously, hoping to land on a televised final table. There were sponsorship dollars in play for some, but for others like the late Chip Reese, they just wanted to have their kids see them play on television.
Over the last two or three years, the WSOP has evolved even further, especially for the nosebleed-stakes crowd, the Bobby's Room regulars, and sponsored pros. A lot of those pros that made those televised final tables did land sponsorship deals. Some of them invested in business ventures that by now have paid them enough money that they never have to pick up two cards again if they don't want to. Others have made fortunes playing online. A World Series of Poker bracelet still has as much meaning as it ever has; any pro without one wants one and any pro with one wants another. But the one thing that drew them to play the game in the first place was gone: feeling like you're walking on the edge of a cliff and are just about to fall off. The money always has to matter. Losing always has to hurt.
Enter the bracelet bet.
Phil Ivey doesn't want to sit around and grind out a $1,500 no-limit event with a 3,000-player field. He probably doesn't want to play a $2,000 Omaha eight-or-better event where first place is less than a buy-in at his regular game either. But when millions more are on the line, you bet he does. Last summer, the $96,367 Ivey won in addition to his seventh bracelet in the $2,500 2-7 Lowball event went unclaimed in the Rio's cage for weeks. The estimated three to six million in side bets he won with that victory, however, were probably collected in a far more timely fashion.
The 2010 WSOP has seen the bar on bracelet bets kicked into the stratosphere. I don't know if guys like Ivey and Dwan got so sick on the "Isildur1" rollercoaster last fall that their appetites for and ability to withstand the swings of such heavy action increased, but the amount of money on the line in some of this year's bracelet bets is approaching Andy Beal vs. "The Corporation" territory. In addition to the eight figures Dwan stands to collect if he wins a bracelet this year, Howard Lederer has a bet with Phil Ivey that he cannot win two more bracelets by the end of the 2011 WSOP. The price tag? $5 million.
Sure, the bets are obscene. Sure, it's sick to think that for this crowd tens or even hundreds of thousands of dollars is not enough to make them really sweat. But I was in the Amazon Room that night. I watched 170 players take their seats in the $10,000 Seven-Card Stud Hi-Lo event and a good percentage of them had absolutely no interest in the hand in front of them. It was all about Dwan. They hung on floor supervisor Robbie Thompson's every word as he called out Dwan's bets and raises. They leapt to their feet during all-ins and craned their necks to see the cards on the monitors above the stage. I hadn't felt that sort of electricity at a poker tournament since the moment Phil Ivey took the stage at last year's November Nine.
For me, the most remarkable thing about Dwan's loss wasn't the amount of money the poker economy saved. It wasn't the sight of Mike Matusow and Daniel Negreanu literally skipping across the Amazon Room as their bankrolls were saved. It was the fact that at 3:00 the following afternoon, Dwan took a seat behind the 17,000 or so chips that were bagged up for him at the end of the night after he anted off nearly half his starting stack in the $10K Stud 8. Less than 12 hours after finding the wrong end of a $12 million money jump, he was right back on the horse. He was smiling, he was joking, he was just as determined.
And he was in his favorite spot once again. Walking the edge of a cliff.
Be sure to follow us on Twitter for up-to-the-minute news.