As the World Series Turns: Sports Center Highlight Reel Edition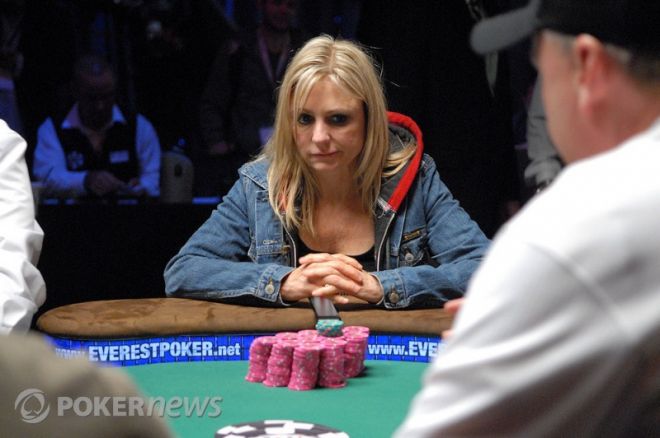 Poker isn't a sport, you say? Don't tell that to the people who showed up at the World Series of Poker this week. The World Cup came early in Las Vegas, complete with packed stadium seating for durrrr's final table, cheers being volleyed across the room by rabid British fans, and even a bracelet winner who celebrated by ripping his shirt off. Yes, this week the Rio was definitely host to an episode of Sports Center highlights.
Durrrraments: Every sports season has an almost pivotal moment, a failed Hail Mary or a full-court three-pointer that bounces out ― a shot that just might have changed the sport itself if only it had been two inches to the left. No one really knows how great the impact of a Tom "durrrr" Dwan victory would have been on high-stakes poker, but it's probably best for the natural order of things that we avoided a treasury crisis for now.
Dwan was one buzzer-beater away from winning somewhere in the neighborhood of $10 million in bracelet bets with most of high-stakes poker's regulars. The Rio crowd held their breath (and/or screamed at the top of their lungs and inhaled drinks as fast as the cocktail servers could bring them) as durrrr sat down at the final table as the chip leader. But Dwan came up just short of bankrupting his buddies, finishing second to Simon Watt. "Exhale..." tweeted Howard Lederer.
Sometimes the Bad Guys Nguyen: Men "The Master" Nguyen won his seventh WSOP bracelet this week in the $10,000 Seven-Card Stud Championship. He's not exactly poker's most beloved character, but in the real world, the Washington Generals win on occasion. After playing with established pro Brandon Adams all day, Nguyen still couldn't get his heads-up opponent's name right. Adams handled Nguyen's "all you can eat" antics and his insistence on calling him Brian, with dignity, but he couldn't outlast The Master. Nguyen, whose career achievements have asterisks by them in the minds of many, convinced a short-stacked Adams to go all-in blind on the last hand. Adams made a pair of queens on fourth street, but Nguyen slowly peeled a king on seventh to make a higher pair and secure the victory. Most of the media were able to muster a golf clap.
Relive the final hand here.
Ladies' Event: With the Ladies' Event coming up this weekend, the Rio is buzzing with poker's version of the Title IX debate. Think what you'd like about the philosophical issue, but JJ Liu and Jennifer Harman-Traniello have made it clear that they're not waiting around for a "softer field" to get to the final table. Liu was the first female final tabler of the series. She finished third in the $1,500 Pot-Limit Hold'em event won by James Dempsey. And Harman-Traniello (whose twins showed up at the Rio sporting Full Tilt patches) took third in the $10,000 Stud Hi-Low Championship.
Apocalypse Alert: You may want to head to your bunker now. Yes, folks, Allen Kessler got heads up for the $10,000 Stud Hi-Low Championship bracelet. The Chainsaw finally found a structure he could work with and showed this tournament who's boss. Frank Kassela ultimately took home the title (in an event he only had time to register for because he bubbled the FT of a $1,500), but Kessler won $276,486 for second place. That's a whole lot of food comps.
Paging Brandi Chastain: Pretty sure this was a World Series of Poker first. Pascal LeFrancois won Event #8, a $1,500 No-Limit Hold'em tournament. At 3:00 a.m., after outlasting 2,340 opponents over three difficult days, LeFrancois prepared to take his winner's photo ― and promptly ripped off his shirt. The French Canadian's shirtless pose is the official WSOP winner's photo for the event and is now displayed in the glass cases at the Rio alongside all of the other fully clothed bracelet winners.
Check out the photo here.
Blame It on the Brits: One country has taken competitive spirit to the next level. Pro Praz Bansi, surrounded by his compatriots, kicked off the British invasion by winning his second career bracelet in Event #5, a $1,500 No-Limit Hold'em tournament. The next day, Neil Channing kept England interested at the final table of the $5,000 No-Limit Shootout, eventually falling heads up to American Joshua Tieman. But their rails were nothing compared to the soccer (excuse us, football) stadium crowd that turned out to cheer James "Flushy" Dempsey on to victory in Event #9, the $1,500 Pot-Limit Hold'em tournament. For hours, Dempsey's well-hydrated fans sang and chanted. Some of the rowdiest were kicked off the final table stage. Standing on the other side of the ropes, they started call-and-response cheers with their friends across the table. Dempsey's heads-up opponent, Steve Chanthabouasy, had his own group of vocal American fans, but eventually their "USA! USA!" chants were silenced by Dempsey's win. We've already heard God Save the Queen twice at the World Series now. Who knows how crazy things will get if we have occasion to hear it again?
Can You Schmel What the Vlad is Cooking?: Do you have Vladimir Schmelev's rookie-of-the-year card? It's OK. We don't either. Although Schmelev had two WSOP cashes in 2007, one of them a sixth-place finish, no one had really heard of the Russian businessman until he showed up at the Rio on Day 1 ready to rumble. He made himself hard to miss, finishing second to Michael Mizrachi in the $50,000 Players' Championship. Then he final-tabled the $10,000 Stud Championship along with Mizrachi, finishing seventh. Schmelev made an incredible third final table (out of 15 completed events to date), finishing seventh again in the $10,000 Stud Hi-Low Championship. He's the man to beat in the player-of-the-year race and has made sure he won't be overlooked again.
Salad Bar Roulette: Last week we told you the concession stand of choice at the Poker Kitchen was the salad bar. And while they still have delicious candied pecans, it may not exactly be the nuts. There are quite a few unconfirmed cases of food poisoning that players are attributing to the salad bar, so we'll amend our recommendation to say "approach with caution." We're not ready to write it off entirely yet. After all, no money in wraps. Everyone's salad.
Don't forget to follow us on Twitter and Facebook for up-to-the-minute news and poker updates.