2010 World Series of Poker: Dissecting the Tournament of Champions Sudden Death Sit-n-Go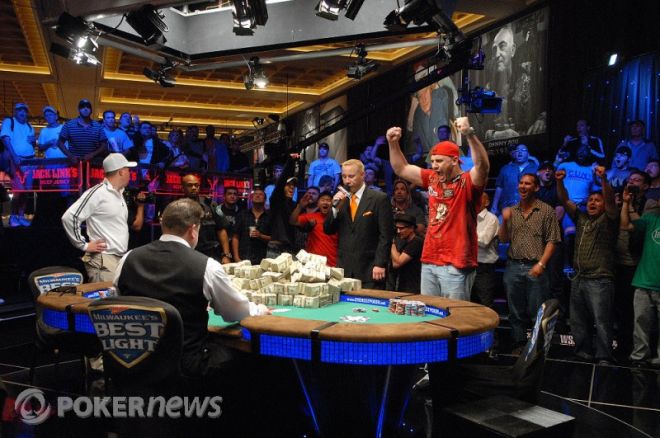 On Tuesday, the World Series of Poker Academy announced it would be holding a nine-person sit-n-go to award its sponsor exemption entry into the World Series of Poker Tournament of Champions. With the sit-n-go itself taking place Thursday afternoon, there has been two days' worth of chatter about the event, and more importantly, the selection of the players who will have a shot to win.
As described by the official WSOP press release, the Tournament of Champions is "the premier all-star event in all of poker." The freeroll invitational features 27 players with Annie Duke, Mike Matusow and Mike Sexton each earning an automatic bid because they won previous WSOP TOCs, while the reigning WSOP Main Event champion, Joe Cada, and the reigning WSOP Europe Main Event champ, Barry Shulman, also have seats locked up. Another 20 players will be voted in by the public; however, to be eligible, players must have won at least one WSOP bracelet. The final two seats are considered sponsor exemptions and may be given out at the sponsor's discretion.
When I first glanced at the headline on Tuesday and saw that the WSOP Academy was holding a sit-n-go for its seat I thought it was a great idea, until that is, I looked at the list of players. While sure, they are all big names, I'm not sure I'd be happy with the majority of them having a shot to win the World Series of Poker Tournament of Champions. Maybe if it was called the WSOP Tournament of Mostly Champions, it'd be better, but it's not. The winner of this sit-n-go has as legitimate a shot as any of the other players in the field.
In my opinion, if the WSOP Academy wanted to offer up its seat using this method, it should have waited until voting was closed and looked at the WSOP champions who were left out of the top 20. The Academy could have either taken the nine highest vote getters who did not get selected or the nine players with the highest WSOP bracelet count who were not voted in. I'm sure there are other ways it could have been done while maintaining the integrity of the title "WSOP Champion."
Let's have a closer look at the nine competitors and why out of the nine players there is only one person I'll be legitimately rooting for to join the other 25 WSOP Champions.
Players with No Poker Accomplishments: Don Cheadle
Unless you've been living under a rock, you know that Don Cheadle is a Hollywood actor. He's done great things philanthropically with Ante up for Africa, and he's been invited to the NBC Heads-Up Championship the past few years, but lets face it, he doesn't even belong in the debate for this tournament. End of discussion.
Players with No Major Tournament Titles: Tom Dwan, Sorel Mizzi and Andy Bloch
While there is no question that all three of these players are amazing poker talents, none has won a major tournament title (WPT Main Event, EPT Main Event, WSOP bracelet, NBC Heads-Up Championship). Dwan has crushed souls for years at the high-stakes cash games and came close to his first bracelet last week, finishing second to Simon Watt. Other than that and a WPT final table, Dwan has never had a major tournament breakthrough.
Mizzi, a tournament specialist, has had an absolute breakout year so far in 2010. He is leading numerous player-of- the-year races and has won a slew of tournaments this year; unfortunately, none has been a major title. He's one of the game's great young talents, so I wouldn't be surprised to see him with a bracelet by the end of the year, but he is not there just yet.
Andy Bloch has probably had the most successful WSOP career of the nonbracelet winners in this group. Always the bridesmaid, never the bride has been Bloch's mantra, and his most memorable runner-up finish was in the inaugural $50,000 H.O.R.S.E. championship, which he lost to the late Chip Reese. Bloch has seen his share of major event final tables, but just has been unable to close. Until he does, unfortunately, he should not have a shot to win the WSOP Tournament of Champions.
Players with Major Tournament Titles: Gus Hansen, Liv Boeree, Paul Wasicka, and Bertrand "ElKy" Grospellier
These players all have a major win under their belts. Whether it's a WPT, EPT or NBC Championship, at least one of the two key words in WSOP Tournament of Champions can be argued. Gus Hansen, has had the most prolific career out of this lot with three WPT titles to his name but has yet to break through at the World Series of Poker. If I had to pick one nonbracelet winner to represent in the TOC, it would be Hansen based on his career results.
Paul Wasicka was so close to winning it all when he finished second to Jamie Gold in the 2006 WSOP Main Event. Since then, Wasicka has made a WPT final table, won the 2007 NBC Heads-Up Championship, and most recently won a WSOP Circuit main event. Wasicka has also served as a WSOP Academy instructor, so in all honesty, I wouldn't be crushed if he won a seat.
Liv Boeree is the most recent champ on this list, having notched her first major tournament victory at the EPT San Remo in April. Boeree seems to have legitimate poker chops, and there is no doubt she is among the top females in the game today. Is that enough to earn a chance to win a WSOP Tournament of Champions? Sadly, no.
It seems as if Bertrand "ElKy" Grospellier has won just about everything there is to win in poker. He's notched WPT titles, EPT titles, EPT high-roller titles and a slew of big online poker events, as well. One area, however, where Grospellier has yet to prove himself is in Vegas during the WSOP. If he won the TOC seat, it wouldn't be a travesty, but I certainly could not root for him to take it down among so many true WSOP champions.
Players with a World Series of Poker Bracelet: Michael "The Grinder" Mizrachi
Michael Mizrachi has won his fair share of WPT titles and has been a force in poker for some time now, and his 2010 WSOP $50,000 Players Championship is a crowning achievement. Although the win took place less than two weeks ago, he is the one legitimate WSOP champion in this group of nine, so he's got my support. Take this seat Grinder!
The World Series of Poker Tournament of Champions gets underway on June 27 and PokerNews will be bringing you live coverage, photos, chip counts, videos and more from the event in our WSOP live reporting pages.