2010 World Series of Poker Day 32: Eskeland wins Event #48, Scott Montgomery has a Chance to Win Bracelet #2 and More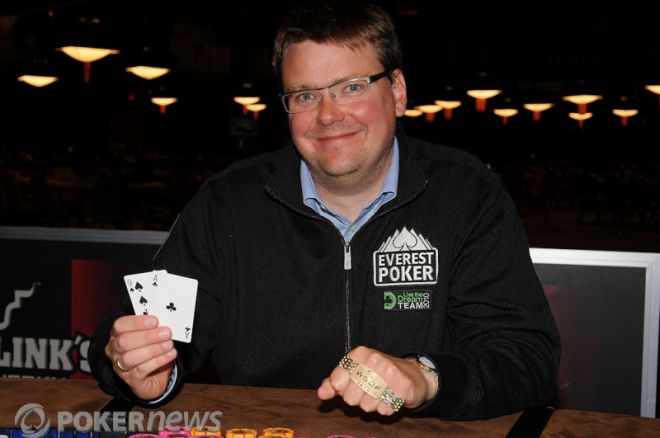 Scott Montgomery, after winning Event #36, has a chance to join Frank Kassela as a two-time bracelet winner this year, if he can stay alive through Day 3 of Event #47. Sigurd Eskeland became the third player with Norwegian roots to win WSOP gold when he took down the field in Event #48. Kevin Schaffel, 2009 World Series of Poker Main Event final table-maker, dominated the field in Event #50, eliminating Scotty Nguyen and severely crippling Mike Matusow and more.
Event #47: $1,000 No-Limit Hold'em
Scott Montgomery is one of the 33 players left in Event #47 and could possibly join Frank Kassela as a two-time 2010 WSOP bracelet winner: Montgomery won the previous $1,000 no-limit hold'em event, Event #36.
Manuel Davidian will return for Day 3 as the chip leader with a stack of 889,000, followed by Adam White, Jason Riesenberg and Owen Crowe. Five players will return to stacks smaller than 100,000; Ari Buchman, Todd Neary, Ilya Andreev, Jason Lower and Sean Urban, but a short-stack can easily be turned into a large stack if you play things right.
See who comes out as the winner and who goes home when the players return Tuesday at 2:30 p.m. Follow the action with our WSOP live reporting pages.
Event #48: $2,500 Mixed Event
Sigurd Eskeland took a year-long break from his job as an elementary school teacher in Oslo, Norway, to play poker full-time and, with a win in Event #48, it appears he has a new profession now. While this wasn't his first cash, prior to the win, Eskeland cashed in the 2008 WSOP Main Event for just over $35,000, he said this time it was one of the most unbelievable feelings he has ever had in his entire life, comparing it only to the birth of his two daughters.
Eskeland becomes the third player with Norwegian roots to win WSOP gold, joining Thor Hansen and Annette Obrestad in the history books. The win was not an easy won to secure: to become the final chip-holder Eskeland had to survive a final table that included Steve Sung, Scott Seiver, Matt Vengrin, Kirill Rabstov and Jared Jaffee.
Our WSOP Live Reporting Team was there for the whole thing.
World Series of Poker Tournament of Champions
Day 2 of the WSOP Tournament of Champions came to an end with 17 of the 27 players still alive. Play was slow but in that slow play we got to see just why these players are in the Tournament of Champions.
Becoming one of the best players in poker means that you can not only play the hands you play for maximum value, but that you also know when to fold those really, really hard to fold hands. Such a scenario played out between Johnny Chan and Scotty Nguyen when Nguyen raised to 2,400 and Chan called from the button to see a flop of
. Both players checked to see the
on the turn and again checked to see the
on the river. Nguyen fired out a bet of 4,000, causing Chan to fold pocket queens face up. No one knows just what Nguyen was holding but obviously Chan had reason to believe he was beat and folded a hand that most players would have trouble letting go.
Mike Matusow leads the 17 players who are left with a stack of 85,000 and when the players come back for Day 3 it will be Bertrand Grospellier, Antonio Esfandiari and Barry Greenstein who will have to play with short stacks: the three all have less than 30,000 but they are in this tournament for a reason and are not to be counted out.
Check out our WSOP live reporting pages for all the updates.
Event #49: $1,500 No-Limit Hold'em
Day 1 was as fast as they come in Event #49, so fast that after nine levels of play players were being eliminated at a rate of 4.5 per minute.
An event this size, 2,500+ players, really gives us a chance to see how and why players go on tilt. Shannon Shorr just couldn't get anything going after starting this tournament off strong, hitting quads early on. As play progressed Shorr's early big stack was methodically cut down and took a severe blow when he got into a big pot holding
versus an opponents
- the opponent just happened to flop two pair and Shorr wasn't able to improve on that. Soon after he was eliminated from the tournament.
Other players get the luck they need - depending on which player you talk to. An unknown player got all his chips in the the middle holding
verses an opponents
, causing unknown #1 to announced that he "needed to get lucky." Indeed he did, the board ran out
to keep him alive.
The 315 players who made it through Day 1 will return Tuesday and the race to the money, 270 players will cash and the PokerNews Live Reporting Team will be there to cover it all.
Event #50: $5,000 Pot-Limit Omaha
Kevin Schaffel, 2009 WSOP Main Event final tabler, used Event #50 to show why he was a member of the November Nine. Throughout the day Schaffel cut through the chips stacks of his opponents and by the end of the night he and former Main Event winner Scotty Nguyen had the biggest stacks in play. The two got into a pot-re-pot war after a flop of
before Nguyen moved all in for 80,000. Schaffel just barely had him covered and made the call. Nguyen turned over
for the queen-high flush draw while Schaffel opened up
for the top set. The
on the turn gave Nguyen the flush and it looked as though Schaffel would be crippled to the point of near elimination but the
on the river quickly changed everything. Schaffel's rivered boat sent Scotty to the rail - ouch baby!
Schaffel and the remaining 172 players will return for Day 2 at 3 p.m. Tuesday and our live update crew will be there to bring you all the suck outs, bust outs, and everything else from the WSOP tournament floor.
On Tap
Event #51: $3,000 Triple Chance No-Limit Hold'em will begin at 12 p.m. Tuesday.
Follow along with PokerNews' WSOP coverage for all the action.
Video of the Day
Gloria Balding went on another one of her adventures recently. This time, she took PokerStars Team Pro Canada Greg Debora along with her. The two saddled up and and took a couple of horses out for a sunset ride through the desert.
Follow us on Twitter for up-to-the-minute news.