2010 World Series of Poker Day 33: Event #47 Extended Another Day, Event #50 Plays Out Slow, and More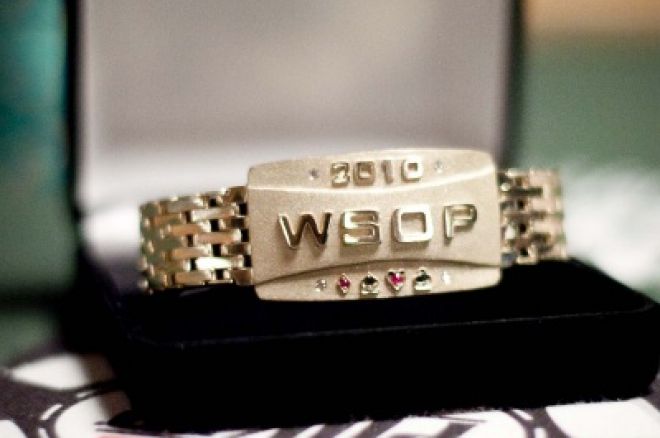 Players returned to Day 3 of Event #47, but around 8:30 p.m. Tuesday night, after the final nine were reached, tournament staff decided to extend the tournament to a fourth day. Event #50 played out sluggishly until Ryan D'Angelo called a giant bluff by Men "The Master" Nguyen on the bubble and caused a flurry of minimum cash exits during the last level of play and more.
Event #47: $1,000 No-Limit Hold'em
What should have been a three-day event turned into a four-day event after it took five hours to reach the final nine during Day 3 of Event #47. Tournament staff decided around 8:30 p.m. Tuesday that the final nine players would not play down to a winner that night but rather would return for a fourth day instead.
Manuel Davidian, who began Day 3 as the chip leader, saw his hopes for WSOP gold dashed when he became the unfortunate final-table bubble boy after running his pocket queens into Chuan Shi's pocket kings. Hitting the rail before Davidian was Scott Montgomery, who lost his chance for a second bracelet when his king-jack failed to hold up against Jason Riesenberg's king-queen.
Adam White, Allan Baekke, Shawn Busse, Owen Crowe, Ilya Andreev, Chuan Shi, Jason Mann, Pekka Ikonen and Wenlong Jin will start the race to the winner at 2:30 p.m. Wednesday.
You can catch all the action with our WSOP live updates.
Event #49: $1,500 No-Limit Hold'em
Event #49 is down to 23 players but with John Myung, Mihai Manole and Johnathan Spinks (an online pro from the United Kingdom) in the mix, plenty of talent is left to make the field interesting.
Michael Linn will return for the final day of play as the chip leader, having amassed a stack of 1,410,000 in a few key hands. Snapping at his heels is Manole, who, with a stack of 1,253,000 is the only other player with more than 1 million. At the opposite end of the field is David Venture who will return to a wee stack of 53,000 when play resumes on Wednesday.
Roland De Wolfe, Kelly Kim and David Pham were among the casualties of the day.
The remaining players will return at 3 p.m. Wednesday and our WSOP live update crew will be there to bring you all the action.
Event #50: $5,000 Pot-Limit Omaha
No one was really surprised when chips were bagged at the end of Day 2 in Event #50 with no final table in sight. Half the field came back for Day 2, and, for a while, it looked as though the players would not even get down to the 45 who would make the money. That all changed after an incredible bluff by Men Nguyen was called by Ryan D'Angelo during the final level of the night.
After a flop of
, Nguyen moved all-in for 107,000 on a pot that already held 123,000. After some consideration and hesitation, D'Angelo made the call and demanded that Nguyen show his cards right away. The dealer opened Nguyen's hand to reveal
, a surprise to D'Angelo and everyone else. D'Angelo showed his
and the board ran out
to send an embarrassed Master to the rail as the bubble.
After the bubble burst, a flurry of players who were finally in the money made their exits and went straight to the cash cage.
The 31 players who remain will be back for Day 3 at 3 p.m. Wednesday and play to a winner.
Follow along at our WSOP live reporting pages for all the action from the felt.
Event #51: $3,000 Triple Chance No-Limit Hold'em
For the first five levels, Event #51 played out a little differently than most no-limit hold'em tournaments, giving us a glimpse of different strategies from players trying their best to last long enough to make Day 2. Some players used their rebuy chips right away; others held off and were willing to do a little more gambling.
Frank Kassela saw his rebuy chips and stack eaten up before the end of level one and was forced out when he ran his
into an opponents
on a
board. Tommy Vedes, David Singer, Gavin Griffin and James Akenhead were just a few of the notables lucky enough thrive on Day 1. Vedes and Singer will return for Day 2 as the chip leaders with stacks of 237,000 and 204,000 respectively.
When the 189 players still around at the end of Day 1 return for Day 2, play should return to the normal style of no-limit hold'em that we have been seeing in tournaments so far this summer.
See who lasts another day by following along with our WSOP live updates beginning at 2:30 p.m. Wednesday.
On Tap
Event #52: $25,000 No-Limit Hold'em Six Handed will begin at 12 p.m. followed by Event #53: $1,500 Limit Hold'em Shootout at 5 p.m.
The PokerNews WSOP Live Reporting Team will be there covering the action every step of the way.
Video of the Day
Kristy Arnett visited Maria Mayrinck and David Baker's apartment at Panorama Towers to see how the Brazilians do the World Cup.