PokerNews Op-Ed: The 2010 WSOP Tournament of Champions, Where it's 2004 All Over Again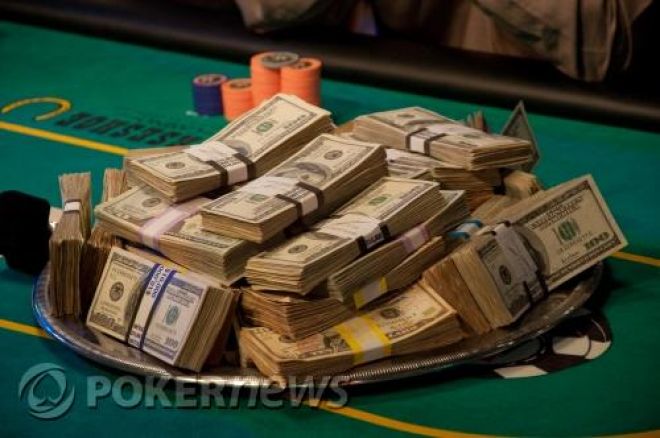 There's a reason democracy is difficult. Whether it's a presidential election, the finals of American Idol or the World Series of Poker's Tournament of Champions, we don't always get the results we want. Just ask supporters of John McCain, Crystal Bowersox, or any of the dozens of young poker legends-in-the-making who have recently found themselves on the wrong end of the ballot box.
Your average poker fan was probably not too surprised at the results of the voting for the 2010 WSOP Tournament of Champions. After all, it is a wall-to-wall collection of pros that came to prominence in the salad days of televised poker. However, for the "inside the beltway" crowd around the Rio and on poker forums across the world, the results were more than a little disappointing. Heck, I was disappointed myself, especially after undertaking such a painstaking process when it came to casting my ballot. Where were the young superstars; the Jason Merciers and J.C. Trans of the poker world? Where were the European players like Peter Eastgate or Max Pescatori? And hold on a minute ― Sammy Farha made the Top 20? Had he not reappeared in Las Vegas and won a bracelet a few weeks ago, Farha would be the true "WTF?" pick on this list. Seriously, Farha but not Chris Moneymaker? In case you've all forgotten, he's the reason most of us in the Amazon Room are here right now.
Instead of representing the champions of today's game, the lineup for the 2010 TOC is a throwback to the poker world of six years go. Back then, Howard Lederer actually had to play poker for a living and even won a few tournaments. Now he needs to make seven-figure bracelet bets simply to keep himself interested in grinding it out for another day at the Rio. The last time Lederer won an open event with a field size over 25 players was in April 2004, yet he made it in with votes to spare. Johnny Chan may have ten bracelets and two Main Event titles, but he has hardly been a presence at the WSOP this year. Chan has played only two events so far and the All-In Energy Drink he had been touting for the last several years at the Series has been conspicuously missing from the tables this summer along with him.
Additionally, a pair of players whom I wouldn't even consider casting a vote for because of some inappropriate personal behavior at the WSOP made the Top 20. T.J. Cloutier infamously pawned one of his bracelets earlier this year before Cake Poker graciously bought it back for him. Should that type of blatant disregard for the bracelet really be rewarded with a ticket to a million-dollar freeroll? With the drunken buffoonery he displayed during his 2008 Player's Championship win, Scotty Nguyen disgraced the very legend of Chip Reese that the tournament honors and celebrates. Should simple popularity trump the kind of disrespect for his opponents Nguyen showed that night?
But like I said before, in an election, your candidate doesn't always win. And in this particular election, there was only one requirement for candidacy: win a bracelet. Therefore, if 5,130 people had mobilized and voted in Russ Hamilton, he'd be taking a seat this afternoon instead of 20th-place vote-getter Antonio Esfandiari. That's right. 5,130 votes. As one two-time bracelet winner told me on the day the lineup was announced, "If I knew then that 5,000 votes was all it took, I'd have worked a lot harder to get in. I thought I was drawing dead."
In the first year of public voting, mainstream visibility proved to be the key to winning a TOC seat. It wasn't social media campaigns or viral videos that earned these 20 players their votes (although Jennifer Harman's YouTube campaign did reveal her to be quite the comedienne). It was the sort of visibility garnered from years of television exposure that pushed up one's vote total. A whopping 65% of the players who were voted in have appeared or are currently appearing in a television commercial for an online poker site (Harman, Phil Ivey, Daniel Negreanu, Doyle Brunson, Phil Hellmuth, Chris Ferguson, Allen Cunningham, John Juanda, Erik Seidel, Howard Lederer, Joe Hachem, Greg Raymer, and Esfandiari).
So how did my own picks fare? Six of the 20 players I voted for got in (Brunson, Negreanu, Seidel, Cunningham, Juanda, and Greenstein). Not to disparage any of those six ― they are all obvious legends of the game and more than deserving of their seats ― but if I were to do it all over again, I probably would have shifted more of my votes to the lesser-known players who ended up really needing them. I'm still a fan of having a public vote decide a portion of the TOC field, but I suppose I just wish that the players coming of age on television today had the audiences their predecessors did. Perhaps in future editions of the TOC, the field of bracelet winners could be narrowed in some manner to better reward more recent World Series of Poker accomplishments. Confining the ballot to even the last five years of bracelet winners would still result in a lot of the TV-friendly, popular players getting a nod. Negreanu and Juanda won bracelets in 2008. Seidel, Cunningham and Hellmuth scored wins in 2007. And Phil Ivey won his eighth bracelet only a few days ago. However, some of the more recent champions like Brock Parker, Eric Baldwin, and Jason Mercier might have a fighting chance of getting voted in under such a scenario.
2003–2005 was the heyday of televised poker. It's when the ratings were highest, the game's popularity was at its zenith, advertising dollars flowed freely, and the UIGEA wasn't a glimmer in anyone's eye. This year's TOC field is in one way a nostalgic look back to that era of post-boom poker but also a very contemporary reminder that by in large, these are still the faces poker fans want to see. And with a Day 1 ESPN featured table that includes a brother-sister duo, an outspoken Canadian, two World Champions, a craps degenerate, a magician, a Frenchman fond of loud sparkly hoodies, and a man who never met a bottle of Michelob Ultra he didn't like, it should at least be entertaining.
PokerNews will be following the Tournament of Champions from wire to wire. Check out all the updates right here in our WSOP live reporting pages.
The opinions expressed here are those of the authors and do not necessarily reflect the positions PokerNews