2010 World Series of Poker: Deconstructing the $50K and Declining Donkament Fields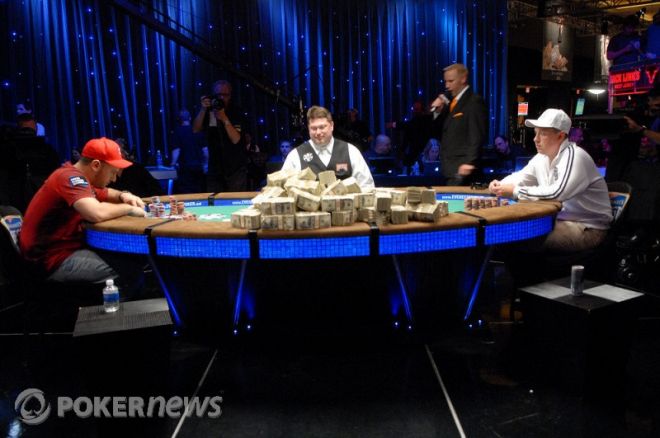 The first week of the 2010 World Series of Poker is in the books, eight bracelets have been awarded, and the 58,000 square feet of additional playing space in the Rio Convention Center's Pavillion Room isn't the only reason the WSOP feels a little emptier this year.
Numbers are down nearly across the board, and although the $50,000 Players' Championship saw a 22% uptick in entries, it was quite a different event than the one held a year ago. Not only was the format changed from H.O.R.S.E. to an 8-game mix, but the tournament was scheduled at the beginning of the WSOP rather than midway through. Additionally, this year's Players Championship was one of only three events ESPN is taping for broadcast. Pundits and players alike thought the return of the TV cameras could perhaps draw the 140-150 players the event saw between 2006 and 2008, or perhaps even a number closer to the 201 who bought in to last year's $40,000 NLHE event. However, even the conservative line set by the media on Day 1 of the $50K came in at 125.
As we took a closer look at the 116 players who entered the $50K in 2010, several themes began to emerge. Here are some of the trends we noticed as we broke down the field.
Young players make a strong showing
Turning the $50,000 H.O.R.S.E. event into an 8-Game championship brought out a powerful contingent of young players, many of whom play in the highest-stakes NLHE and PLO cash games online. Tom Dwan, Phil Galfond, Cole South, Brian Townsend, David "WhooooKid" Baker, Nick Schulman, Isaac Haxton, Mikael Thuritz, David Benefield, Ashton Griffin, Justin Bonomo, Alexander Kostritsyn and Brian Hastings certainly all fall into this category, and a few of them (Dwan, Galfond, Townsend, Kostritsyn and Bonomo) have played in this event for several years now. A number of players better known for their NLHE and PLO tournament results also turned out, including Jason Mercier, Joe Serock, Scott Seiver, Dario Minieri, Tuan Le, Sorel Mizzi, Daniel "djk123" Kelly, Shawn Buchanan, Marco Johnson, and Mike "SirWatts" Watson. This year, the young cash gamers fared better than the young tourney pros. Baker (6th), Thuritz (8th), Schulman (9th) and Kostritsyn (10th) all made the money.
Some younger players who previously gave the $50K a shot and were missing this year? Matt Hawrilenko, Jon "Pearljammer" Turner, James "mig.com" Mackey, David Williams, Joe "Joe Tall" Bunevith, Brian "tsarrast" Rast and Kirill Gerasimov.
Dude, where's my patch?
Pros sponsored by or affiliated with a major online poker site comprised 46% of the $50K field this year (53 of 116), a slight uptick from 43% of the field (41 of 95) in 2009. Here's how they break down by site:
Full Tilt Poker– 36 (up from 30)
PokerStars – 11 (up from 6)
Ultimate Bet - 2
Doyles Room – 2
Titan Poker – 1
Party Poker – 1
Notable $50K no-shows
Ville Wahlbeck, Mike Wattel, Ray Dehkharghani, and John Kabbaj all cashed in this event in 2009 but did not play in 2010. Other notable absences included Johnny Chan, Allen Cunningham, Annie Duke, Mike Sexton, David Grey, John Hennigan, Gabe Kaplan, Jason Gray, Ali Eslami, Frank Kassela, Jani Sointula, Jery Buss, Cory Zeidman, Bruno Fitoussi, Max Pescatori, Andy Black, Fabrice Soulier, Rob Hollink, Jim Bechtel, Rafi Amit, and Brandon Adams.
One woman, 115 men
The number of female players in the $50,000 Players Championship reached a high watermark in 2007 when seven women (Jennifer Harman, Annie Duke, Cyndy Violette, Kristy Gazes, Isabelle Mercier, Jerri Thomas, and Maureen Feduniak) bought in. This year, however, only one woman played — Harman.
It's the Economy, Stupid
The $50,000 Players Championship isn't the only event that drew a lower-than-anticipated number of entrants. Thus far, the fields in the lower buy-in NLHE events are anywhere from 7 to 27 percent smaller than they were in 2009. There are numerous factors at work here that are contributing to the lower numbers. For one, the U.S. economy is still seriously shaky and recreational players have less disposable income to spend on travel and tournament buy-ins. European pros are feeling the crunch, as well. Across the pond, the Euro is tanking, and the Players Championship probably had a lot more appeal when the Euro was trading at $1.58 than the $1.20 it is today — it's lowest level in more than four years. There's also the simple fact that many international players are just not here yet, choosing to depart for Las Vegas a bit closer to the Main Event. Finally, there are far more $1,000 and $1,500 buy-in events on the docket this year. While there was only one $1K "Stimulus Special" in 2009, there will be six this summer.
Aside from the $50K, the only events that saw a significant increase in field size were two of the higher buy-in tournaments offered this week — the $5,000 NLHE Shootout and the $2,500 2-7 Triple Draw. For all you stats lovers, here's a more detailed look at the tournament entry numbers through the first ten events:
2010 World Series of Poker tournament entries, Events #1-10
Event #1 – $500 Casino Employees NLHE, 721 players, down 16.7% from 2009 (866 players)
Event #2 - $50,000 Players' Championship, 116 players, up 22% from 2009 (95 players), down 22% from 2008 **
Event #3 - $1,000 NLHE, 4,345 players, down 27.7% from 2009 (6,012 players)***
Event #4 - $1,500 Omaha 8 or better, 818 players, down 11% from 2009 (918 players)
Event #5 - $1,500 NLHE, 2,092 players, down 25% from 2009 (2,791 players)
Event #6 - $5,000 NLHE Shootout, 358 players, up 27.8% from 2009 (280 players)
Event #7 - $2,500 2-7 Triple Draw, 291 players, up 13.2% from 2009 (257 players)
Event #8 - $1,500 NLHE, 2,341 entries, down 7% from 2009 (2,506 entries)
Event #9 - $1,500 PLHE, 650 entries, up 2.6% from 2009 (633 players)
Event #10 - $10,000 Seven-Card Stud, 150 players, up 5.6% from 2009 (142 players)
**= format changed from H.O.R.S.E. to 8-Game
***= this was the only $1,000 NLHE event offered in 2009. Six are scheduled this summer.
There's a bit more variety on tap with Events #11-20. While four of them are small buy-in NLHE events, there are also $1,500 PLO and Triple Draw tournaments on the schedule, two $10,000 buy-in World Championship Events, and the $5,000 NLHE event, which always draws a tough, pro-heavy field.
PokerNews will be at each and every WSOP event this summer from the first flop to the final river. Keep up with all the action on our Live Reporting page and for even more instant gratification, follow us on Twitter.