2010 World Series of Poker Day 4: Mizrachi Brothers at Final Table, Rosewood Leads Event #4 and More Players Sit Down for NLHE
Diana Cox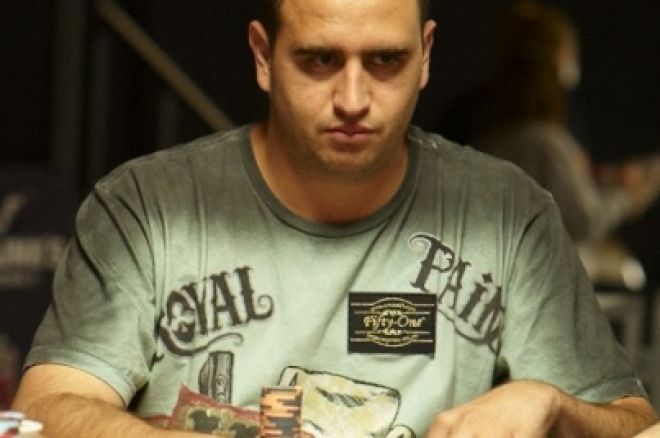 Monday was an action filled day at the Rio for the 2010 World Series of Poker with four tournaments all happening at once. Robert and Michael Mizrachi will go down in WSOP history as only the second set of brothers to make a final table together, after outlasting the rest of the field in the Players Championship. Sasha Rosewood has taken over the lead in Event #4, Drew Crawford leads the 41 players remaining in event #3, and only 223 of 2,092 players remain in Event #5.
Event #2: $50,000 Poker Players Championship
The final table of the Players Championship will be a family event for Robert and Michael Mizrachi. The two brothers will be seated at the final table at 3 p.m. Tuesday at the Rio, Robert as chip leader with 3,125,000 and Michael with 2,620,000. Brother up against brother at a final table is a rare event at the WSOP It's worth noting that the Mizrachi brothers will only be the second set of brothers to be in such a position in WSOP history. They followRoss and Barney Boatman who both made the pot-limit Omaha final table at the 2002 WSOP.
Robert will be looking for his second bracelet, and Michael, after being in the position of chip leader during Day 3, will be playing for his first.
The final table was set late Monday night after the elimination of Nick Shulman who was sent home in ninth place and with a $152,739 payday.
Follow all the twists and turns of the final table here.
Event #3: $1,000 No-Limit Hold'em
Day 2 was a mass exodus to the rails, and only 41 players were fortunate enough to still have their chips and a seat when play concluded for the night. Drew Crawford, sitting on the biggest stack with 800,000 in chips, will surely have a target on his back when Day 3 gets under way. But as has been proven time and time again at the WSOP, anything can happen.
Thousands upon thousands of hands were dealt during the day, giving players and spectators alike the chance to see some extremely rare beats and chops unfold.
One such hand played out when Nancy Todd Tyner moved all-in with
and found a caller in Robert "E-Dolo" Scott who revealed
. After a flop of
, Tyner looked good for a double-up. The
on the turn made an uncommon but not unheard of board and kept Tyner in the lead with three of a kind, and Scott nearly - but not quite - drawing dead. The
on the river made a flush on the board and caused a chop pot between the two surprised players.
Follow all the live action today at 3 p.m.
Event #4: $1,500 Omaha Hi-Low Split-8 or Better
When the chips were bagged at the conclusion of Day 2, it was Sasha Rosewood who had the most with just under 400,000 to begin Day 3. Close on his heels will be Jeff Madsen who will begin Day 3 with 148,000 in chips and David Bach with 107,000. Former Main Event winner Huck Seed, short-stacked but still very much alive, will start the day with 57,000.
Day 1 chip leader Oleg Shamardin found himself at the opposite end of the spectrum on Day 2 when he busted out in 59th, taking home $3,629, a mere fraction of the $1.1 million prize pool.
With all the slicing, dicing, quartering and chopping, a few players have gotten caught up in the action and forgotten that in Omaha it's required to table all four cards to collect on a pot. One such player was reminded by Michael Binger after Binger hit the nut low and six-high straight holding
on a board of
. His opponent showed
for the nut low but nearly lost the entire pot to Binger who pointed out that to win any part of the pot he had to show all four cards. Fortunately for the forgetful player, his cards were just on the edge, but not quite in the muck, where the dealer flipped them to reveal
.
Check back for updates on Day 3 Tuesday here.
Event #5: $1,500 No Limit Hold'em
A little more than 2,000 players filed into the Rio for the second open no-limit hold'em event of the 2010 WSOP Monday, about half as many entrants as Event #3.
At the end of the day, Stephen Foutty led the 223 remaining players with 207,400 in chips, trailed closely by Dwyte Pilgrim with 202,000.
As is usual with NLHE tournaments, many pros sat down hoping to win another bracelet but will not be around to play Day 2. Humberto Brenes, Jeff Williams, Jerry Yang, Eugene Todd and Kenny Tran were just a few of the many who will not be back Tuesday.
Play will get under way at 2:30 p.m. Tuesday, follow all the action here.
On Tap
Event #6: $5,000 No Limit Hold'em shoot out will begin Tuesday at 12 p.m., and Event #7: 2-7 Triple Draw Lowball gets under way at 5 p.m. Check out the Live Reporting page for all the updates, chip counts and more.
Video of the Day
Gloria Balding caught up with John Aguiar on break at Event #2. He has already cashed in the event and is "running like Usain Bolt." He also made a prediction for the $50,000 Players Championship, but you'll have to watch the video to see who his pick is.
Remember, follow us on Twitter for up-to-the-minute news.