2010 World Series of Poker Day 37: Dan Kelly Wins First WSOP Bracelet and Phil Gordon Wins Ante up For Africa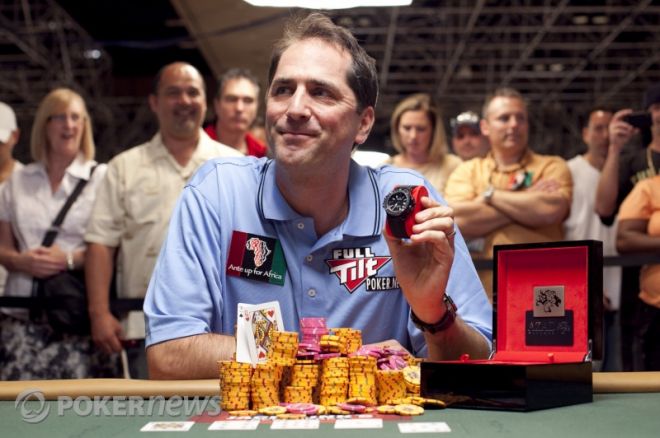 Day 37 at the World Series of Poker was one of the last before the main event begins on Monday, and it saw Dan Kelly win his first WSOP bracelet, Phil Gordon take down Ante up for Africa and much more.
Event #52: $25,000 No-Limit Hold'em / Six Handed
After four days of play, Dan "djk123" Kelly took home $1,315,518 and a WSOP bracelet by winning the first ever event of its kind.
Kelly's game plan Saturday was apparent from the moment he sat down in front of his five competitors. He was active and aggressive, and his chip stack continued to swell as the first few players fell by the wayside. First to drop was Eugene Katchalov, followed shortly by Mikael Thuritz and Jason Somerville, which made the event three-handed.
At that point, Frank Kassela was still trying for a remarkable third bracelet of the Series, but his attempt failed courtesy of an eight-outer that sent him to the cashier's desk in third place.
That left Kelly heads up with Shawn Buchanan with, the latter holding a slight chip edge as the duel began. Kelly worked quickly to erase that deficit, though, and the big bets being fired from both ends of the table made it apparent that the match wouldn't last long. With more than three-quarters of the chips in play in the final pot of the day, Kelly managed to find a three-out ace on the river to eliminate Buchanan as the runner up and put the bracelet around his own wrist.
Check out how the final table played out in our WSOP live reporting pages.
Event #54: $1,000 No-Limit Hold'em
On Saturday, 586 players returned from a starting field of 3,844. When the day ended, only 47 still had a shot at taking home a WSOP bracelet. Leading the way going into Sunday's Day 3 are David Peters, Sean Prendiville, Matthew Schulte, Menhui Chadudhari and Dustin Sorrance-Bowman.
Among those going out with cashes Saturday were Toto Leonidas, Thomas Fuller, Jena Delk, Thuyen Doan, Grayson Ramage, James Dempsey, Chris Klodnicki, Tony Dunst, and husband and wife Jorge and Isabel Carvalho. Later in the evening, we saw George Lind, Al Krux, Mikael Johansseon, Eelke Arjaans, Van Nguyen, and Kara Scott also having realized a small profit in this one.
Follow all the Day 3 action in our WSOP live reporting pages.
Event #55: $10,000 Pot-Limit Omaha Championship
When play began on Saturday, it looked like it could be a historic day for poker with Tom "durrrr" Dwan sitting as the chip leader and an opportunity to win his first WSOP bracelet, and Phil Hellmuth hanging on in search of his 12th WSOP bracelet. Neither succeeded. Both found the rail and will have to wait it out for some new hardware.
The nine remaining players unanimously voted to call it a night and come back on Sunday to play the final table. The field is led by Ludovic Lacay, who has about 2.3 million. He's followed by Daniel Alaei, Dmitry Steimak, Team PokerStars Pro Alexander Kravchenko, and the shortest stack, Migurel Prouix.
Keep your eyes on all the final-table action in our WSOP live reporting pages.
Event #56: $2,500 No-Limit Hold'em
About 75 of the original 1,941 played will come back from Day 3 on Sunday for what is supposed to be the last day of play, and the chip leader is James Mackey who, with over 1 million in chips, has about double the next biggest stack. Mackey will be joined by Jon Turner, Dan Shak, Isaac Baron, Melanie Weisner, Court Harrington and Mike Wattel, who all made it through a long day of poker.
Play will get back under way Sunday afternoon with the original plan being to reach a winner. However, because of the large field, it's likely the final table will not be played until Monday afternoon.
You can follow all the action in our WSOP live reporting pages.
$5,000 Ante Up For Africa Poker Tournament
This year's fourth Annual Ante Up for Africa Charity poker tournament created a prize pool of $408,240. We don't know how much of that money was donated back to the charity, but we do know that champion Phil Gordon donated 100% of his winnings like he did when he made the final table of this event last year.
Gordon was bright red with embarrassment after his win. Most of that was no doubt because runner-up Shannon Elizabeth gave him a hug and then jumped up and wrapped her legs around his waist.
"I know this isn't a bracelet event, but it feels like one," Gordon said in short remarks after the tournament concluded. Elizabeth expressed similar sentiments.
"I wish the rest of my WSOP had gone the way this tournament went," Elizabeth said.
Matt Damon, Jeff French, Motel Williams, David Alan Grier, and Shane Warne were among the celebrities who took the felt, although only Elizabeth represented the Hollywood contingent at the payout cage.
This tournament isn't the only time that players can make donations to and help Ante Up for Africa. Players can also contribute at AnteUpForAfrica.org
Have a full look back at all the highs and lows in our WSOP live reporting page.
Video of the Day
PokerNews hit the red carpet for Ante up for Africa and here were the highlights.
Follow us on Twitter for up-to-the-minute news, and also become our fan on Facebook.