2010 World Series of Poker Day 43: Assouline Leads; Collopy and Selbst Close Behind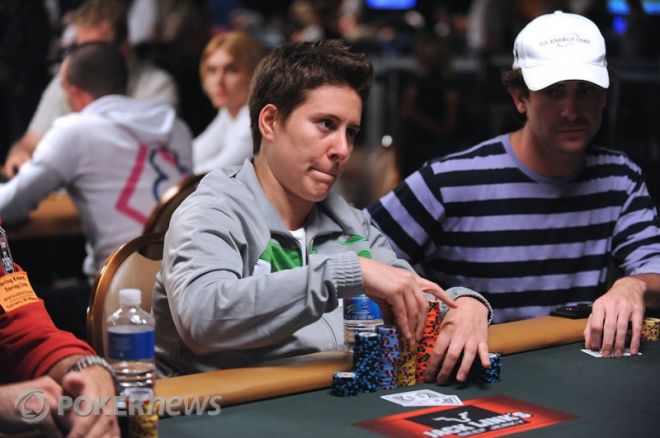 After eight hours of play, Day 2B of the World Series of Poker Main Event came to a conclusion with David Assouline leading the way with 387,800. It was a comparatively short day in WSOP terms, but it produced plenty of action with Assouline, Ricardo Fasanaro, Matt Reed and Jim Collopy building stacks of over 300,000.
Collopy, known online as "MrBigQueso," was rather quiet for most of the day. However late in the day, the 21-year-old, who is making his first WSOP appearance in this year at the WSOP, made a surge and took his stack up to 305,000. Jon Van Fleet, who has 295,000, also made his charge late in the day.
New Team PokerStars Pro Vanessa Selbst also had a great day and was zeroing in on 300,000 for most of it before settling at 265,000 chips to end the day. She got into the dream situation having pocket aces all-in preflop against her opponents
. The board spread out [kc 2s 2h 7q qd], and the large pot was pushed to Selbst. Later in the night, Selbst was also the winner of a big ol' bag of jerky as part of a Jack Link's Beef Jerky promotion when she rivered quad jacks.
Gabriel Walls spent a large part of the day as the chip leader with 400,000 before falling back to 241,000 by the end of the night. Team PokerStars Pros Florian Langmann, Jason Mercier, Jan Heitmann, William Thorson and Vanessa Rousso also all made it through the day with a decent number of chips.
While many excelled on Day 2B, a plethora of others fell to the rail including George Danzer, Phil Ivey, Todd Brunson, David Baker, John Phan, Gavin Griffin, J.C. Tran, Doyle Brunson, Jon Little and many others.
Perhaps the most talked-about hand to emerge from Day 2B was a hand between Prahlad Friedman and Ted Bort. As related to PokerNews, Bort shoved against Friedman and eventually called a clock when Friedman was slow to decide what to do. With a floor person counting down the final ten seconds of the clock, Friedman appeared to call all-n at the count of "One." Neither the dealer nor the floor heard him, however, and immediately killed his hand at the zero count. The entire table protested that Friedman had called, especially Bort — who tabled what was the best hand. Friedman would have been eliminated. Instead Friedman remains alive heading into Day 3, as does Bort.
Sunday is a day off for the World Series of Poker, the first and only day off the entire seven weeks of the festival. Survivors will spend the day trying their best to rest and relax in preparation to rejoin the fray on Monday. It's unlikely that we'll hit the money by the end of the day Monday. All of these players are going to have to go through another full day of play without being assured a return on their $10,000 investment.
PokerNews will be back on Monday at 12 p.m. bringing you all the updates, so be sure to tune in.
Follow us on Twitter for up-to-the-minute news, and also become our fan on Facebook.