2010 World Series of Poker Day 48: Michael "The Grinder" Mizrachi Headlines November Nine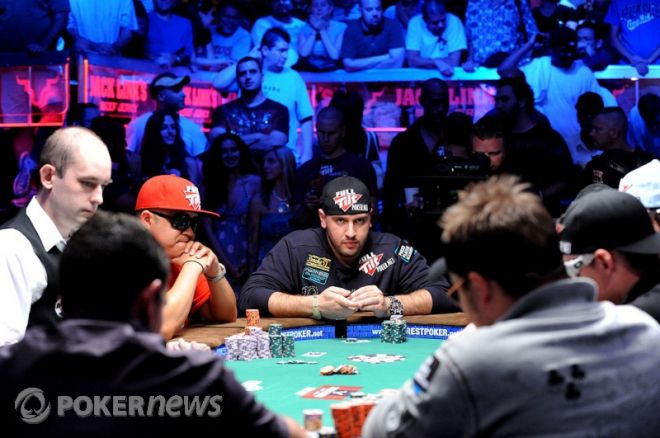 Day 8 of the World Series of Poker Main Event is over. The action during the course of these two weeks has been fast and furious enough to raise a few eyebrows, but Day 8 was a much different, much longer, much more serious day. It took nearly 18 hours, but the 2010 November Nine is officially set.
Joseph Cheong came into this penultimate day with the chip-leading stack of more than 24 million and he hovered around that mark for the rest of the day. The same can't be said for the two prominent Scandinavian hopefuls. Team PokerStars ProJohnny Lodden lost a coin flip to beat the parking lot rush, exiting in 27th place as the first casualty of the day. Team Pro William Thorson outlasted another four players but ran his
into John Racener's pocket kings to put his name on the payout sheet in 22nd place.
Nineteen players returned from the second break. Michiel Sijpkens 19th-place elimination cued the two-table redraw and left everyone nine spots away from a seat at November's final table.
Scott "BigRiskky" Clements might have been the betting favorite coming into the day as the player with the most WSOP final table experience left, but after an active, up-and-down first few hours, Clements put his trust in ace-queen but ran it smack into Matthew Jarvis' ace-king. No help on board ended Clements' run in 18th place, and his table let out a big, relieved exhale as he left the Amazon Room for the last time this year.
David Baker had a whale of a WSOP in his own right. This Main Event marked his seventh cash of the 2010 Series, and five of those saw him running deep into the final two tables. That's where this one ended too, though, as Baker was knocked off in 17th place after putting his faith in a flush draw that never materialized. Benjamin Statz was next to depart, and the 15 finalists were off to dinner a short while later.
When the players returned, there was no sign of the dreaded after-dinner coma. The action came fast, and the next knockout provided possibly the most memorable moment of the Main Event, and maybe of the entire 2010 WSOP. It was a massive confrontation between Matt Affleck and Jonathan Duhamel, and it was one of those pots that brought media and spectators scurrying from all corners of the room to catch a peek at the action. Duhamel started it with a raise to 550,000, and Affleck three-bet to 1.55 million. Duhamel reraised right back to 3.925 total, and Affleck called to put 8 million chips into the pot going to the flop.
Possibly sensing the danger he was in, Duhamel checked the
flop. Affleck took the opportunity to fire out 5 million chips. Duhamel called, and Affleck shoved his last 11.6 million into the pot as the
hit fourth street. Duhamel was faced with a decision for most of his own stack. The tension mounted as hushed murmurs of this monsterpotten coursed through the room. Duhamel finally called, putting an enormous pot of about 42 million chips in the middle of the table!
Affleck showed down
for the overpair, and he certainly had to be nervous when he watched Duhamel table
for the pair and the open-ender. The entire rail inched forward in anticipation of the river card that would give one of the two players a commanding chip lead. Fate fell with Duhamel this time. The last card off was the
, and a thundering reaction signaled the bad beat to the crowds that were too far away to see it. Affleck's aces had indeed been run down. He was visibly stricken by the result, choking back his emotions and burying his face in his cap for a long while. He finally mustered the strength to leave the room after his 15th-place elimination, red-faced and awfully upset with the result.
That was the pot that pushed Duhamel into a commanding chip lead. It is a hand that will likely be talked about and analyzed over and over for the next year.
The next big-name player to fall was Adam "Roothlus" Levy in 12th place despite his three-deep cheering section. He managed to chip up significantly over the course of the first couple of levels but had trouble winning a pot in the third level and was relieved of his last 4 million chips when he ran king-queen into Duhamel's pocket aces.
Pascal LeFrancois won his first gold bracelet this year at the WSOP, but his bid for number two was squashed with ten players left. This time it was Cheong looking for the knockout. His
took care of LeFrancois and his
in 11th place signaling the final redraw of the night. The last ten players were shuffled over to the main featured table to play it out under the bright lights.
We needed just one more elimination to end Day 8, but it would be a stubborn one. More than six hours passed with nary a bust out. The short stacks were able to gather enough chips to stick around for a while and make this thing a real dogfight. Finally, the day-long short stack of Brandon Steven got into the pot, and this time he could not fade elimination. He was racing his
against Matthew Jarvis'
but found no help from the dealer. The board ran out with five blanks, and with that, the cheering sections of the other nine players rushed the stage to congratulate their men on making the final table of the Main Event.
Now we are down to just nine players left out of 7,319 starters. One of them will be your new World Champion come November. Here's how things stacked up at the end of the night, a snapshot of what we'll be seeing in four months:
Seat 1: Jason Senti (7,625,000)
Seat 2: Joseph Cheong (23,525,000)
Seat 3: John Dolan (46,250,000)
Seat 4: Jonathan Duhamel (65,975,000)
Seat 5: Michael Mizrachi (14,450,000)
Seat 6: Matthew Jarvis (16,700,000)
Seat 7: John Racener (19,050,000)
Seat 8: Filippo Candio (16,400,000)
Seat 9: Soi Nguyen (9,650,000)
We'll spend the next several weeks researching these players and dissecting them (figuratively, of course), getting a feel for who they are. For now, all you need to know is that Michael "The Grinder" Mizrachi is the man to watch. His victory in this year's $50,000 Players' Championship earned him a spot in the "best poker player" conversation, and this Main Event run is a remarkable encore to that performance. Grinder can earn a share of Player of the Year honors if he can manage to win this thing, and current POTY leader Frank Kassela will have a nervous four months to sweat while he waits for the title to be decided.
Follow us on Twitter for up-to-the-minute news, and also become our fan on Facebook.