The Pigskin Diaries Vol. 3: Draft Day Domination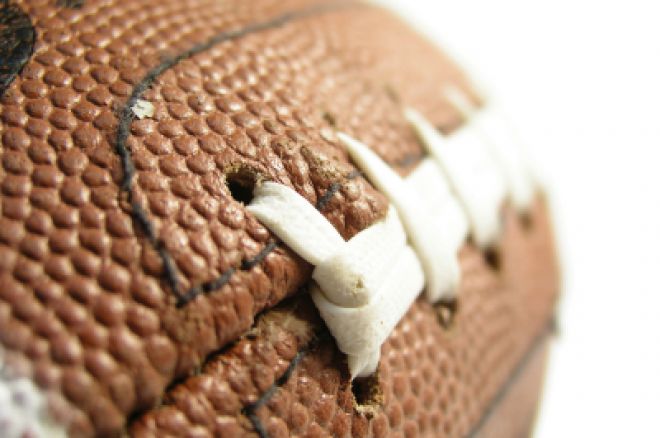 On September 9th, the NFL will kick off its regular season for the 89th time. Just to get the juices flowing, the schedule makers have started us out with an exciting match up this year. The season opener is a Thursday night spectacle that features a rematch of last year's classic NFC Championship game between the Minnesota Vikings and the Super Bowl Champion New Orleans Saints. That gives you less than two weeks to get your fantasy football draft under your belt and get your roster set for total domination.
If you've been around the fantasy football block a time or two before, you know that Draft Day itself is a sacred and holy ritual among the true fanatics. Sure, you could do your draft online while you multitable sit-n-gos and browse through a few strategy articles, but real men know fantasy drafts happen in congress, with beer, at the appointed time and place.
Each league has its unique Draft Day traditions, but all traditions tend to share common elements such as face paint, throwback jerseys, alcohol, taunting, and barbecue sauce. At the predetermined time, the group retires to the War Room to put pen to paper and start writing Chapter 1 of the fantasy football epic. The draft has arrived, and if you're not prepared, you'll soon be on the clock, knees knocking as you hunt up and down the board for an illusive third wide receiver. Ochocinco is off the board and you didn't have a backup plan, did you? You should have picked up Donald Driver when you had the chance, but you just couldn't stay off the Marion Barber bandwagon. Even though Felix Jones is probably going to end up being the go-to guy in Dallas, Percy Harvin's still in the pool, but you don't really know if you want to gamble against his nagging migraines. Should you grab Santana Moss right now, or will he still be on the board for your next pick? The rest of your so-called friends glare at you, silently judging. You didn't do your homework, and now your fantasy team is on the verge of crumbling under your shaky leadership.
Fortunately, we're here to help. PokerNews is going to do you a favor and avert this potential disaster with some pregame scouting to make your Draft Day a resounding success. We've put together this Draft Guide to put you in the know and give you all the intel you need to set yourself up for 17 weeks of fantasy football ownage.
First, the Basics
While the specifics of your draft plans will depend on the exact roster breakdown and scoring settings of your league, there are definitely some guidelines to keep in mind when setting up your draft board.
Success or failure in fantasy football often correlates with the strength of your running back core, but it is starting to become less important to have two superstar backs on your depth chart. A few years ago, it was almost mandatory to draft running backs with your first two picks, but that formula is beginning to change a bit of late. The fact that many NFL teams are converting to a "running back by committee" approach means that your fantasy roster may reflect that with a drop in star power and production in your #2 spot. Still, you should be able to find success by building a deep bench of talented, reliable backs who you can put up solid numbers from week to week. Those middle-of-the-road backs who shoulder most of their team's workload go up in value as a result.
Speaking of quarterbacks, this is where a majority of games are truly won or lost. With the mellowing of running back production, it becomes increasingly important to have a top-tier quarterback who can put up big numbers on the reg. If the elite signal callers start to disappear from the draft board, it's probably time to go ahead and lock one up as there will be a significant advantage to having one of the top seven quarterbacks in the league. If you get in a good position with your first running back pick, consider opening the quarterback party by taking one in the second or third round. Seriously, if you get stuck with Jay Cutler as your #1, it's going to be a long and winding road through your schedule. Apart from your quarterback, the rest of your first seven picks should almost always be running backs and wide receivers.
Speaking of wide receivers, we should probably talk a bit about the guys catching the ball too. Wide receivers tell us a lot in the preseason, and we're already starting to be able to separate out some surprising players and some players with potential for surprise this year. Once the running back pond dries up, go ahead and get yourself loaded up on wide receivers. Every year, there are a handful of receivers that come out of nowehere to put up huge numbers. See: Steve Smith last year. Being lucky enough to have one of those guys on your roster when he catches fire could mean you've drafted a lot more points than you expected.
There you have it. Grab yourself a defense and a kicker in the last rounds, and you've got yourself a roster that's ready to crush souls. If you're ready to dig in a little deeper and start getting names into your head, here's a position-by-position guide to Draft Day domination.
Quarterbacks
1. Drew Brees
2. Peyton Manning
3. Aaron Rodgers
4. Tom Brady
5. Matt Schaub
6. Phillip Rivers
7. Tony Romo
8. Brett Favre
9. Joe Flacco
10. Eli Manning
Notes
While Drew Brees is a near-unanimous #1 on the QB board, a lot of experts would clearly slot Aaron Rodgers up into the #2 spot. I'd still put my bankroll on Peyton Manning having a bigger year this year, but you'd certainly be happy with any of those guys heading your fantasy squad. It's important to get yourself one of the top seven guys in the league, but you don't have to get the top guy necessarily. You'd be more than happy to have a Tony Romo or a Phillip Rivers if you can get them, say, in the fifth round. If you miss the boat entirely, look for a guy like Flacco or Brother of Peyton down in the double-digit rounds. You'll be sweating until you have your starting QB locked up, though. Oh yeah, and Brett Favre is most definitely "draft at your own risk," although you'd have to be a fool not to at least consider that he has the potential to put up huge numbers again.
Sleeper Watch
Chad Henne – The Dolphins are trying to build something down there in Miami, bringing in Brandon Marshall to bolster the receiving corps during the off-season. Henne showed some good potential for growth last year, and he's a great candidate for a #2 QB with some soft AFC matchups on the 'Fins early schedule.
Drew Stafford – I hope you're done laughing at the Detroit Lions. While not a playoff threat yet by any means, Stafford's arrival and the hiring of a new coach put a spark into that team beginning last year, and they will be significantly better in the 2010 campaign as well. Stafford ranked 15th in passing yards per game last year despite the mediocrity surrounding him, and there's no reason to think he won't continue to improve as he gets comfortable with the new weapons he has around him, including veteran receiver Nate Burleson.
Running Backs
1. Adrian Petersen
2. Chris Johnson
3. Maurice Jones-Drew
4. Ray Rice
5. Frank Gore
6. Michael Turner
7. Ryan Grant
8. Rashard Mendenhall
9. Cedric Benson
10. Ryan Mathews
Notes
Take your pick for #1 back as any of the top three guys could make a legitimate claim. Overall, if you can somehow manage to get two of these top ten guys on your team, you'll be at a huge advantage in your league with a pair of feature backs. With the running back field leveling a bit as we mentioned, it's going to be hard to find two backs to put up big numbers for you every week. You can throw DeAngelo Williams and Shonn Greene into that mix as well. Greene, in fact, and Ray Rice are probably the two exceptions to the next sentence. Running-back-by-committee situations exist in Baltimore, New York (Giants and Jets both), Carolina, Buffalo, Dallas, Miami, and New England, and you'd do well to steer clear of those backs until the late rounds.
Sleeper Watch
Jamaal Charles – It's almost hard to call him a sleeper after the heater of a second half he had to the 2009 season. He was the NFL's second-leading rusher over the last eight games last year, but most of your lesser-informed buddies probably won't give his name the draft respect it deserves. Charles is a legit #2 back to snag with your second or third pick if he's still on the board.
Jahvid Best – The lightning-quick rookie from Cal wowed at the combine, and he's going to make a solid addition to the Lions' backfield this year. He can catch the football, and Drew Stafford has already shown a penchant for tossing it to his backs in the past.
Wide Receivers
1. Andre Johnson
2. Randy Moss
3. Larry Fitzgerald
4. Reggie Wayne
5. Brandon Marshall
6. Miles Austin
7. Calvin Johnson
8. Roddy White
9. DeSean Jackson
10. Steve Smith
Notes
Miles Austin sticks out as someone that could potentially be good value if he's still around after five or six receivers have been taken. Steve Smith is probably a bit underrated at #10, as well, but it's hard to move anyone above him. You'd be thrilled to grab Brandon Marshall as your first pick, but you better be nervous, too, as we still have to see how he and his new quarterback will meld down in Miami.
Sleeper Watch
Donald Driver – For some reason, he seems to perennially be on the board as good value in the late rounds. With Aaron Rodgers hurling him the ball and Ryan Grant keeping some of those linebackers occupied, Driver is a liegitamite #2 receiver on any given Sunday.
Pierre Garcon – Garcon has emerged as the Colts' deep threat and a perfect compliment to Reggie Wayne's mad game. Wayne will have to watch a few more balls thrown in Garcon's direction again this year, and he makes a great week-to-week guy in some of the deeper leagues. He may only grab you a handful of points, but you might get lucky and start him on one of those inevitable weeks where he goes off for like 28 too.
Jacoby Jones – He put up pretty impressive numbers in limited action last year, and don't forget he's got one of the best QBs in Matt Schaub throwing him the rock. If the six times he found the end zone last year are any indication of what we can expect this year, Jones makes a solid late-round snag.
Tight Ends
1. Dallas Clark
2. Antonio Gates
3. Brent Celek
4. Vernon Davis
5. Jermichael Finley
6. Jason Witten
7. Tony Gonzalez
8. Owen Daniels
9. Visanthe Shiancoe
10. Kellen Winslow
Notes
Dallas Clark is your #1 man here, but the TE position is relatively deep, and you shouldn't be afraid to hold out for one of the lower #1 picks. Brent Celek's stock is improving as his relationship with new QB Kevin Kolb seems to be developing nicely. If you add Chris Cooley, Zach Miller, Greg Olsen, and Heath Miller to that list, you essentially have the fourteen legitimately draftable tight ends. Anyone else that catches your eye is probably best suited to a waiver pickup a few weeks in.
Defense
1. New York Jets
2. Philadelphia Eagles
3. Green Bay Packers
4. Baltimore Ravens
5. Dallas Cowboys
6. San Francisco 49ers
7. Minnesota Vikings
8. Pittsburgh Steelers
9. Cincinnati Bengals
10. New Orleans Saints
Notes
Since 2005, the top-drafted defense has finished in the top ten in league defense just once. That was the 2006 Chicago Bears, and that's my argument for why drafting a defense is not extremely pressing. There's virtually no statistical difference between any of those top ten defenses, and you'd be fine with any of them as your weekly starting squad. As far as that side of the ball is concerned, your fantasy success will hinge on timely waiver pickups and a good hunch or two as the season progresses.
In much the same way as defenses, kickers will mostly be managed on a week-to-week basis. Pick one and stick with him, but make sure you're keeping an eye on the schedule and the waiver wire for potentially +EV pick-ups along the way.
Are you following us on Twitter yet? Well why not?