Two Months of No Sleep and Non-Stop Online Grinding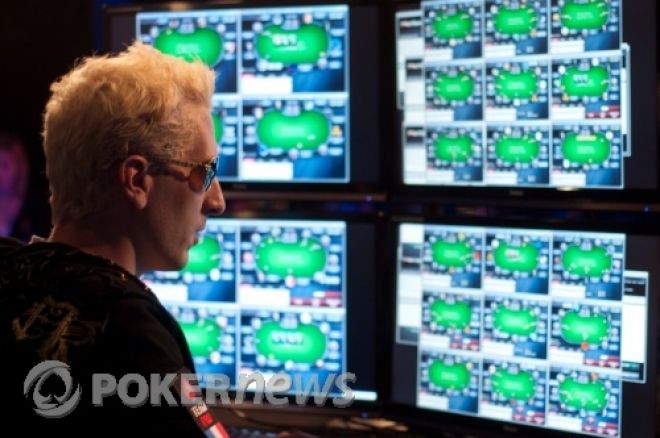 Every year, more and more young kids are showing up at the World Series of Poker with plump bankrolls thanks to all the heavy grinding they put in online during the months when the WSOP is not being played. For June and July, nearly everyone flocks to Vegas to chase dreams and gold bracelets. During that period, online sites tend to see their tournament field sizes decrease and overall numbers go down.
It has been just over three weeks now since the close of the WSOP for the summer of 2010. Although the Main Event won't be completed until November, the entire poker community has had some solid downtime to recoup and restore lives to a more normal state. That being said, it's also the perfect time for everyone to get back into mega-grind mode and fire up multiple tables of tournament action on the virtual felt.
The biggest online sites have set up plenty of action over the next two months. There are not a ton of live tournaments going on that players are lining up to get to, making this a great time for the online sites to run some amazing poker series.
Currently running on Full Tilt Poker is the Full Tilt Online Poker Series XVII. The series began back on August 4 and runs through August 15. The prize pools are all guaranteed in the hundreds of thousands, with a guaranteed $19 million up for grabs. For many of those online players who went out to the WSOP pummeling their bankrolls, bodies and minds, it's time to climb back into those war rooms and start smashing tournaments once again.
The FTOPS is packing 34 events into 12 days, and you can bet that all of the big online players will be focused on winning a gold jersey.
To check out the schedule of events, head here.
Once the FTOPS ends at Full Tilt, things won't be slowing down. Only two days will pass without a scheduled tournament series online, but then it's time for Ultimate Bet to step in with its Ultimate Bet Online Championship 5, which will also be running on Absolute Poker. This series consists of 20 events from August 18 until August 29. Although the guarantees aren't as high as at the FTOPS, there will still be plenty of poker to be had.
If that's not enough poker for you during that period, UB and AP are also running a Mini-UBOC with the same events for a fraction of the buy-in. Surely most of the players grinding out the UBOC events will also be firing up the Mini-UBOC events. These events also all have guarantees on them, which should drive most of the online tournament players over to UB during this period.
The schedule for the UBOC and Mini-UBOC can be found here.
As if one would think that's enough online poker to burn out most players, the grind continues through the next month, as well. Starting up on September 5 is the World Championship of Online Poker at PokerStars. This series if the largest of the bunch with 62 events strung out over a span of 23 days, ending on September 27. This series has everything. It has all different types of games and numerous buy-in levels. Heck, there's even a few five-figure buy-ins, including a $25,000 High-Roller Heads-Up event.
This tournament series always draws the largest fields and the biggest prize pools. A whopping $50 million in guaranteed prize pools make this the biggest online tournament series ever. You can bet that all of the big-name players will be registering for these events, and that there will even be plenty of live players hopping in front of a computer screen to go after the loot.
To see the entire list of events, check out the WCOOP schedule here.
Also going on during September is the MiniFTOPS XVII on Full Tilt. Another 34 events are on tap for this series from September 8 to 19, and it takes place right in the heart of the WCOOP. The schedule is the same as the FTOPS XVII, but the buy-ins are only one-tenth of the value. Still, there's more than $6 million in guaranteed prize money. With the WCOOP going on at this same time, many of those players will be double-dipping in these events, as well, making for quite the field sizes.
Here's where you can find the MiniFTOPS schedule.
With these four series stretching across August and September, the online poker world will be booming. It's going to be interesting to see if anyone burns out from this massive bombardment of poker. Needless to say, August and September are easily the two busiest months for online poker this year. With so much money on the line across these three sites, you better have plenty of rest and relaxation in the bank because you won't be sleeping much until November rolls around.
PokerNews will be keeping an eye on these events and recapping them while they run. Hopefully you'll be the one we're writing about as the big winner! Sign up for an online poker account and enjoy the grind.