The WSOP on ESPN: Day 5 a Battle between Poker Legends and Internet Superstars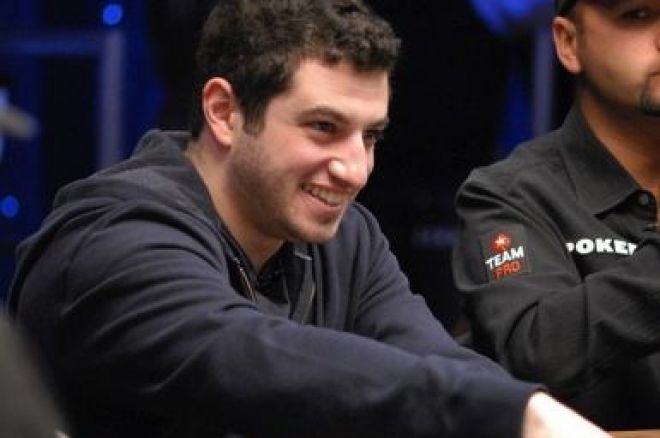 The latest installment of ESPN's 2010 World Series of Poker coverage focused on Day 5 of the Main Event. Already in the money, 547 players returned to further their quests for international poker stardom. ESPN set up this week as a battle between the old and the young, juxtaposing poker legends such as Johnny Chan and Scotty Nguyen with Internet superstars represented by Phil "OMGClayAiken" Galfond. "Time to boot up and get the cards in the air," Norman Chad said to start the episode. At least in this week's battle, the young guns came out on top.
Cast of Characters: Phil Galfond, Johnny Chan, Scotty Nguyen, the Mizrachi brothers, Vanessa Selbst, Jason Mercier, Tony Dunst, Matt Afleck, Filippo Candio
Notable Eliminations: Vanessa Selbst, the best hope women had of being represented by a superpower late in the game, lost most of her chips when German Alexander Purk hit a set of tens to double through her pocket kings. She was out soon after in 476th place.
Fellow Team PokerStars Pro Jason Mercier didn't last much longer. He kindly donated most of his stack to Robert Mizrachi when his pocket fives got no help against Mizrachi's kings. He ran the last of his chips into the aces of Olivier Daeninckx (horribly butchered by Lon, but who can blame him?), and was eliminated in 463rd place.
Sam Farha picked up a third WSOP bracelet this summer, but his WSOP came to an end on Day 5 of the Main Event. He got his chips in ahead with
to
, but a ten on the flop sent Farha home in 452nd.
Scotty Nguyen, a staple of ESPN coverage, gave a chunk of his chips to James "croll103" Carroll, furthering the week's theme of young vs. old. Then Nguyen jammed with
, only to find himself up against pocket kings. He busted, baby, in 209th place.
Live Avatar: In this week's episode, ESPN stretched the online pro vs. live relic cliché as far as it would go. They turned Galfond into more of an icon than a person, using him, if you will, as an avatar of himself. He was even playing a few tables on a laptop throughout his interview segment. No doubt producers were not pleased when Galfond started bleeding chips late in the day, ending with less than he had at the start of play. Not quite what they wanted for their online-hero-turns-live-giant storyline.
Old-school thought: Johnny Chan is the best representative of traditional poker heroes still available to ESPN casting on Day 5. But he made their point brilliantly by getting as little value as possible out of a flopped set. His play could have been interpreted as ultra-conservative or a failed trap, but when a player at the table questioned him, Chan removed any doubt. "Why don't you try it sometimes, see what happens?" he asked. "You think it's easy to push all in?"
It is for Galfond and his cohorts. "It's as if we're watching the passing of the torch, here, Lon," Chad said.
Mizrachi report: The episode began with three of the four Mizrachi brothers still kicking. But Donny Mizrachi met his tournament death when Theo Jorgensen straightened out on the river. Both Robert and Michael Mizrachi doubled up with pocket kings, moving the brothers up the leader board.
Character development: It's ESPN's job to subtly build story lines around the players who will make it all the way to November without letting viewers in on the secret. This week, they snuck in a few segments about Italian pro Filippo Candio, making him as likable as possible and trying to frame his outbursts as emotional rather than obnoxious.
Don't miss the action next week as ESPN brings you Day 6. Check your local listings to find the 2010 World Series of Poker Main Event on Tuesday nights.
If you are a fan of big tournament action, you have one week left to join our $10,000 Sunday Million Freeroll on PokerStars.