PokerStars EPT London Day 5: Great Scot! David Vamplew Wins it For Britain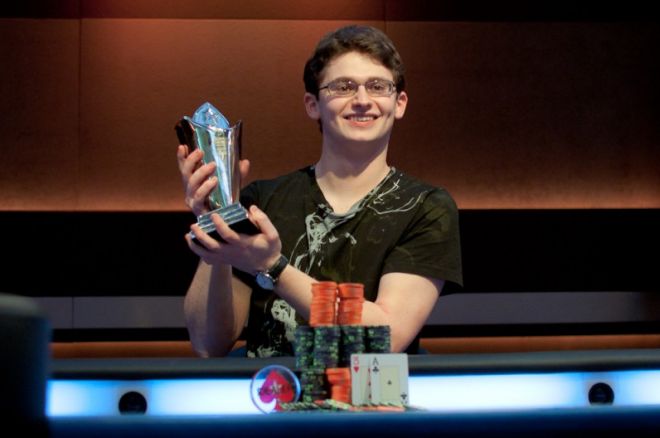 Monday was the final day of the 2010 PokerStars.com EPT London, the third stop of the Season 7 circuit. An astounding 848 players began this event a week ago, and the eight finalists returned today to put this event to rest. At the end of a long day and a tug of war heads-up battle, it was Scotland's David Vamplew who emerged with all the chips, finally dispatching John Juanda to take the title.
Play kicked off at exactly noon-or-so London time, and the short-stacks wasted no time pushing their chips into the pot during the first couple orbits. American Tom Marchese was the first player to find a call and put himself at risk for his tournament life. His
was a small favorite against Per Ummer's
, both men sharing a similar-sized stack. The board ran out
, and that early double crippled Ummer down around five big blinds. A short time later, he open-shoved his remainder from the small blind with
, and Artur Wasek snap-called with
from the big. A board of
was all she wrote for Ummer, exiting in eighth place and taking home £66,800.
The double-up chips wouldn't stay in Marchese's stack for long, though. He doubled up Artur Wasek with
against
to lose a big chunk, then lost the rest just a few hands later. It was Vamplew who got him, open-shoving from the button with
. Marchese snap-called with
for the rest of his stack, but the
board was unfriendly to the American. He was out in seventh place, and the £100,000 pounds he collected push his 2010 earnings close to $1.8 million total.
Fernando Brito (6th place, £145,000) let himself blind down to about eight big blinds before he pushed with
. Kyle Bowker had plenty of chips to look him up with
, and the board ran
to earn him the knockout. Kayvan Payman was next to exit in fifth place (£190,000) when his
could not find help against Vamplew's
. Bowker had initially called Payman's open-shove, but Vamplew reshoved to shake Bowker off his pocket eights, and the end-of-Day-2 chip leader took over second place after eliminating the fourth player of the day.
Wasek was the one with a big chip deficit by that point, and he three-bet shoved his
against Juanda's
. The first four board cards were friendly to the small pair, but the
river was all she wrote for the Pole, out in fourth place (£240,000).
The real poker match began when the table shrunk to three-handed, everyone playing with a deep stack and a good read on their two foes. About an hour into the three-way duel, it was Bowker and Juanda who tangled in the biggest pot of the tournament. Bowker opened the button to 350,000 and Juanda raised it right back to 1 million straight. Bowker considered for a bit before four-betting, and Juanda five-bet shoved right back. There was no decision for Bowker; he quickly called all-in with his
looking like a huge favorite over
. Things changed quickly, however as the flop
to give Juanda nine more outs to work with. He didn't even have to take one card off as the
right on the turn sealed Bowker's demise, eliminated on an outdraw in third place (£300,000).
With the stacks deep, it looked like heads-up play could linger a while, and everyone was surprised to see an all-in and a call within just a few hands. Juanda raised and Vamplew defended to see a
flop. Vamplew allowed Juanda to bet 525,000 before check-raising to 1.33 million, and Juanda popped it right back to 2.5 million straight. Vamplew shoved with
, and Juanda had no choice but to call with his
, coolered into sending a big double-up over to his opponent when the turn and river blanked off.
That gave the Scot a short-lived chip lead, but Juanda continued to grind him back down, eventually working back to 3:1 chip advantage just after the dinner break. Vamplew was down in the danger zone, and he got several shoves through before Juanda finally found an ace to call with. His
had Vamplew's tournament life and his
in serious danger, but a board of
board doubled him back into contention. A few hands later, fireworks erupted again as the two men got it in on fourth street as the board showed
. It was Vamplew shoving with
right into Juanda's
, the nuts! Juanda was one card from the title. A timely
river gave Vamplew the tournament-saving double for the second time in the span of just a few minutes, though, and that one gave him the heads-up chip lead once more.
With the blinds getting detrimentally big, the two men traded big punches back and forth, exchanging the chip lead a few more times before Vamplew finally managed to ope up a gap. Juanda had just about 3.4 million chips left (of the 25.44 million in play) when he moved in with
. Vamplew called of the 11 big blinds with
and promptly flopped two pair to all but end it right there. The board of
will be etched into the winner's photos and Vamplew's memory for eternity, the last five cards of the day and the death knell for Juanda (second place, £545,000).
With that, the record-smashing EPT London has drawn to a close. For the 23-year-old Vamplew, his week has culminated in his first major title and a pocket-padding payday of £900,000. That alone makes him the top-earning Scottish player of all time, and he's made sure that his shiny piece of EPT hardware is staying in the United Kingdom.
You should follow us on Twitter and friend us on Facebook too!
We have just announced three $15,000 Sunday Million Freerolls & three $2,000 PCA Freerolls with PokerStars. You can win a ticket to a tournament with a life changing prize pool for free, but only with Club PokerNews!