2010 World Series of Poker: A Sit-Down with WSOP Champion Jonathan Duhamel Part 2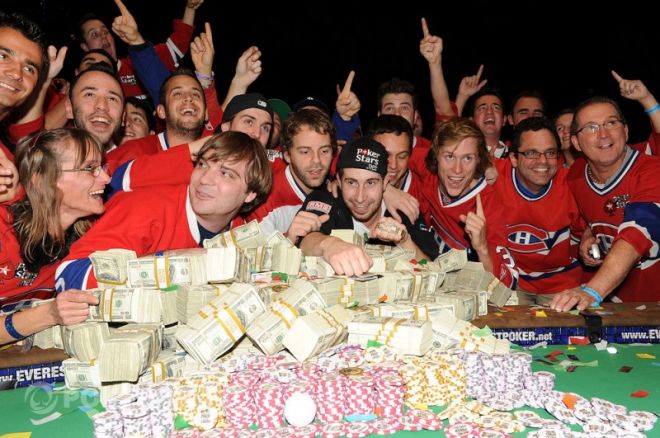 Last week, we brought you Part 1 of our sit-down interview with 2010 World Series of Poker Main Event champion Jonathan Duhamel. In Part 2, we talk to the champ about heads-up play, the $8.9 million he took home, and where we can expect to see him next on the tournament circuit.
When play got three-handed, the dynamic was interesting. John Racener was severely short-stacked and you andJoseph Cheong had all the chips, essentially. How did that dynamic factor into your pocket queens hand? Do you think the stack sizes benefited you in that situation?
It was weird because leading up to that hand, I was pretty sure Cheong and I were going to steal the blinds a little bit to wait for Racener to either double up or bust and then we were going to play heads up. That's how I thought it would end up, but then Cheong and I finally went to battle, raising and reraising a lot of hands. I knew he was aggressive, and he knew I was aggressive.
I three-bet him and then he four-bet me. I was folding a lot to his four-bets so it was normal for him to four-bet there. Then I decided to five-bet small. At that point it was for him to decide whether I was five-betting small on a bluff or am I five-betting for value, hoping he shoves. The amount of my five-bet put him in a position where he had some fold equity and that's what I wanted to make him believe. He decided to shove, knowing I would have to have a very good hand to call there. So that's why he made the move there but then I had the hand.
What was your gut feeling when he moved all-in? Were you excited or nervous?
Well, I was kind of both. [laughs] I knew I wasn't folding. Chances are he could have had aces or kings and I wouldn't have been happy about that, or he could have had ace-king and it would have been the biggest flip ever. I wasn't too happy to gamble at that point but I knew if I won that hand I would be the huge chip leader, so I ended up calling and was happy to see he had ace-seven, but then again I knew it wasn't over. I was happy my hand held up.
It could have been easy to let your confidence take over with such a huge chip lead. How were you able to stay composed to make sure you were able to close it out Monday night and not let Racener back into the match?
I knew he would be playing small ball. The way he played the final table, he showed that he didn't want to gamble too much preflop. For me it was about trying to mix it up, min-raising and limping and try to have a good balance. And when he was limping, I wasn't raising too much. When you're out of position, you don't want to play too many hands. So I kind of had a free flop every time there.
I tried to grind it out as much as I could without doubling him up. I did double him up one time when he was short. I shoved with king-four because I thought it was a good spot because he was short and I wanted to continue to put pressure on him, but he doubled up. I spoke with my buddies, who I discuss a lot of strategy with, and they told me to continue what I was doing. So I just continued to grind him out one hand at a time.
When you look back and you watched the ESPN broadcast on Tuesday night, was there anything that surprised you?
They only showed 22 hands of heads up. That surprised me a lot. Cheong and I were raising a lot and they didn't show a lot of that either. For the most part, I think it was a good show; a lot of action, big hands, all the fans. I think the show was good. I think that people who sometimes watch poker on TV were very happy about the show. I think it's very good for the game and I also think it was one of the best shows from the past years.
$8.9 million is a lot of money — life changing money. Has the amount of money you won sunk in?
I don't think about it too much. For me, it was about the bracelet. That's what I'm the most happy with. What the bracelet means is incredible. It means a lot to me. Obviously I'm happy with the money. I'm going to continue playing the biggest tournaments in the world.
What's the most insane thing you've done with your money so far?
I've done nothing but one thing with it. I gave $100,000 to the Montreal Canadiens Child Foundation. Other than that I haven't done anything.
What goes through your head when you realize the importance of your accomplishment for all of those poker fans back home in Canada?
It means a lot. I'm very proud to be the first Canadian to win the WSOP Main Event. I get to be ambassador in Canada. I'm going to do everything to be as good as I can as poker ambassador. Hopefully, we'll have more Canadians to win bracelets over the next few years.
What does your family think about all of this?
They're happy. They are very proud of me.
What are you most looking forward to? What's next for you in terms of poker?
I'm probably not going to be playing for the next few weeks, but after that, I'm going to be playing as many tournaments as I can. All the PokerStars tours, I'll be playing all the biggest tournaments in the world and hopefully make another big score. I've wanted to play poker all my life and now I have the chance and play the biggest tournaments, so that's what I'll be doing and trying to win another big one.
Jonathan Duhamel is sponsored by PokerStars.net, who are currently giving Club PokerNews members regular exclusive $15,000 Sunday Million Freerolls and $2,000 PCA Freerolls.