2010 World Series of Poker: A Sit-Down with WSOP Champion Jonathan Duhamel Part 1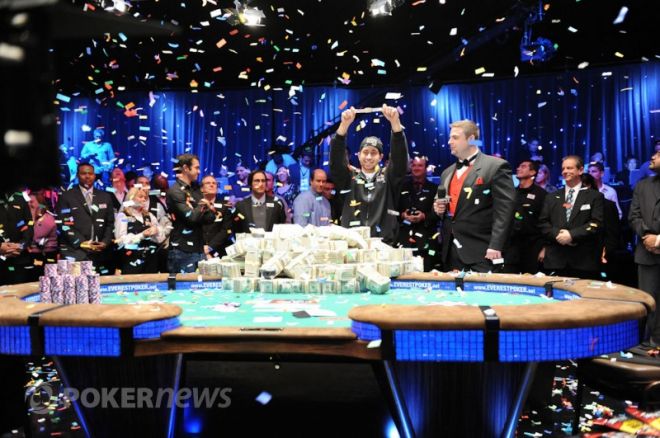 The Penn & Teller Theater is quiet now, the Rio All Suites Hotel and Casino isn't buzzing with fans clad in the same shirts cheering for their hometown favorite, and the World Series of Poker is looking forward to 2011. All of this must mean that we have a new WSOP champion, and if you haven't been paying attention, it's 23-year-old Canadian and chip leader going into the November Nine Jonathan Duhamel. We sat down with the new champ to get his thoughts on the win and what it means to him to be the champion, and more.
First off, congratulations! You must be through the moon with all the excitement.
Thank you. Yea, it's amazing. There's a lot going on right now.
It's been a little while since the win. Has it sunk in for you?
A little bit. I've had some time off. Now I think I've kind of realized, "Wow, I won that tournament. I think I did it." It took me a couple of days, but now I think I realized it.
When you look back at the final table and all the moments leading up to it — the entire experience — what are some of the moments that stick out in your mind?
It was by far the best four months of my life. Going into the final table as the chip leader, there were a lot of high expectations. During the months off, there were a lot of people who were almost saying I was already the champion. As soon as I got back to Vegas, a couple of days before the final table, there were so many things going on in my head, so many good things. Then after Saturday, I went into heads-up as the chip leader and then, well, all together it was the best experience by far.
You mentioned a little bit about the delay and the couple of months off. Since the November Nine has been implemented, the chip leader has not gone on to win the event. Was that a challenge for you to mentally stay tough as the chip leader?
It added a little more pressure on me. But it's part of the game and I kind of live on that. I used that as motivation for the tournament. As for me going into the final table, I put that pressure on myself, just to win it. I wouldn't be happy if I finished second or worse than that so I think there was a little more pressure. I think it was good pressure that I used as motivation, so I think it was good.
What was your routine like leading up to the final table? Were you living normally or involved in serious preparation?
I played a few live tournaments like EPT London, a Foxwoods Mega Stack and a couple in Montreal and also a lot online, a lot of tournaments and sit-n-gos, also the WCOOP was running on PokerStars at that time. That helped a lot, but more than ever, I think it was about getting mentally ready. That was the key. A couple of weeks before the final table, I didn't play that much poker. It was just about being rested and being mentally strong and tough so that no matter what happened at the final table, I would be able to deal with it and play well no matter what.
There was a lot of attention on Michael "The Grinder" Mizrachi leading up to the final table, with his achievements at this year's WSOP, winning the $50,000 Player's Championship and final tabling the Main Event. Do you think that all the attention that was placed on Mizrachi helped to take the spotlight off of you as the chip leader?
Maybe a little bit, but I still had a lot of spotlight on me I think. There was a little more pressure, but like I said, I used that as motivation anyway. For me, it wasn't that big of a deal. I was preparing myself to be 100 percent, so it was good motivation.
One of the hardest things for you was probably all the waiting. You probably played out how the final table would be a million times in your head. How different from how you envisioned it in your head was the experience when you finally sat down at the table and you got to play it out?
The beginning of the final table was very different. In my head, everything was going to go great through the entire final table. I had a tough time at the beginning, but I was able to bounce back and get some chips back and get heads up with a very good chip stack.
You took a few hits early on. You were the short stack at one point when the table was five-handed. When you were the short stack, was there ever a moment that you started to panic, that you let the chip lead slip?
It wasn't panic, because I wasn't under the 10 big blind mark. I think I had 25 big blinds. It wasn't the best spot to be in but it wasn't that bad. I still had some room to play a bit of poker. I wasn't happy, that's for sure, but I was just thinking about what's next and trying to play the hands I was dealt well. No matter the stack I have, when I play poker its about making good decisions and that's what I tried to do.
Was there anyone you were looking to avoid or player's you were looking to exploit at the table? Did you have a game plan?
The thing is, all the players were tough, so there wasn't a single one that I wanted to play against more than others. I think because of the stack sizes it was a matter of good timing and picking your spots well. I was three-betting a lot against Joseph Cheong and John Dolan because of their chip stacks; they were second and third and I had position on them. They didn't want to gamble with me. I didn't want to get too much action in the beginning, so I played a lot of ABC poker against them because if I tried to many moves against them, they would shove preflop on me and I'd just have to fold.
There were two big hands that catapulted you to the chip lead and on to the win. Walk us through the hand where you crippled Mizrachi with ace-nine.
That happened after the ace-king versus ace-queen hand against John Racener. We were five-handed. Everyone folded to me in the small blind, and I looked down at ace-nine, so obviously I'm going to raise with that. I would have been raising with a lot of hands there. I think I was raising 25 percent of the hands in the small blind. I kind of knew he would play back at me, but then he just shoves. It was a big shove. I wasn't happy about it, but then I thought about it and ace-nine was the top of my range and because it was blind versus blind and all those things. It was a good gamble for me, I thought. There was a small possibility that he could have ace-seven suited or ace-six suited. That's why I made the call. I was kind of happy with the flip because with all the money in the middle it was a good price to flip with, and I was happy to win it obviously.
Join us next week for the continuation of this interview in which Duhamel continues to discuss the final table, heads-up play against Racener, and more.
Jonathan Duhamel is sponsored by PokerStars.net, who are currently giving Club PokerNews members regular exclusive $15,000 Sunday Million Freerolls and $2,000 PCA Freerolls.