Las Vegas Life with Kristy Arnett: November Nine and More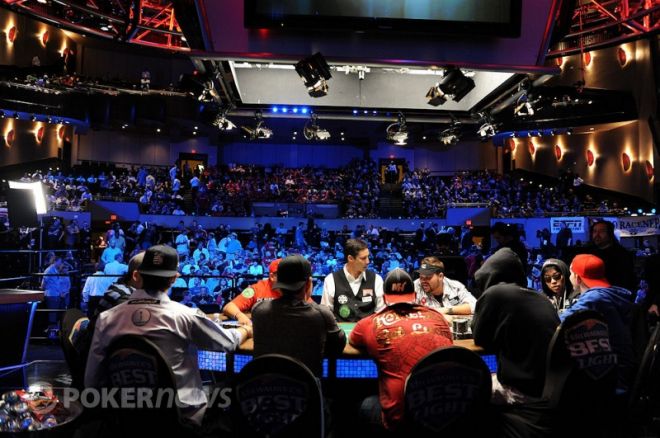 In the past couple of weeks, a number of notable events occurred that are worth mentioning. I watched a 23-year-old realize a dream that every serious poker player yearns for, witnessed a $100,000-plus fortune change ownership with the turn of a card, saw Mike Matusow chuck a card at a poker student, and cashed in a poker tournament. Such events seem possible only in Las Vegas.
November Nine Madness
As a member of the media who has experienced the November Nine inside the Penn & Teller theatre before, it would take a lot to blow me away, and this year, in my opinion, was spectacular. Each player entered the arena in main-event boxer fashion with gorgeous women holding up seat cards just as they would to signify each round of a fight. Maybe it was the vibe from the crowd, the carefully planned stage set-up, or because I so closely identify with the stakes at hand. Either way, I loved every moment and got goose bumps as I watched players nervously sit down to play for $8.9 million.
The hardest part of working the November Nine is doing the bust-out interviews. Despite the accomplishment of even making the final table, each player has his heart set on winning, so trying to talk to someone after his dreams have been crushed isn't all that easy. Luckily, this year, every player handled elimination with class and charm. The one interview that sticks in my mind is that of Matt Jarvis. He seemed calm and collected while reporters questioned him, but when his family came down the escalator and starting chanting his name, he couldn't help but tear up. He thanked his rail for their support and put on his sunglasses for the remainder of the interviews, but I wanted to say, "Hey, buck up! Be proud of those man tears!"
In the end, though, 23-year-old Canadian Jonathan Duhamel was the victor. Here is my interviewwith him just minutes after his win.
On the Set
Not only does Las Vegas host the biggest and most prestigious tournament in the world, but it's also the location for filming poker productions. On Monday, I headed over the Aria to check out some behind-the-scenes action on the set of Poker After Dark, which was filming pot-limit Omaha cash games for the first time. Viewers are in for a huge treat with the lineup that was chosen and will get a special sneak peak in next week's edition of Sin City Series. While I was there, I witnessed a player get felted for $100,000-plus — twice. Yikes! You'll have to tune into the new season when it airs to find out who it was.
The other set I was lucky enough to watch was Deepstacks 360 Live. This is a new concept in which players can get coaching live or participate online. This is made possible by new technology that allows people to follow the action as it happens, control the camera angles, and interact with the pros. For this week's edition of Sin City Series, I caught up with Mike Matusow, Michael Mizrachi and Tristan Wade while they were conducting a training camp. Matusow's style of teaching is somewhat nonstandard — he screams and throws cards — but students seemed to react well to his methods. Check it out for yourself.
My Deep Run in the Deepstack
For those who don't know me well, I'm a pretty serious poker player. I was lucky enough to have been coached by Andrew "Balugawhale" Seidman with DeucesCracked. He was amazing and changed my game so much. For the past few years, I almost strictly played cash games and only dabbled in tournaments. Shooting a video announcing the latest Venetian's Deepstack Extravaganza motivated me to play one. I made the final table, but after a devastating loss in a standard flip with queens against ace-king, I was crippled. I was left with seven big blinds and looked down at pocket threes in the very next hand eight-handed and under-the-gun. I decided that this was my last opportunity with fold equity, plus I had a decent shot to be called in a flip situation, so I went with it. Some players said that it was a standard shove, but some have made an argument for folding. I ended up finishing eighth for $2,500. Oh well, the great thing about living in Las Vegas is that there's always another tournament.
We have a $750 AND a $1,000 freeroll running simultaneously on Lock Poker this Sunday at 18:35 GMT. The best thing about them is they are sign up only so you don't even have to deposit to play in them, just download Lock Poker via our links and you are in.