PokerStars.net EPT Vienna Day 5: Michael "mae9690" Eiler Victorious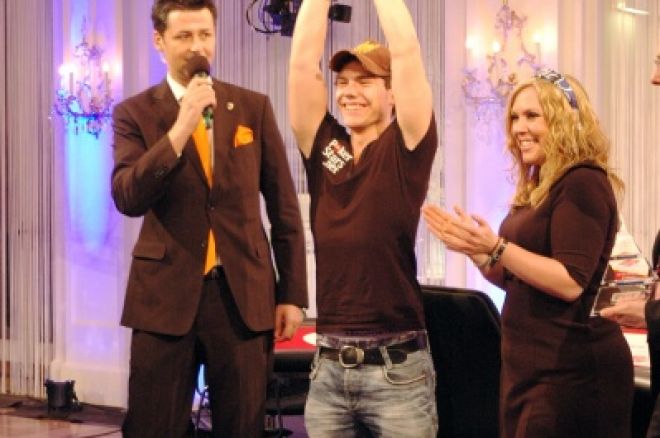 When the final eight players at the PokerStars.net European Poker Tour Vienna returned to the Kursalon Palace for the last time, Daniel Negreanu was in the lead with well over a quarter of the chips in play. There were several extra incentives for Negreanu to win over the other seven players. If he had taken the top spot, not only would he have picked up the very tasty €700,000 first prize money and the trophy, but he would also have become only the third ever triple crown winner after Gavin Griffin and Roland de Wolfe, and pipped Phil Ivey's record to put him back in the number one spot on the all-time money list. As it was, more than 10 hours later, Negreanu would be long gone in fourth place, and it would be 20-year-old Michael "mae9690" Eiler, economics student by day and Sunday Million winner by night, lifting the tournament hardware.
The first finalist to depart was high-stakes online cash player Bruno Launais. This was Launais' second EPT final; the Frenchman had come in seventh on his home turf at Deauville in 2009. Launais couldn't improve on that, though, getting his last in with
on a jack-high flop and smacking into the pocket aces of Luca Cainelli. The aces held, and Launais was sent to the rail in eighth place with €60,000 as consolation.
Matthias Lotze doubled up when his
spiked against Michael Eiler's pocket kings. However, he soon got his stack in again with pocket tens and was (eventually) called by Luca Cainelli holding pocket jacks. The board couldn't help him, and he took seventh place and €76,000 back home to Dresden.
Next to bite the tournament dust was Andreas Wiese. The 34-year-old German was super-short stacked when he pushed with
to a raise from Eiler and was put out of his misery when Eiler snap-called with pocket kings. Nothing changed on the board, and he took sixth place for €105,000 and a career-best cash, live or online.
Following the elimination of Wiese, the pace of play slowed somewhat, a whole level going by during which nothing more exciting happened than an occasional three-bet. But when the slow pace spell was broken, the hand that did it proved that good things come to those who wait.
Luca Cainelli made the opening raise, and both Daniel Negreanu and Martin Hruby called behind to see an
flop. Cainelli bet, and both the others quickly called. When the turn came down the
, Cainelli went all-in with pocket aces. Negreanu reshipped with
for top two pair — and Hruby, after a pause that Negreanu later called a slow-roll, called all-in with
for the straight. Hruby's straight held good on the
river, and he almost tripled up to a vast chip lead, well over half the chips in play. Cainelli exited in fifth place for €140,000, and Negreanu was reduced to around 2 million in chips.
Negreanu lost half of his remaining stack calling a large river bet from Konstantinos Nanos and then mucking when Nanos turned over a straight. Reduced to just a million in chips with the blinds at 60k/120k, he got his chips in with
against Nanos'
, but they chopped the pot. A hand or two later, he shoved from the button with
, and Martin Hruby called with
in the small blind. Hruby turned an ace to seal the deal, and the steaming Negreanu left without the triple crown but with €175,000 for his fourth-place finish.
Three-handed, Greek online qualifier Konstantinos Nanos was the shortest stack at the table and found himself even shorter after paying off Hruby's rivered full house. He doubled up through Hruby a few hands later with pocket kings against Hruby's
but was still woefully short when when he got it in again with
against Hruby's
. He failed to hit a thing but was all smiles even as he busted out in third place, taking €265,000 back to his adopted home in Germany.
Heads up, Martin Hruby had almost a 2-to-1 chip lead over Michael Eiler, but within an hour their stacks had been reversed. Eiler continued to whittle at Hruby, and as the blinds went sharply up, Hruby soon found himself short. Eiler turned the aggression up, raising all-in from the button three times in a row until eventually Hruby called with
. Eiler turned over
, and immediately flopped a flush. No miracles emerged on the turn and river of the
board and Hruby took the €470,000 consolation prize while Eiler took possession of the trophy and the €700,000 first-place money.
Although this was Michael Eiler's first EPT, he has announced that he has plans to play a good few more — and why not, seeing as he has proved once again that the transition from top level online player to live tournament champion is a natural one.
This was the EPT's first fling in Vienna since Season 1, and the 587-strong field produced the biggest and richest tournament in Austrian poker history.
We strongly suspect that this will become one of the most popular stops on the tour. The EPT trail continues in a few weeks' time in Barcelona, but until then, it's good night Vienna.