What's In a Name?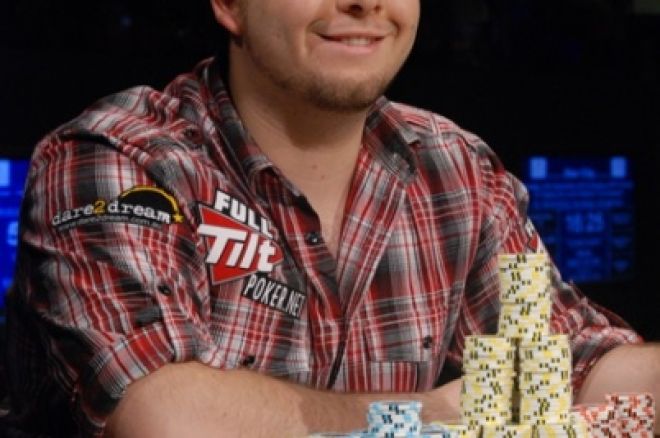 Recently, Full Tilt Poker's Jonathan Karamalikis[/B] shipped the 2010 PokerStars.net APPT Sydney Grand Final, banking AU$459,510 and a very sweet trophy. Obviously, a lot of poker players and fans know Karamalikis by his online handle "xMONSTERxDONGx" – or "Dong" for short – and that got us to thinking: what really goes into a player's handle?
The Basics
Shaun "shaundeeb" Deeb
Chris "moorman1" Moorman
Keven "stamdogg" Stammen
Josh "brikdog24" Brikis
Yes, the basic purpose of a nickname or handle is to represent the player, but couldn't you show a little more creativity guys? Keven Stammen and Josh Brikis at least tried to spice up their names by taking a page out of Snoop Dogg's book whereas Shaun Deeb and Chris Moorman simply typed their name in and off they went. The only advantageous part about having such a boring handle is that you might be able to sneak up on players. These bland names feel like they should be coupled with ABC poker, but if you've ever seen Deeb play then you know that this is far from accurate.
Alumni Status
Jake "psutennis11" Toole
John "UMD Tennis" O'Rourke
Phil "USCphildo" Collins
Scott "SCTrojans" Freeman
Jared "TheWacoKidd" Hamby
Instead of studying or doing homework tons of college students spend their time playing online poker, so it's ironic when they use their school as a handle. Most players are paying homage to Saturday tailgating and late-night beer pong battles, but in the cases of PokerNews Strategy's Jake Toole and John O'Rourke it's a tribute to their collegiate athletic career. Seeing a college-themed handle at a table may signal a young, loose-aggressive player who's playing for booze money or a 40-year old something looking to relive their glory years.
Play Ball
Michael "mossified84" Skomac
Eric "white_mAmbA" Ladny
"MikeVicksPuppy"
While poker players tend to be less athletic, they are certainly some of the most diehard sports fans in the world. It is unsure whether or not Michael Skomac has ever been spotted without his purple Minnesota Vikings hoodie, and even though Randy Moss' stay in the Twin Cities was abbreviated this season he proudly plays under the handle "mossified84." It is rumored that Jason Mercier asked PokerStars if he could play under the handle "LeBronJames6" after The Decision but the site turned him down. Mercier has neither confirmed nor denied these reports. If you spot a sports-related handle at your table be advised that they are probably very competitive and will play super aggressive, especially in blind-for-blind situations.
Devil's Lettuce
Jamie "thecronic420" Rosen
Matthew "All in at 420" Stout
Ty "puffinmypurp" Reiman
Tim "Tmay420" West
It is unknown whether or not every player with a marijuana-themed handle actually puffs the magic dragon, but it is clear that Mary Jane and online poker are far from mutually exclusive. There are a myriad of handles that give praise to the sticky icky and there are countless posters on forums that swear that smoking helps you focus and makes you a better player. Since their name alone could be a level, these players are difficult to read and consequently difficult to play against. Luckily playing against them on the virtual felt is much better than live because you don't have to worry about the table smelling like a mixture of hay and body odor.
WTF???
]Jonathan "xMONSTERxDONGx" Karamalikis
Phil "OMGClayAiken" Galfond
Tom "durrrr" Dwan
Jordan "iMsoLucky0" Morgan
Amir "UhhMee" Barer
Josh "LitleBastrd" Tieman
Losing sucks, but losing to a guy named "xMONSTERxDONGx" sucks even more. Maddening names like "durrrr" and "OMGClayAiken" can be psychological nightmares because they add insult to injury and nobody likes being needled. Tom Dwan even admitted that he chose his name because he wanted players to go on money-tilt after losing to him. Be very, very careful when playing against infuriating handles because their cleverness usually translates well on the felt. Step cautiously and most importantly try not to smash your mouse or keyboard after you've dropped a dozen buy-ins against them.
The Classics
Isaac "WestmenloAA" Baron
Randal "RandALLin" Flowers
Ryan "ryanbluf" Karp
Anthony "D1rtyR1v3r" Nardi
Finally, there are, of course, handles inspired by the game of poker itself. By having a poker-related handle you are telling your opponents you have an understanding of the game even if it's the smallest, most universally known factoid, or that your Google skills are up to par. Cute names with "2-7" or "drawing dead" also signify a sense of humor, which means either the player is going to own your soul and laugh about it or runs so horribly it's comical.
You have only one chance to create an online handle for each site, so whether you are trying to be basic, funny, annoying or classic choose wisely. Your online legacy may be tied to whatever combination of letters and numbers you happen to use to personify your play at the table.
Have you seen our new $40,000 Freeroll Series from Lock Poker? Lock Pro Supremacy not only has four $7,500 Freerolls but it also has 25 $100 Lock Pro Bounties in each tournament, so you can boost your bankroll even if you don't make the money.