A Look at the PokerStars World Cup of Poker VII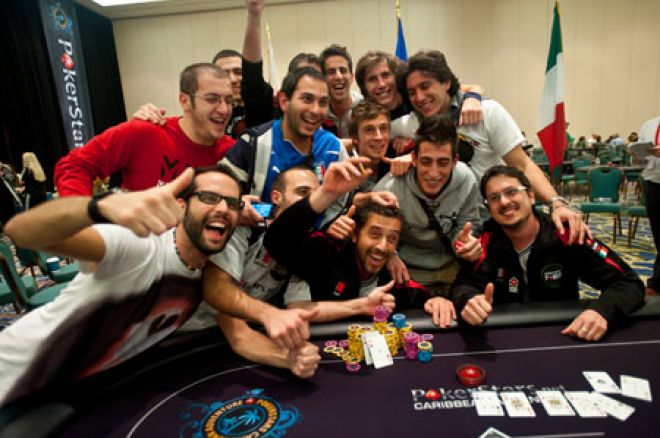 On Saturday, Jan. 15, 2011, the PokerStars World Cup of Poker VII tag-team final table took place at the PokerStars Caribbean Adventure in the Bahamas. It was a jubilant scene as nine four-player teams competed for their respective country's pride and glory. In the end, it was the Italian team of Davide Scafati, Litterio Pirrotta, Marco Mancini and Ravel Furfaro, led by Team PokerStars Pro Luca Pagano, who outlasted eight other teams at an 11-hour final table to take home the $100,000 first-place prize.
For those not familiar with the rules, the final table would be played with each player in action for 20 minutes before being replaced by a teammate. Team captains determined the order for their teams and if a player busts before all the team's chips are in play, the next player is immediately put in. Also, teams were allowed two substitutions to use after the fifth level of play, as well as a single "time out." The nine competing teams had competed in preliminary rounds to build stacks for the final table, which ultimately looked like this:
1st ~ 50,000 chips - France
2nd ~ 45,000 chips - Philippines
T3rd ~ 41,000 chips - Ukraine
T3rd ~ 37,000 chips - Argentina
5th ~ 34,000 chips - Spain
6th ~ 31,000 chips - Italy
7th ~ 29,000 chips - Slovakia
8th ~ 27,000 chips - United Kingdom
9th ~ 25,000 chips - United States
The first team elimination came nearly five hours into play when Team Philippines was all in preflop with pocket aces against the pocket kings of Team UK. Philippines was in good shape, that is until the flop fell
. The
on the turn gave Team UK quads and sent the Philippines home in ninth place with $5,000 ($1,250 each). They were followed out the door by the short-stacked Team USA, who departed in eighth place for $5,000.
The next elimination came when Jose "Nacho" Barbero of Team Argentina opened for 1,500 only to be raised to 4,500 from Team Ukraine. After a call, the flop came
and Ukraine then bet 6,000. Argentina then raised to 17,000 and Team Ukraine moved all-in, after a timeout of course. Argentina was pot committed and made the call.
Argentina:

Ukraine:
A king on the turn put a quick end to the hand and sent Argentina to the rail in seventh place for $10,000 ($2,500 for each player).
It took another four and a half hours for elimination to occur and happened when Team Spain was left with just 400 chips after running their
into the
of Team Italy on a
board. Their official elimination would come shortly thereafter when Spain's
failed to improve against the
of Team France. Spain's day came to an end in sixth place, good for $10,000 ($2,500 for each player).
Not long after, Team Slovakia shoved for their last 20,000 with
and were called by the
of Italy. The board ran out
and Slovakia was sent packing in fifth place, worth $10,000 ($2,500 per player).
With four teams left, Team France member Arnaud Mattern moved all-in for 70,000 with
. Unfortunately for him, Team Ukraine woke up with
. The board ran out
and France's day came to an end in fourth place, good enough for $30,000 ($7,500 per person). Team Ukraine's elimination soon followed after they got the last of their chips in with
. Team Italy called with
and took the lead on the
flop. The
turn changed nothing and neither did the
on the river. Ukraine finished in third place earning $50,000 ($12,500 per player).
Team Italy and Team UK were the last two teams remaining and left to do battle heads up. It didn't take long for the final hand of the World Cup of Poker VII so occur. It happened when Team UK shoved with
and Team Italy called with
. The
flop put a dagger through Team UK's heart and the
turn left them drawing dead. After the
was put out on the river, Team UK departed in second place, earning $70,000 ($17,500 per player).
At 12:57 a.m., Team Italy erupted in celebration, filled with songs and clapping, as they claimed their first World Cup of Poker title. A total of $290,000 was up for grabs in the World Cup of Poker VII, $100,000 of which went to Team Italy. Here are things looked when play was over:
1st – Team Italy ($100,000/$25,000 per person)
2nd – Team UK ($70,000/$17,500 per person)
3rd – Team Ukraine ($50,000/$12,500 per person)
4th – Team France ($30,000/$7,500 per person)
5th – Team Slovakia ($10,000/$2,500 per person)
6th – Team Spain ($10,000/$2,500 per person)
7th – Team Argentina ($10,000/$2,500 per person)
8th – Team USA ($5,000/$1,250 per person)
9th – Team Philippines ($5,000/$1,250 per person)
Photograph courtesy of PokerStars.
Want to get more your news even faster? If so, be sure to follow us on Twitter and like us on Facebook.