PokerStars.com EPT Tallinn Day 3: Mattern In Contention As Down to 25 They Go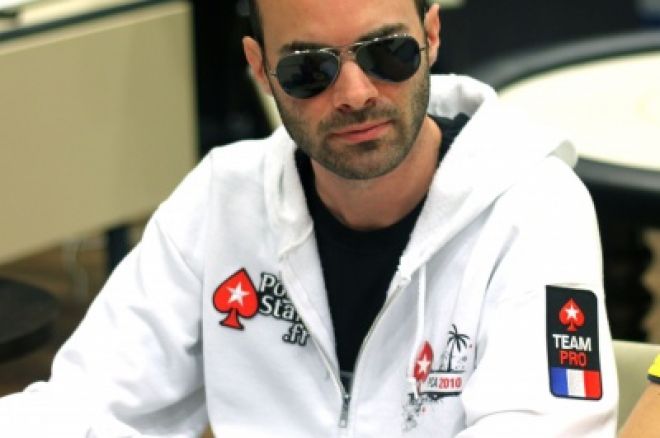 When Day 3 of the PokerStars European Poker Tour Tallinn dawned, 84 players returned to the Swissotel Tallinn hoping to take a shot at the title and the €400,000 first prize. But before the day was out, 28 of them would go home with nothing, another 31 would leave with only a small profit to show for their efforts, and it would all change at the top of the chip counts.
When play stopped for the night after six levels, 25 players remained with Day 1 chip leader Perica Bukara back at the top of the leaderboard on 1.326 million. Hot on his heels are young Russian Konstantin Bilyaver and Team PokerStars Pro Arnaud Mattern, and a little further down the leader board but still in the running are Ivan Demidov, Johan Storakers and Toni Ojala.
When play resumed, British online qualifier Jonathan Weekes had 50 percent more chips than the next chap. However, initially Day 3 did not treat him as well as he might have liked and he slipped down to less than half of what he started the day with. Nevertheless, he rallied toward the end of the day, knocking out Mattias Jorstedt with queens against jacks, and progressed to Day 4 with 872,000, near the top of the chip counts.
But before any of that could take place, there was the small matter of the money bubble. The bubble took not much more than two levels to arrive. Among those who didn't make it were Team PokerStars Pros Michael Keiner and Katja Thater. The latter busted out with pocket queens against Pierre Neuville's big slick — perhaps appropriate given that Thater was the last woman standing of only five who played the tournament. Her exit came just moments after receiving an EPT award for mixed-games player of the year, though, so she at least got to take home a trophy if not an EPT cash this time around.
Of those who did make the money but did not make it beyond a min-cash, perhaps the most interesting was recent WSOP bracelet winner Tomer Berda. Down to less than two big blinds on the bubble and accused of stalling (although to be fair to him, he offered to show the hands he was allegedly stalling with to show that they were indeed marginal), he escaped the unhappiest finishing place in the tournament when fellow Israeli Yotam Bar-Yosef shoved with pocket deuces to a raise from Chady Merhej. Merhej called with pocket queens, and Bar-Yosef was left with a free evening to mull over his decision.
EPT legend and Team PokerStars Pro Luca Pagano was one of the 56 who made the money, breaking his own record for EPT cashes as he picked up his extraordinary 15th EPT payday. He was in pretty good shape to make his seventh final table, until his flopped set of aces turned into a heartbreaking four-flush for opponent Mikko Jaatinen on the river, crippling the Italian. Pagano lasted a little while longer, but never really recovered, ultimately losing out with
against Steven van Zadelhoff's
.
Bukara, who was overall chip leader at the start of Day 2, arrived at Day 3 with 336,100 — only half the chips of leader Weekes but nevertheless good enough for third place overall. He quickly upped this to 600,000 when he flopped a set of sevens to crack Juha Lauttamus' pocket aces, and his fine luck continued after the bubble when his ace-king made a flush to beat Jussi Jaatinen's ace-king. Bukara later took a big chunk out of erstwhile chip leader Johan Storakers and then eliminated Michal Polchlopek with pocket queens against Polchlopek's
on a jack-high flop. Bukara's 336,100 had turned into 1.326 million by the end of play, and he will be the man to beat come tomorrow.
Team PokerStars Pro Mattern began the day on an unremarkable 150,000 or so but quickly doubled that in the first level by knocking out both Martin Papiernik and fellow Team Pro Vadim Markushevski in quick succession, both times with
against
. He never looked back, and after another five levels he had increased his stack to a whopping 1.115 million, good enough for third place in the overnight chip counts. The only thing standing between him and chip leader Bukara is Konstantin Bilyaver, who won a massive three-way pot toward the end of the night to put him on 1.24 million, and Mattern will probably sleep extremely well tonight knowing that he is in fantastic shape to become the first person ever to win two EPT titles.
Also still in the running are Demidov and popular Dutch player van Zadelhoff. Whatever happens, it's going to be an exciting Day 4 as the last 25 players battle it out for a spot at Monday's final table.
Join us back at pokernews.com from noon local time to see who makes it to Day 5 and remember, follow us on Twitter for up-to-the-minute news.