888 Poker Announce PokerCam Tables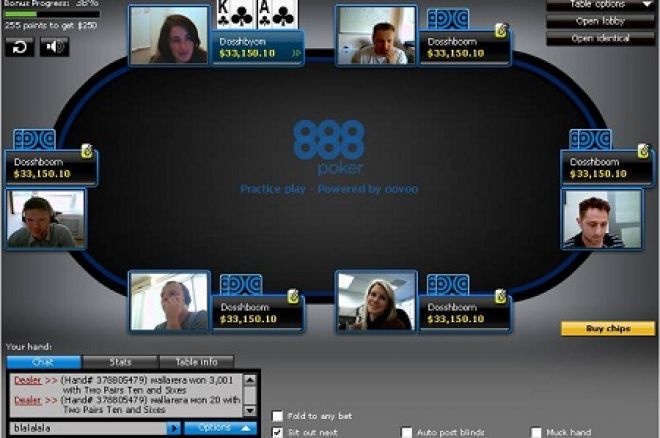 Online poker takes a step closer to live poker today, as 888 Poker have launched Pokercam Tables. Pokercam tables allow players to play face to face via webcam technology bringing a true home game experience to the online world. All 888poker players with a web cam can join specially marked "Video" tables in the lobby and be seen and heard along with everyone else at the table using in-built online communication technology similar to Skype.
This new technology opens up a new dynamic to the world of online poker. It will no doubt provide a fun home game element to the tables with plenty of banter. At the same time this will be the first time that physical tells may play a part in the online decision making process (Unless the player is hiding from the web cam).
Check out the 888 Poker Bonus Code
Maytal Ginzburg, VP Poker at 888Holdings, speaks about the new pokercams at 888poker as an extension of the 'we play different strategy': "We believe that real poker is not just about winning money, but it's about the thrill, the fun, the excitement and the social poker experience. Online poker has been traditionally focused on the 'money making' element – we feel that there is no reason why online poker should not enable players to meet, socialize and play together. Our new pokercam tables offer our customers a place to meet, play and socialize and are a true indication of our commitment to play different. It's all about opening our doors to customers that want a casual game of poker, some may play for fun and some may play for real money what we offer is a fun and exciting game of poker against people who share the same interests as you and now you can actually see and talk to them!"
Check out the 888 Poker Code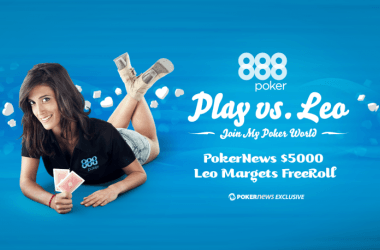 Hili Shakked, Director of Poker Offering, 888Holdings stated: "I'm thrilled to offer current and new customers of 888poker this innovative and fun feature. It's been almost a year in the making and we are delighted at the result. Players can look forward to enjoying a completely new and different poker experience, by simply downloading the new 888poker software on a computer with a standard webcam. Now the greater challenge will be how to conceal the big smile when you get pocket aces!"
Not only can you play PokerCam tables exclusively at 888, you can also play in our exclusive $5,000 Leo Margets Freeroll series where you can play with, and bust, 888 poker star Leo Margets.