Amateur Ben Hopkins Wins November Nine Reunion Event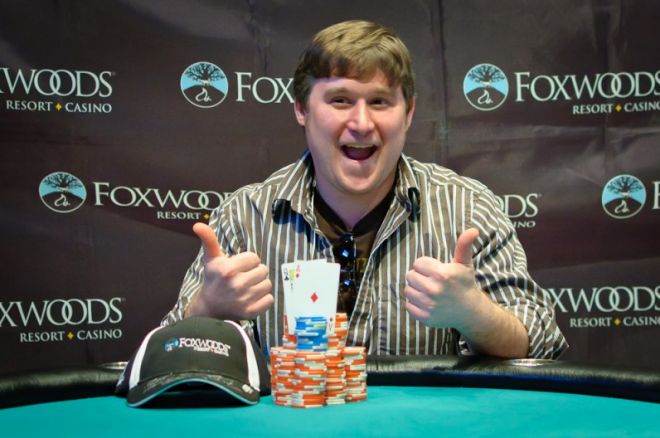 Foxwoods Resort Casino threw open its doors on Tuesday for a unique event that drew poker media and players from across North America and beyond. For the first time, the full cast of the 2010 World Series of Poker's November Nine was reunited for a $15,000 freeroll on Tuesday (with plenty of action on the side, as you might imagine). The Nine flew into chilly Mashantucket from their respective hometowns to take part in the 30-player tournament that also included poker pro (and Foxwoods spokesman) Bernard Lee, quotable ESPN poker commentator Lon McEachern, magazine editor Kasey Thompson, and 18 amateurs randomly drawn from the pool of players who've cashed in events at Foxwoods thus far in 2011. The cards went in the air right around 2:00 p.m. EST.
Joseph Cheong made it all the way to three-handed play last November, but his luck ran out much earlier in this reunion event. During the 25/100/200 level, Michael Mizrachi opened the pot to 525, and Cheong moved his stack of about 5,500 into the middle with
. Grinder told it like it was as he announced, "I'm calling you really light," plunking the chips into the pot and turning over
. It was a flip, and Cheong's pair could not run fast enough to fade the king-high board, eliminating him as the first casualty of the Nine.
That was the start of a big early rush for Mizrachi who went on to claim the tournament lives of several more players over the course of the succeeding levels. One cooler of a pot saw a player get his money in with
on a
flop. Mizrachi, having squeezed in a three-bet from the button before the flop, quickly called his opponent's post-flop shove with the crushing
– the overset. Dragging a quick rush of big pots, Mizrachi was the early chip daddy as the field ticked down under 25 players remaining. Grinder was pining for action and he got Matt Jarvis (6:1) and John Racener (7:1) to lay him odds on winning it all in addition to the chump-change $5,000 last-longer bet the nine players had running amongst themselves.
Soi Nguyen was the first player eliminated from November's Main Event final table, and he managed to outlast Cheong this time before busting as the second November Nine casualty. Nguyen flipped his pocket queens against an opponent's Big Slick for his full stack, and an ace on the turn ended his day early. A king on the river rubbed it in, rubbing Nguyen out in the process.
Jason Senti had a particularly chatty day at the tables, but it turned out to be a similarly short one. Just after the second break, Senti took his
up against Lee's
to no avail. A board full of blanks ushered Senti out onto the sprawling casino floor, although he stuck around long enough to needle the players he was now sweating his last-longers against. Just moments later, Filippo Candio was given his marching orders, as well.
Racener had a flight to catch late in the afternoon and was one of the most active players throughout the early hours of play. The Main Event runner-up doubled up early when his meager
faded a flush draw on a coordinated queen-high board. A couple of levels later, he doubled again when his
out-raced an opponent's
on an
board to bring his stack back above starting. That gave Racener a fighting chance, but it was just another couple orbits before he was run out of the room, reducing the 30-player field to half.
With 14 players left, four of the Nine were still standing with Mizrachi and Jarvis fighting for the chip lead. And they weren't sparing any punches. Down to to short-handed tables, the two tangled in a big hand with Mizrachi's ace-king crushing Jarvis'
preflop. The dominated Jarvis managed to flop his three-out nine, but Mizrachi grabbed a life-saving king on the river to double him up and give amateur William Raynor the overall lead. John Dolan was getting short on chips by that time, and he made his final move with
. Jonathan Duhamel called him down with
, and a
board failed to connect with Dolan's baby cards.
Lon McEachern turned out to be a great addition to the event as his wry sense of humor came out comfortably throughout his talkative day. In the 50/200/400 level, McEachern bolstered his stack in a big multiway pot. A short-stacked player was all-in for 3,000 following a
flop, and McEachern and one other player both called his shove. The turn brought the
, and McEachern fired out another 4,000 chips. The third player in the hand moved all-in for 9,725 with
, and he was quickly coolered-off as the broadcaster snapped him off with the superior
. The blank
river gave McEachern the double knockout, pushing him near the chip lead with about 20 players left. Those chips wouldn't last at his tough table, though, and it wasn't long before McEachern found himself on the short stack. With 11 players left, the bubble burst at his expense. It was Jarvis and his
doing the deed, overcoming McEachern's
on a
board to bring the field into the money and cue the final redraw.
Three amateurs were eliminated to further shrink the field to seven before another big pot broke out between Mizrachi and Jarvis in a battle of the blinds. On the turn of a
board, Mizrachi check-called a bet of 9,600, and Jarvis put him all in after the
river. After a long soak in the tank, Grinder called off his last ~10,000 chips that he'd never get back. Jarvis turned up
, and Mizrachi flashed only the
as he wished the table luck and collected a not-so-life-changing $500 consolation prize.
Jarvis was in command of the table after that pot, but Duhamel was out to change that. With 17,900 left in his stack (at 200/1,000/2,000), Duhamel raced his
against the chip leader's
, holding strong on a board that ran
. That knocked Jarvis down a peg, but he was still wielding the big stack with about 90,000 chips and a small lead over Raynor and Ben Hopkins at that point. But Duhamel was still building. Just a few minutes later, he claimed the tournament life of the Foxwoods Poker spokesman himself. Lee was down around 21,000 when he open-shoved with
, and Duhamel called with the
. The
flop connected with both players, but Duhamel seized a big lead when he flushed the
turn. Lee bricked the
river, and his day was over in sixth place.
Duhamel had worked his way back into the game in big leaps, and it wasn't long before he was poised for another big pot when he got himself all in and racing against Hopkins. Duhamel's
took a huge lead on the
flop, but Hopkins'
picked up four more outs on the
turn. As it turns out, he didn't need them because the
spiked the river, and just like that, Duhamel was felted. The loss not only cost him a chance at a November repeat in February, but it struck a blow to his dignity, at least in a hockey sense. As per the terms of their personal last-longer bet, Duhamel will have to wear the jersey of the Vancouver Canucks (Jarvis' team) for three events at the World Series this year.
With four players left, the stacks were relatively even between the top three with Jarvis the clear favorite to win –- until he made a big misstep. He and Anthony Palladino tangled in a preflop raising war that left Jarvis all-in with
. He was in bad shape against Palladino's
, and it looked like the November Nine was about to become zero. The dealer had other ideas, however, flopping Jarvis' nine right away. As if it wasn't enough of a beat, the case nine arrived on the turn, and the
board doubled Jarvis back into the driver's seat, and Palladino fell by the wayside a few hands later. Shortly thereafter, Jarvis and Hopkins were heads-up for the title.
The battle was one fought with big sword swipes, and the two traded big pots for a few orbits before the closing series of hands. Hopkins picked off a big bluff with third pair to take a 3:1 lead in the match, and Jarvis got his remaining chips in with
soon thereafter. Hopkins was right there with
, and the
board held his ace and locked up the title. Jarvis' run fell short of a win, but it did earn him $45,000 for the prop-bet fund and he should get his money's worth when Duhamel shows up in a Canucks jersey in Las Vegas.
| Place | Player | Payout |
| --- | --- | --- |
| 1 | Ben Hopkins | $5,000 |
| 2 | Matt Jarvis | $3,000 |
| 3 | Bill Raynor | $2,000 |
| 4 | Anthony Palladino | $1,000 |
| 5 | Jonathan Duhamel | $1,000 |
| 6 | Bernard Lee | $1,000 |
| 7 | Michael Mizrachi | $500 |
| 8 | Joseph Washington | $500 |
| 9 | Rich Grygeil | $500 |
| 10 | Mark Walsh | $500 |
As always, follow us on Twitter and become our fan on Facebook for the best up-to-the-minute news.