European Poker Tour Copenhagen Day 5: Swede Taste of Victory - Michael Tureniec Wins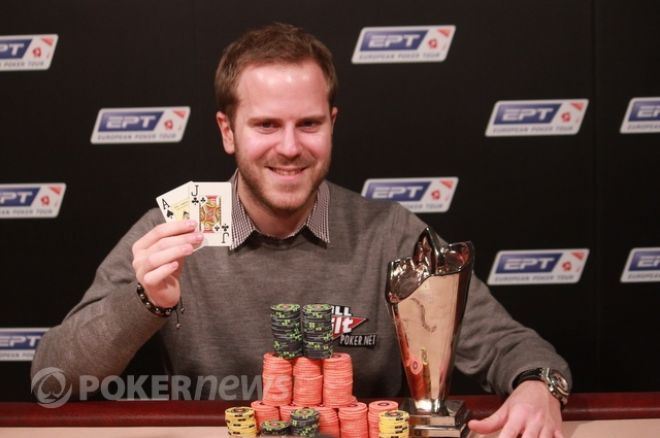 The Scandinavian leg of the PokerStars European Poker Tour is known for its modestly-behaved yet insanely competitive players, attracting one of the toughest fields on the tour to snowy Copenhagen. To beat 448 others and snatch the title, as Michael Tureniec has done, is an impressive achievement and this year comes with a DKK 3,700,000 (nearly €500,000) top prize and a specially-commissioned Shamballa bracelet.
The final table featured more swings than a children's playground. The chip lead finally deserted Per Linde and came home to roost with Tureniec, but spent time in the hands of several of the others. One of the best line-ups seen on an EPT final set even the staid Scandinavian railers' pulses racing as the top eight payouts from the DKK 15,086,400 total prize pool were claimed.
The day got off to an explosive start, a short stacked John Eames rocketing up to challenge leader Linde within fifteen hands. In order to knock anyone out, Eames first had to double up; this occurred on the very first hand. Nikolas Liakos was a non-believer when Eames three-bet from the small blind and tried to get rid of him with a shove, but he was snap-called and could only show
to the
of Eames.
There was a one-hand hiatus before Eames was dealt pocket kings again. This time he eliminated Juha Helppi in eighth place (DKK 296,400). Helppi, five-bet shoving with pocket queens, said as he left the table, "That was a set-up. Nothing you can do." An EPT Main Event title still eludes the quiet Finn, although he has won (among several other well-paying events) the €20,000 EPT Deauville High Roller in Season 6 for €192,000.
It began to occur to the rail that there might be more than the four traditional kings in the deck when Eames picked up
in the big blind at the same time as Italian pro Andrea Dalle Molle moved his short stack all-in preflop. He racked up his second knockout in less than half an hour and suddenly nearly matched long-term chip leader Linde in chips.
Linde had come to the final table with a lead that poker dreams are made of, but it was Eames and then later Tureniec who got on with eliminating the opposition. Tureniec busted the last remaining Danish player Mudassar Khan in sixth (DKK 600,000) with a pair of fives vs. ace-jack. Khan, the only player describing himself as properly "recreational" had played few hands, and found his tournament ending abruptly. His previous results include winning the Swedish Poker Open Championships in 2006 for $134,539, and his prize in this event nearly matched that win.
Tureniec stole some of Eames' cowboy-related thunder when a slowplayed
brought him a double up from the golden Englishman. Blind on blind, Tureniec had flat-called Eames' continuation bet on a
flop, before moving in over his lead on a
turn. Eames looked like he was kicking himself when he made the call with
and let the dangerous Swede back in the game.
Liakos had been taking a break from live poker to focus on his studies with the intention of becoming a mathematics teacher; his return to the game was successful by anyone's reckoning. He had been hovering near the bottom of the chip counts for a while, busting out in fifth place (DKK 750,000) moments after doubling up through lone American Kevin Iacofano. It was Tureniec (winning his second all-in race) who took his chips, in the process moving into second place four-handed.
Around this time it occurred to Lady Luck that Eames hadn't been dealt pocket kings for around 20 hands. So out they came. Eames found Linde willing to four-bet all in preflop, and his kings held vs. Linde's bullying
. For the first time since Day 3, Linde found himself in a position other than first, but seemed undaunted by his more modest stack.
Even losing a two million chip pot to Iacofano didn't stop Tureniec busting this Cleveland-born online pro when he finessed a hero call for all his chips on the river. Having flopped three tens on a
board, Tureniec kept his foot on the gas down the streets, finally moving in on the river to put Iacofano at risk. Iacofano called with
and looked pained to see Tureniec with the goods. In his interview he said, "My gut was telling me to call, so I did it. But we all know heroes die." He did admit that it was hard to feel too sorry for oneself when the prize for finishing fourth is DKK 1,000,000 (€134,000).
The final three (Linde, Eames and Tureniec) were all strong, experienced players and made for fascinating watching on the EPT Live stream; the press were and remain disappointed that hole card cameras weren't catching the action from their perspective.
There came a point where all three players had nearly equal stacks, and there was no telling who would come out on top. In the end it came down to what is often referred to as the "classic race" between the
of Eames and the
of Tureniec to bring one player to the fore. For perhaps the first time in EPT history, it took a preflop six-bet for two finalists to get their stacks in the middle. There was a room-wide intake of breath as the turn brought a king (and the river another) giving Tureniec 60 percent of the chips in play and knocking Eames down to ten big blinds.
Despite a determined effort to get back in the running with preflop shoves, Eames eventually finished third (DKK 1,400,000) when Tureniec — his nemesis on the final table — got him in preflop with
to his
. Both players hit their top pair. In his exit interview Eames called himself a "card rack" on the final, and admitted that he was happy with 3rd and would be tackling all the EPTs this season.
Heads up play started with Tureniec holding a 2:1 lead. The two top prizes were going to aggressive Swedes, whatever happened next. They both had plenty of wiggle room left in their stacks and we saw pot after pot three-bet or played cautiously down the streets. Slowly Tureniec whittled down his opponent, continuing the trend for long drawn-out heads up battles in Copenhagen. Twice he had Linde all-in with 2 million chips to his 11 million, but lost both times.
The pace of play then slowed dramatically. There was almost a full level of flopless pots before the hand match-ups were such that the stacks flew in. Per Linde's final hand was
, called by the
of Tureniec. The final race of the nearly four-hour heads up match was won with a jack on the turn, and Tureniec's sunglasses finally came off as he cracked a smile. Runner up Linde receives DKK 2,450,000 (around €329,000) for his impressive performance but it's Tureniec who takes home the title, giant cheque, and bragging rights for having secured both an EPT first and second (his runner-up spot was also for a cool half million back in London in 2008).
The Casino Copenhagen at the Radisson Blu has seen some of the best live poker played on the European circuit this week, and crowned a worthy champion. PokerNews will be heading to Snowfest in Austria next, covering all the action from the ski resort of Saalbach-Hinterglemm, March 20-25.
For all the latest from PokerNews, be sure to follow us on Twitter and like us on Facebook.