PokerNews Op-Ed: Multi-Entry Tournaments - Best Enjoyed in Moderation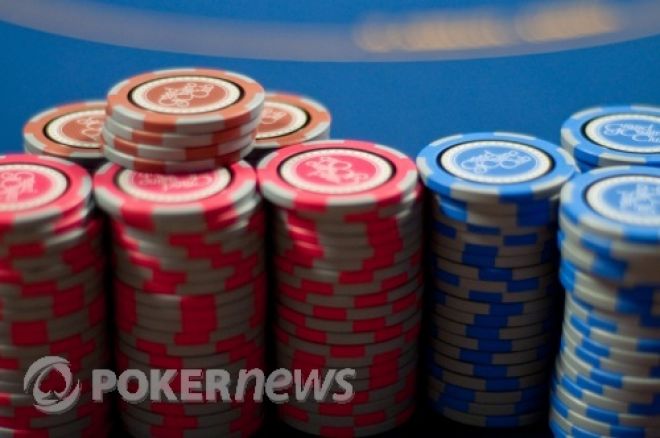 Sorel Mizzi six-tabled the FTOPS XIX Main Event Sunday, but he wasn't breaking any rules. Thanks to Full Tilt Poker's new Multi-Entry feature, hundreds of players had six entries ballooning the field to 14,479 and the prize pool to a mind-boggling $8,687,400.
GIAMPP, Blair "blur5f6" Hinkle and Mads "SirMad" Amot chopped three ways at the final table. Hinkle took the lion's share of $1,162,949, but GIAMPP won the jersey and $877,949.
The Main Event wasn't the first tournament affected by multiple entries, either. FTOPS Event #24 had 11,343 entrants, creating a prize pool of $3,402,900. Alexander "AD_84" Debus ($341,268), Jason "NovaSky" Koon ($458,550) and O0Brian0O ($336,750) chopped three-handed.
Before FTOPS XIX, during Double Guarantees Week, the Full Tilt $1K Monday attracted 1,454 entrants. The $1,454,000 prize pool more than doubled the $600,000 guarantee, and Shaun Deeb took it down, banking $312,610.
All of this is very exciting, but much like alcohol, multi-entry tournaments should be enjoyed in moderation. They're like that friend who always drinks too much and wakes up the next morning vowing to never drink again. Every once in a while, you get a kick when they do something fascinating, but after a while they become more excessive than Norman Chad's divorce jokes.
If every major tournament on FTP becomes a multi-entry affair, then the fields will become oversaturated and less attractive to amateur players and mid-stake grinders. If an amateur player opens a tournament lobby to see that there are hundreds of sharks with six entries, and the amateur can only afford one, why would he register? Likewise, mid-stakes grinders understand the dangers of variance and would rather play on other sites or at smaller stakes than bust multiple times in one tournament.
"I'm sure I'm not the only one that these multi entries have taken broke on FTP," Josh Brikis tweeted Sunday. "Won't be reloading for a while either."
Established pros and regulars will suffer if amateur players practice avoidance. They're already spending more buy-ins and paying more juice to play multi-entry tournaments, so if the fields become tougher they are going to become very unappealing. There are some players like Deeb who believe they have an edge over anyone they play online, but as we've seen with the high-stakes cash games there are plenty of players who are a bit nitty when it comes to game selection. Players certainly can't bum-hunt when playing multitable tournaments, but they can steer clear of multi-entry tournaments altogether.
For those who play multi-entry tournaments, there are also problems when it comes to screen space. If you're playing a full Sunday schedule and all of a sudden one or more of the tournaments has multi-entries, then you may have to add three or more tables per tournament. To complicate matters further, this screenshot from the FTP website depicts a tournament lobby with over 11 entries available – as if six wasn't enough. To top it all off, merging stacks doesn't necessarily benefit players who go deep. For example, if one player has the two largest stacks going into the final table, they merge together, but they receive 10th place money. So rather than having a shot at having two big payouts, you only get one chance to win. Of course this issue will rarely come up in large fields, but it's definitely in play for smaller, more frequent tournaments.
Instead of spreading these tournaments like wildfire, FTP should treat them like Rush Poker. Rush revolutionized both cash games and tournaments, but the FTOPS Main Event will never be Rush nor will any other major tournament like the $1K Monday. There are a handful of preliminary FTOPS and Mini FTOPS events that are Rush, but that's it. Instead of force-feeding multi-entry tournaments to their players, FTP should just make them available like they do with Rush. That way they can generate a huge prize pool once every couple of months without devastating players' bankrolls.
Also, there should be special satellites designed for multi-entry tournaments. If you're an amateur player, what's the point of playing a satellite to a multi-entry tournament if you're only going to win one entry? Some satellites should offer two or more seats to whomever "cashes," so they, too, can have multiple entries in the tournament. This would obviously halve the amount of prizes awarded, but their value would double, making it a fair trade-off. The same concept could be extended to rebuy tournaments, as well. Again, what's the point of playing a satellite if you can only win one bullet?
Most all of us enjoy going out and having a few drinks with our friends, but when someone is always getting sloppy, we tend to put you off. The same concept applies to multi-entry tournaments. Once in a while, it's OK to spew six entries for a shot at $1.326 million, but these tournaments will get very old if players are forced to dish out multiple buy-ins on a daily basis.
As always, be sure to follow us on Twitter and like us on Facebook for all the latest news from the poker industry.