Chop Suey: An Examination of the Sunday Million Chop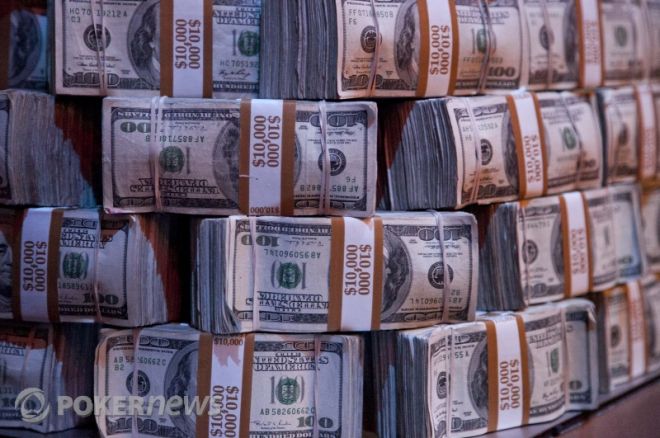 This past Sunday, PokerStars ran a special Sunday $5 Million Guarantee to celebrate the weekly tournament's fifth birthday. Over a million dollars was guaranteed for first place as was a new Lamborghini Gallardo LP560-4. When the final table was reached around 6 a.m. EST, however, all nine players agreed to a deal that gave the chip leader, wrzr123, only $844,209.87. Here's how the final results looked with the original payouts.
| Place | Player | Prize | Original Payout |
| --- | --- | --- | --- |
| 1 | Luke "Bdbeatslayer" Vrabel | $671,093.81 | $1,655,629.38 |
| 2 | sheppyshape | $465,647.02 | $1,182,560.00 |
| 3 | wrzr123 | $844,209.87 | $792,315.20 |
| 4 | guccyka | $411,090.13 | $449,372.80 |
| 5 | Syndrome1977 | $799,843.09 | $271,988.80 |
| 6 | zeurrr | $518,402.33 | $153,732.80 |
| 7 | nhar818 | $441,541.06 | $107,612.96 |
| 8 | Jan10004 | $311,023.33 | $72,136.16 |
| 9 | Battmeister | $263,888.06 | $41,389.60 |
As you can see, the chop hurt some people while rewarding others. Going into the final table, Luke "Bdbeatslayer" Vrabel was far and away the most experienced player, and chopping cost him $1 million. On the other end of the spectrum, Battmeister was nursing the shortest stack and begging for a deal in the chat box. When everyone finally agreed, they gifted him an extra $200,000 because he quickly exited in ninth place.
The biggest problem I have with the chop is the effect it had on the mystique of this special tournament. If PokerStars guarantees over a million dollars for first place, and the highest payout is less than $900,000, that's a bit disappointing. Of course, the nine were playing for the Lambo – estimated at $205,000 – and bragging rights, but once the deal was made, there was no reason to watch the final table play to a winner.
But this tournament was also unique because there wasn't much room for play and most of the players were inexperienced. According to Official Poker Rankings, wrzr123, zeurrr, sheppyshape, guccyka and nhar818 all have an average buy-in (ABI) less than $10. Jan10004 and Battmeiser have ABIs less than $20, Syndrome1977 is hidden and Vrabel is well over $200. If wrzr123's were a professional, there is no way he would've agreed to a straight chip chop with such a massive lead. He would've either waited for a few knockouts or demanded more money. Instead, he willingly took the deal because of his inexperience and missed out on a chance to free roll for more money – he ended up making only $50,000 extra than he would have for third place.
The saddest part about this deal is that pbrsquad only received $27,000 for finishing in 10th place. Not only did this player final table bubble, but he bubbled an artificially bloated $200,000 pay jump created by the chop. This is where the integrity of chops comes into play, especially in a live setting.
If you've ever been on or near the bubble of a small to mid-stakes live tournament, then you've probably been asked to throw a couple bucks into a pool to pay for the bubble boy's entry fee. In fact, at the World Series of Poker Main Event the player who bubbles receives entry into next year's tournament. This is all well and good, but what happens to the guys who bubble the bubble? Are we going to start offering them prizes too?
Likewise, there are usually nasty things said during the negotiation of a deal, especially if it's between three or more players. If one player disagrees or is against making a deal, then everyone gangs up on him or her and tries to pressure the person into caving. Poker legend Barry Greenstein agrees with this idea. On a recent episode of Poker Road Radio, he shared his sentiments for those who've been bullied into a chop, arguing they deserve more protection from the dealers and floor. Matt Savage, a guest on the show, agreed, admitting he's even covered for players in the past by telling players that more than one person was against making a deal.
Above everything else, chopping is bad because it reduces variance. I know, the MTT grinders who just read that sentence fell out of their chairs, but let's be honest; variance is exciting! We want to see players in pain after punting their whole stack as much as we want to see short-stacked players come back and win. Emotional highs and lows are interesting, but they are null and void when players agree to a deal. This concept might not apply to a small buy-in tournament at your local brick and mortar casino, but for the Sunday Million or a WSOP event it is very applicable because those events are directly in the media spotlight.
Let's keep poker interesting and keep the chops to a minimum. No one wants to see players divvy up the community's money. Instead, we want to see the pain, elation, frustration, anguish and euphoria that should be synonymous with tournament poker.
Disagree? Post a comment below and tell us why. Also, be sure to follow us on Twitter and like us on Facebook.
We have one more $15,000 Sunday Million Freeroll with PokerStars left to qualify for, with $1,000 to the winner and 260 tournament tickets, including 45 Sunday Million Tickets on offer.