The Nightly Turbo: Matt Savage Sound Bite, Who Won the $500,000 - Father or Son, and More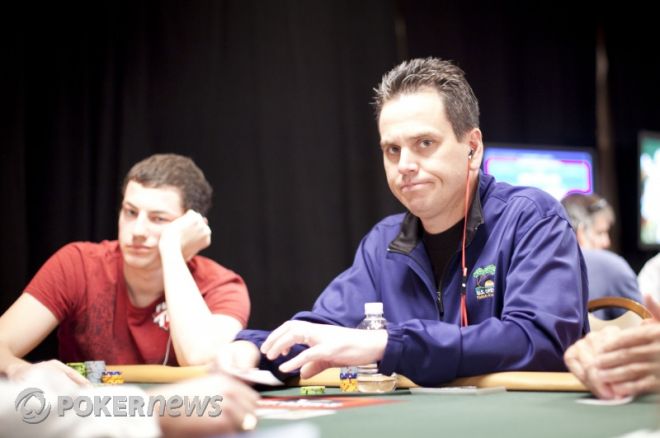 Matt Savage was recently interviewed by Remko Rinkema for NL.PokerNews.com. He offers insight into tournament directing, and more. Rather than tell you about it, we'll give you the link to it, bring you up to speed on some controversy surrounding the fifth anniversary of the PokerStars Sunday Million, and more in tonight's Nightly Turbo.
In Case You Missed It
Just 70 players remained after Day 2 of The Big Event at the Bicycle Casino. Team PokerStars Pro Victor Ramdin may have bagged the most chips at the end of the night, but plenty of pros are waiting to take the lead from him. Check out The Big Event recap to find out who made it to Day 3.
We recently sat down with Chris "GoMukYaSelf" Sparks to find out how he got started in poker, his living arrangement, and more. Check out the Online Poker Spotlight for more.
Bluffing people at the table is fun every now and again, especially when they're needling you, but you need to make it a successful bluff. Team Full Tilt Poker's Chris Ferguson recounts a hand he played on Poker After Dark where he bluffed Mike Matusow with seven-deuce.
Phil Ivey had a pretty good weekend at the online high-stakes cash-game tables, pocketing seven figures. The Online Railbird Report has more.
Tom "durrrr" Dwan and Daniel "jungleman12" Cates played a short "durrrr" Challenge session Monday night. If they keep playing sessions this short, we'll be old and gray by the time this is finished. Check out the "durrrr" Challenge recap for more.
Savage Bite
Matt Savage was recently interviewed by Remko Rinkema for an NL.PokerNews.com Sound Bite segment. Savage discusses the World Poker Tour action from the L.A. Poker Classic where Gregory Brooks took down the $1.6 million first-place prize. The two also discuss international events and how they're being run, as well as Savage's thoughts on the new World Series of Poker media rules, and whether or not he'd ever be returning to the WSOP.
The article may be in Dutch, but the interview isn't. Check it out on NL.PokerNews.com. (Yes, we went ahead and Google-translated it for you. You're welcome.)
Who Won?
If you don't know that the fifth anniversary of the PokerStars Sunday Million paid out plenty of dough last Sunday, then you need to get out from under that rock. That being said, final-tabling that event and allegedly violating the site's T&Cs could pose some pretty big problems. What are we getting at?
According to reports, there is controversy surrounding sixth-place finisher, Dutch poker player "zeurr." Dutch newspaper Algemeen Dagblad attempted to interview the player behind the screen name after his sixth-place, $500,000 finish and came across some fishy business.
The journalist attempted to contact Jimmy Jonker, who, after some research, he concluded was "zeurr." However, when the journalist called the residence, Jos Jonker, Jimmy's 47-year-old father answered, and said he was the account holder and sixth-place finisher. After further investigation, the journalist found out that Jimmy is only 17, and if the "zeurr" account was in fact his, he would be violating the T&Cs.
As of now, this is all speculation, but if we hear anything else, you can bet we'll be bringing you all the drama as it unfolds.
MPCPoker.com has more.
XWINK = XBLINK
A new player has emerged at the online high-stakes cash-game tables in the last few weeks and there were rumors that it could be the Canadian player associated with the XBLINK account from UB. Apparently this has been confirmed. We've been updating you on him in the past weeks' Online Railbird Reports and recently, "89libst," XBLINK's alias posted on TwoPlusTwo describing how he turned $4,000 into $2 million in four days - which is a summary of how XWINK's last four days have gone.
According to HighStakesDB, we should be safe in assuming that XBLINK and XWINK are the same person.
Check out more super-sleuthing at HighStakesDB.com.
Know Your Tablemates
On February 17, a high-stakes home game was robbed in Kentucky. According to police reports, $5,000-$7,000 was taken from the game, along with car keys and cell phones. There were ten players in the game, but allegedly, one of the men was playing for the other team, as well. A suspect named E. Gammera played in the game but was also a lookout for the three men who stormed that game with handguns demanding cash and saying "no one wants to be a hero."
On Monday, Ronald Walter and Michael McTier were arrested and have been charged with nine counts of robbery and one count of burglary, among other charges. No information has been released on E. Gammera and the other accomplice. All of this is just a friendly reminder to you home-gamers to know who's at your table.
To read more on the robbery, check out Fox41.com.
Lew vs. Hachem
Kristy Arnett caught up with Randy Lew and Joe Hachem at The Big Event recently to pit the old-school playing style versus the new-school. Find out what each player had to say in our Versus segment.
Follow us on Twitter for up-to-the-minute news.