The Online Railbird Report: Ivey Pockets Seven Figures Since Friday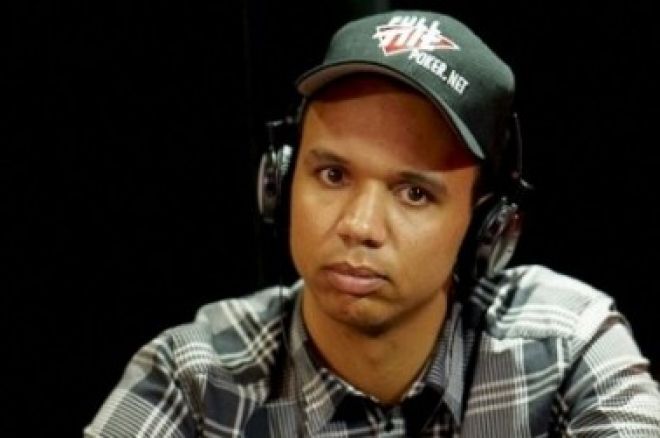 While the online poker tournament scene was bigger than usual last weekend, it was business as usual at the online high-stakes cash game scene on Full Tilt Poker. Many of the regulars have been in action and nobody has done better than Phil Ivey. The last few days have been excellent for him. Having made just greater than a million dollars since Friday, Ivey is now the second biggest winner of 2011, trailing only Gus Hansen.
Ivey's recent success came at $500/$1,000 capped pot-limit Omaha against a few opponents, mainly Daniel "jungleman12" Cates. With the button, Cates raised to $2,000. Ivey reraised to $6,000 from the big blind and Cates four-bet to $18,000. A call from Ivey brought a
flop, which Ivey fired $22,000 at to reach the cap. Cates called and revealed
for the overpair of aces, while Ivey showed
for an overpair of kings with a flush draw. They ran it once and the
hit the turn, keeping Cates ahead. However, the
popped off on the river to make Ivey a flush, sending the $80,000 his way.
Another hand saw Ivey open to $2,000 on the button and Cates pop it to $6,000 from the big blind. A
flop followed after Ivey called. Cates checked, prompting an $8,000 bet from Ivey. A raise to $34,000 came from Cates, reaching the cap. Ivey called with
for top pair and an open-ended straight draw. Cates tabled
for a flush draw, as well as an inside straight draw. The turn and river fell an uneventful
and
, clinching the $80,000 pot for Ivey with a mere pair of nines.
While there were about a dozen more capped hands that Ivey won, lets pick one more. Cates had the button and raised to $2,000. Ivey called and then checked the
flop. Cates bet $2,000, quickly seeing Ivey bump it to $6,000. A call from Cates led to the
turn card and Ivey pulled another check raise, leading to a Cates reraise and the cap being reached between the two yet again. Cates tabled
for trips, but Ivey had him outkicked with
. The river fell the
, keeping Ivey's jack kicker in play and locking up the $80,000 pot for him.
South Defeats XWINK in Largest Pot of the Weekend
It was a week of major swings for the mysterious "XWINK," and now the Canadian is in the midst of a downslide. The largest pot of the last few days involved XWINK and Cole South at $300/$600 pot-limit Omaha.
South opened to $1,800 on the button and XWINK made it $5,400 to go from the big blind. South came back over the top with a four-bet to $16,200. XWINK called, leading to a
flop which the Canadian checked. South bet $20,400 and XWINK came along to see the
hit the turn. Another check from XWINK led to another bet from South, this one for $27,900. XWINK called, once again checking when the
hit the river. South bet the remaining $52,000 and change he had at the table. XWINK opted to call, but mucked when South tabled
for a six-high straight to win the $233,981 pot.
Who's Up? Who's Down?
Week's biggest winners (3/4-3/7): Phil Ivey (+$1,069,000), Cole South (+$408,000), NoPasaran (+$389,000), O Fortuna PLS (+$233,000), Gus Hansen (+$233,000)
Week's biggest losers: XWINK (-$461,000), Rui Cao (-$428,000), Daniel "jungleman12" Cates (-$381,000), ShutTheClubDown (-$333,000), trex313 (-$324,000), Scott "URnotINdanger2" Palmer (-$284,000)
Year-to-date winners: Gus Hansen (+$3,063,000), Phil Ivey (+$1,782,000), Matt Hawrilenko (+$1,677.000), *Gavin "gavz101" Cochrane ($983,000), Andreas "skjervoy" Torbergsen (+$1,129,000)
Year-to-date losers: kagome kagome (-$1,413,000), Phil "OMGClayAiken" Galfond (-$1,082,000), Tom "durrrr" Dwan (-$1,046,000), UarePileous (-$977,000), cadillac1944 (-$939,000)
*on PokerStars
Want to check out some of the high-stakes action? Sign up for Full Tilt Poker and PokerStars accounts today. Get the full PokerNews experience. Follow us on Twitter and like us on Facebook.