The Online Railbird Report: Ivey, Sahamies, and "XWINK" See Plenty of Midweek Action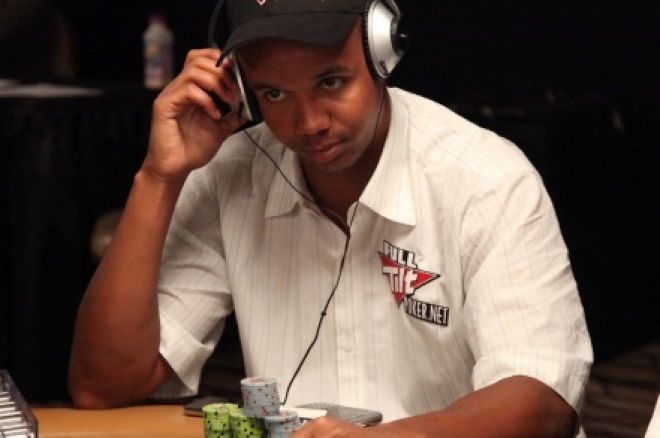 It's no surprise that the high-stakes action on both Full Tilt Poker and PokerStars were in full swing during midweek. A formidable force in "XWINK" made an unexpected appearance on the former site and banked $700,000. Likewise, Ilari "Ilari FIN" Sahamies continued to roll on latter site. Also making appearance at the tables were Phil Ivey, Viktor "Isildur1" Blom, "kagome kagome," and many others.
Blink and You'll Miss It
Remember the story from a few years back involving a 20-year-old Canadian player known as "XBLINK" who played on UltimateBet. Remember how he claimed to turn his last $11 into hundreds of thousands of dollars in five days? Remember "XWINK," rumored to be the same player who appeared at the high-stakes tables on Full Tilt Poker and then simply disappeared? Whether you do or don't, the fact remains - he's baaaack!
During the midweek, XWINK made a thunderous return to the virtual felt by winning nearly $700,000 with almost 43 percent of that ($300,000) coming against Jared "harrington25" Bleznick. In addition, XWINK squared off against David Benefield at the $300/$600 pot-limit Omaha tables on Full Tilt Poker and managed to take down some sizable pots. In one hand, XWINK ($149,997.50) raised to $1,200 on the button only to have Benefield ($30,000) make it $3,600 to go from the big blind. XWINK made the call and the two watched the flop fall
.
Benefield was first to act and led out for $4,600, which XWINK called. When the
peeled off on the turn, Benefield bet $8,800, XWINK called, and the
was put out on the river. Benefield check-called all-in for his last $13,000 but mucked when XWINK turned over
to take down the $60,000 pot.
Sahamies a Poker Star
Since devoting more time to the games on PokerStars, Ilari "Ilari FIN" Sahamies has managed to notch some respectable wins, even commenting on the switch in a recent interview with Pokerisivut.com (be forewarned the interview is in Finnish, but can be translated): "The whole Full Tilt software started to give me creeps. It might sound ridiculous, but I am not superstitious. I just thought to give PokerStars a go, and since Isildur1 is also there, it suits better for me at the moment."
Most recently, Sahamies was at the $25/$50 PLO tables on Tuesday and Wednesday, winning around $150,000 between the two days. On Wednesday, Sahamies was playing a six-handed game when the following hand developed. Viktor "Isildur1" Blom ($33,522.19) opened under the gun for $235 and Sahamies ($22,448), who was on the button, responded with a three-bet to $840. After both blinds had folded, Blom popped it to $2,890, Sahamies called, and the flop came down
. Blom wasted little time in betting $4,244.75, Sahamies raised to $18,176.25, and moved all in. Sahamies called off for his remaining $1,646.75.
Sahamies:

Blom:
Both players had flopped a pair with various straight draws and it was anyone's pot at that point. The
fell on the turn and Blom's pair of sevens was still in the lead. That all changed when the
spiked on the river. Sahamies had tripped up to take down the $45,088 pot.
Ivey vs. Kagome Kagome
When it comes to limit hold'em, they don't come much better than "kagome kagome" and Phil Ivey. Heck, they don't come much better than Ivey whenever you're talking poker. Nonetheless, the two battled at the $3,000/$6,000 tables in a rematch from a few weeks back, where Ivey took the German for $500,000. This time, the two played 244 hands, and again Ivey emerged victorious, earning an additional $432,000.
In one memorable hand, Ivey ($442,510.50) was on the button and raised to $6,000. Kagome kagome ($97,438.50) called and the dynamic duo watched the
run out on the flop. It went check, bet, raise, and call before the
was revealed on the turn. This time kagome kagome bet, Ivey raised to $6,000, kagome kagome raised to $12,000, and Ivey called. There was a mere $6,000 bet from kagome kagome on the
, which Ivey called. Kagome kagome showed
for missed straight and flush draws, which meant Ivey's
for two pair was good enough to take down the $72,000 pot.
So far in 2011, Ivey has been dominating the limit hold'em tables, up around $700,000. On the other hand, kagome kagome has lost nearly $1 million up to this point.
Who's Up? Who's Down?
Week's biggest winners (3/1-3/3): "gavz101" (+$545,604*), Viktor "Isildur1" Blom (+$194,099), "refaelamit" (+$168,608*)
Week's biggest losers: Scott "urnotindangr" Palmer (-$645,348*), "Compris" (-$150,782*), Jared "Harrington10" Bleznick (-$137,836*)
Year-to-date winners: Gus Hansen (+$2,499,207), Matt Hawrilenko (+$1,715,437), "gavz101" (+$1,529,592), Daniel "jungleman12" Cates (+$1,212,012)
Year-to-date losers: Phil "OMGClayAiken" Galfond (-$1,115,080), "kagome kagome" (-$1,061,766), Tom "durrrr" Dwan (-$1,053,206), "cadillac1944" (-$939,626)
*on PokerStars
Want to check out some of the high-stakes action? Sign up for Full Tilt Poker and PokerStars accounts today. Get the full PokerNews experience. Follow us on Twitter and like us on Facebook.