The Online Railbird Report: Sahamies Plays on PokerStars, Hansen vs. Ivey, and More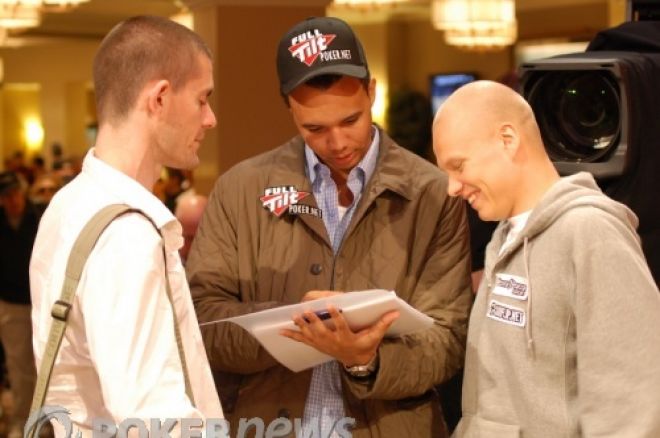 The online high-stakes cash games at Full Tilt Poker and PokerStars were in full swing during the midweek. Many of online poker's biggest stars were in action including Patrik Antonius, Scott "UrnotINdanger2" Palmer, Ilari "Ziigmund" Sahamies, Phil Ivey, and Gus Hansen.
Sahamies Playing on PokerStars
One player we haven't covered too much in 2011 is Ilari "Ziigmund" Sahamies. This well-known Finn didn't have a particularly good year in 2010, and that downswing carried over into the New Year — he is down almost $200,000 on Full Tilt Poker. Well, it appears the online pro has decided to try his luck over at PokerStars where he is playing under the name "Ilari FIN." Wouldn't you know it, the change of scenery seems to be working. After playing 1,200 hands of of $25/$50 and $100/$200 pot-limit Omaha against Daniel "w00kie3z" Cates and "LooneyGerbil," Sahamies notched a nearly $50,000 win.
In Sahamies' largest hand, LooneyGerbil ($33,090) raised to $400 on the button only to have Sahamies ($54,682) reraise to $1,400 out of the small blind. Cates folded in the big and LooneyGerbil called to see the flop come down
. Sahamies led right out with a bet of $2,998, which LooneyGerbil raised to $9,800. Not content, Sahamies popped it to $32,398 and LooneyGerbil called off for $31,690.
Sahamies:

LooneyGerbil:
Sahamies was ahead with a flopped set of kings but LooneyGerbil was drawing to both straight and flush out. That all changed when the
spiked on the turn. Sahamies hit quads to lock up the hand and take down the $66,380 pot.
Antonius and Palmer Continue Epic Battle
Our weekend Online Railbird Report reported on an epic heads-up match between Patrik Antonius and Scott "UrnotINdanger2" Palmer over at the Full Tilt Poker $500/$1,000 PLO tables in which nine pots crossed the $200,000 mark. Luckily for online spectators, that match has continued into the midweek. On Wednesday, a hand developed when Palmer ($241,482.50) was on the button and raised to $3,000 and was reraised to $9,000 by Antonius ($350,454.50) in the big blind. After Palmer called, the
ran out on the flop, which Antonius checked. Palmer took the opportunity and promptly bet $12,000.
After Antonius called, the
appeared on the turn. Once again Antonius check-called a bet, this time to the tune of $32,000, as the
spiked on the river. Again it went check, bet $64,000, and call. Palmer flipped over
for a full house and Antonius mucked. $234,000 pot to Palmer.
A few minutes later, Antonius took his revenge. It began when Palmer ($165,996) raised to $3,000 on the button, Antonius reraise to $9,000, Palmer made it $27,000, and Antonius called. That led to a flop of
, which went check, bet $18,000, and call. When the
was put out on the turn, Antonius checked and then called off for his remaining $64,999.50.
Antonius:

Palmer:
Antonius had hit a full house on the turn and was getting maximum value. They ran the river twice but neither the
on the first run nor the
on the second helped Palmer and the $219,999 pot helped ease Antonius' earlier beat.
Hansen vs. Ivey
Everyone loves a good Phil Ivey story, especially one involving fellow Full Tilt Pro Gus Hansen. It just so happened the two squared off in the early hours Thursday morning over at the $500/$1,000 CAP PLO tables. In one big hand, Ivey ($73,999.50) raised to $2,000 on the button and was met with a reraise to $6,000 by Hansen ($45,999.50). Not one to be intimidated, Ivey made it $18,000 to go and Hansen called before the flop fell
.
Hansen didn't take long to fire out $22,000, which Ivey called to cap the pot at $80,000. At that point, the cards were turned on their backs.
Ivey:

Hansen:
Ivey was ahead with his pair of aces and even added a flush draw when the
hit the turn; however, that same card gave Hansen two pair and the lead. Ivey needed some help on the river and got it when the
hit, giving him two pair and counterfeiting Hansen.
Who's Up? Who's Down?
Week's biggest winners (2/15-2/17): Gus Hansen (+$476,186), Matt Hawrilenko (+$336,710), Daniel "jungleman12" Cates (+$326,258), Phil Ivey (+$187,832), "sauce1234" (+$187,114), "bixiu" (+$112,844), Viktor "Isildur1" Blom (+$110,624)
Week's biggest losers: "fishosaurusREX" (-$489,239), Rui Cao (-$297,616), Jared "harrington25" Bleznick (-$243,492), "rumprammer" (-$208,336), David Benefield (-$179,710)
Year-to-date winners: Gus Hansen (+$3,060,850), "fishosaurusREX" (+$882,479), "EazyPeazy" (+$795,896), Di "ilvdnfl" Dang (-$740,816), Alex Luneau (-$725,545)
Year-to-date losers: Phil "OMGClayAiken" Galfond (-$1,098,097), Tom "durrrr" Dwan (-$1,053,206), "UarePileous" (-$919,543), "kagome kagome" (-$837,004), "Kpederson" (-$543,009), Cole South (-$517,363), "cadillac1944" (-$478,669)
Want to rail the biggest games in the world? Not only will you get a $600 sign-up bonus at Full Tilt Poker, but new depositors also get to play in a $100,000 First Deposit Freeroll — so you can play while you watch! And while you're at it, follow us on Twitter for up-to-the-minute news.