The Online Railbird Report: Antonius and Palmer Battle, Cao Falls to Hansen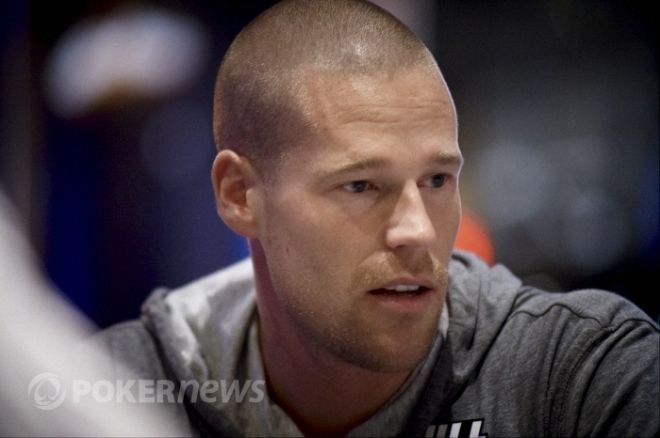 The online high-stakes cash games at Full Tilt Poker were in full swing over the last few days as many regulars were in action. When Patrik Antonius and Scott "UrnotINdanger2" Palmer play, you are guaranteed to see a lot of money go back and forth. The two played a $500/$1,000 pot-limit Omaha session on Sunday night in which nine pots crossed the $200,000 mark, and while four were chopped, Palmer took a 3-2 edge with the rest. But, Antonius did take the largest pot by far of the last few days by far.
Palmer and Antonius Let The Chips Fly
Both were very deep at the table. Antonius had a stack just greater than $301,000 and Palmer a stack of about $233,000. Antonius kicked off the action with a raise to $3,000 on the button. Palmer three-bet to $9,000, only to see Antonius four-bet to $18,000. That didn't slow down Palmer who promptly made it $54,000 to go. Antonius put an end to the raising by opting to call, landing a
flop. Palmer bet $56,000, but Antonius shoved with the bigger stack and put Palmer to the test for the $123,000 he had behind. Sure enough Palmer did opt to call. The hands were:
Antonius:
- trip fives
Palmer:
– overpair, top pair on board
Palmer was drawing thin and found no help whatsoever from two runs. The first brought the
turn and
river while the second fell the
and
, failing to improve Palmer's hand. Ship the nearly $467,000 pot to Antonius.
Despite losing the biggest pot of the last few days, Palmer became the biggest winner since Thursday. Hands like this next one were certainly part of the reason. Action began with the standard Antonius button-raise to $3,000 and the standard Palmer reraise to $9,000. Antonius four-bet to $27,000, Palmer called, and an
flop fell. Palmer checked it over to Antonius who bet $41,000. Palmer responded with a pot-sized raise, and Antonius called all in for another $55,000 with
. At this point, he was tied with Palmer's
, but Palmer had outs to a flush. They ran it twice with Palmer making his flush on the first run after the
turn and
river, and then on the second turn, he made two pair following the
turn and
river to scoop the the $246,974 pot.
Palmer Gets It Done On PokerStars, too
At a six-handed $100/$200 no-limit hold'em table, Palmer opened to $600 under the gun. Will "molswi47" Molson popped it $2,000 in the cutoff and action folded back to Palmer. He made it $6,600 to go and Molson called, delivering a
flop. Palmer kept up the heat with $5,600, but was unable to shake Molson who called. The
hit the turn and Molson fired $14,800, again getting called by Molson. The
landed on the river and Palmer shoved with the bigger stack. With about $38,000 behind Molson called all in, but his
was well behind the entire time against Palmer's
. The roughly $130,000 pot went to Palmer.
Hansen Enjoys a Quick Win Against Cao
Gus Hansen and Rui Cao played a relatively short session of just greater than 100 hands last night at $500/$1,000 capped PLO. The result? Hansen walked with about $350,000 of Cao's money. Here are two hands from their battle.
Cao opened the pot with a min-raise to $2,000 and Hansen made it $6,000 to play. A four-bet from Cao to $18,000 followed and Hansen called, seeing a flop of
fall. Hansen checked it over to Cao who bet $22,000 to reach the cap and was met with a call from Hansen. Cao tabled
for an overpair of kings but was well behind Hansen's
for middle set and a straight draw. They ran it twice and and the first run brought the
turn card, giving Cao outs to a straight. But the river was the
and filled Hansen with a full house to lock up half the pot. The second run saw the
turn card followed by the
river, keeping Hansen ahead to win the entire pot.
In another hand, Cao once again min-raised to $2,000 and Hansen popped it to $6,000 from the big blind. Cao called and the flop came down
. Hansen bet $8,000 and Cao quickly raised to $34,000, reaching the cap. Hansen called with
for top pair while Cao showed
for a pair of jacks and an open-ended straight draw. Cao missed on both the
and
first run, as well as the
and
second run, seeing another pot of $80,000 go Hansen's way.
Want to rail the biggest games in the world? Not only will you get a $600 sign-up bonus at Full Tilt Poker, but new depositors also get to play in a $100,000 First Deposit Freeroll — so you can play while you watch! And while you're at it, follow us on Twitter for up-to-the-minute news.