The Online Railbird Report: XWINK's Pain Is NoPasaran's Gain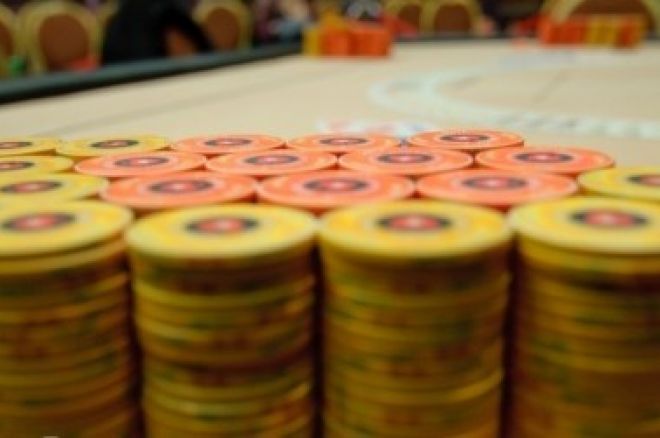 While many of the heavy hitters stayed out of the spotlight the last few days, the online high-stakes cash-game action on Full Tilt Poker and PokerStars still hosted plenty of exciting action. Online poker's new mystery man, "XWINK," kept up his tumultuous ways on Full Tilt. Over on PokerStars, Gavin "gavz101" Cochrane added another quarter million to his impressive 2011 bottom line.
The XWINK Roller Coaster Continues
Playing $300/$600 pot-limit Omaha with "NoPasaran," XWINK opened to $1,800 on the button. NoPasaran popped it to $5,400 from the big blind and XWINK called, leading to a
flop. An $8,400 bet came from NoPasaran, which XWINK called. When the
hit the turn NoPasaran kept up the heat with a bet of $14,400. XWINK, though, min-raised to $28,800. A concerned NoPasaran called and checked the
river. XWINK shoved with the bigger stack, but was met with a quick all-in call for about $29,000 from NoPasaran. The hands? XWINK tabled
for just top pair, while NoPasaran showed
for a king-high flush sending the $142,189 pot his way.
Although that first hand may tell you otherwise, XWINK's losses from the last few days involved plenty of bad luck. In another hand against NoPasaran, XWINK min-raised to $1,200 on the button. From the big blind, NoPasaran made it $3,600 to play, only to see XWINK come back over the top to $6,000. A five-bet to $18,000 from NoPasaran was followed by a six-bet to $54,000 from XWINK. NoPasaran put in a little bit more to reach a total of $70,498 for the seven-bet shove. XWINK of course called and tabled
, about a 59 percent favorite against NoPasaran's
.
They ran it twice with the first flop falling
, pretty much the worst flop for XWINK. The
turn filled NoPasaran up and XWINK was not saved by the
river. With the first half of the pot locked up for NoPasaran and a queen already gone, surely XWINK would manage a chop. Right? Wrong. The second flop came down
, making top set for XWINK but also giving NoPasaran a flush draw. Sure enough, the
hit the turn and left XWINK needing the board to pair on the river. No dice, as the
sealed up the second half for NoPasaran as well.
Cochrane Owning PokerStars
While several players are up seven figures on Full Tilt Poker, only one is up over a million on PokerStars — Gavin "gavz101" Cochrane.
Cochrane battled with "compris" at $50/$100 pot-limit Omaha. Cochrane opened to $250 on the button and saw compris reraise to $750 out of the big blind. A four-bet to $2,250 came from Cochrane, which compris opted to just call. The flop fell
and compris check-called $3,400. The
landed on the turn and again compris checked. Cochrane bet $8,200, but compris responded with a raise to $35,899.50. Okay with that, Cochrane raised all in for about $71,000 and compris called all in with
for trip fives and wheel draw. Cochrane had him drawing to one out with
and the
river locked it up the $133,484 pot for Cochrane.
Who's Up? Who's Down?
Week's biggest winners (3/11-3/13): NoPasaran (+$452,000), Gus Hansen (+$367,000), *refaelamit (+$352,000), Daniel "jungleman12" Cates (+$317,000), *Gavin "gavz101" Cochrane (+$243,000)
Week's biggest losers: *compris (-$532,000), XWINK (-$389,000), Scott "URnotINdanger2" Palmer (-$331,000), *LooneyGerbil (-$329,000), Phil "OMGClayAiken" Galfond (-$239,000)
Year-to-date winners: Gus Hansen (+$3,650,000), Matt Hawrilenko (+$1,832,000), Daniel "jungleman12" Cates (+$1,729,000), *Gavin "gavz101" Cochrane ($1,698,000), Phil Ivey (+$1,216,000)
Year-to-date losers: kagome kagome (-$1,832,000), Tom "durrrr" Dwan (-$1,295,000), UarePileous (-$977,000), Phil "OMGClayAiken" Galfond (-$948,000), cadillac1944 (-$939,000)
*on PokerStars
If you have the skills we have $55,000 in added prizes. PokerNews Skills Challenge at Full Tilt Poker is a series of money added tournaments every wednesday night which culminates in a $20,000 Freeroll.