World Poker Tour on FSN: Festa al Lago — Part I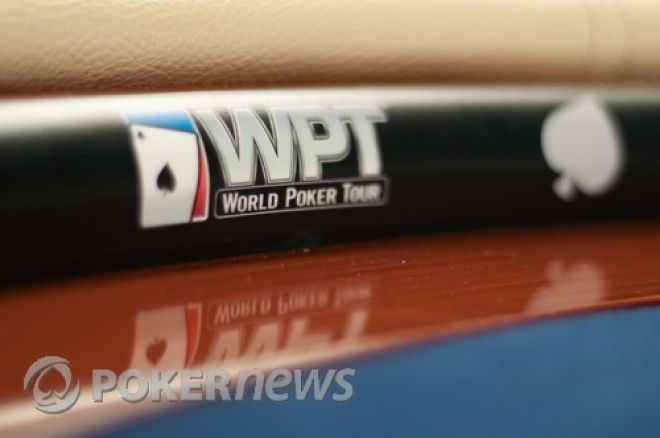 On Sunday night, FSN's coverage of the World Poker Tour's ninth season continued with part one of the Festa al Lago from the Bellagio. The broadcast kicked off with a recap of the tournament's early stages with highlights that included 70 percent of the 335-player field surviving Day 1; Phil Ivey's Day 2 elimination; Owen Crowe's 51st-place finish on the money bubble; and Allen Kessler's elimination in seventh place after his big slick ran into pocket aces, leaving just six players to compete for the lion's share of the $3,249,500 prize pool.
Here is how the final table looked at the top of the broadcast.
Final Table
Seat 1: Skip Wilson (1,060,000)
Seat 2: Michael Benvenuti (1,290,000)
Seat 3: Jason Koon (2,535,000)
Seat 4: Noah Schwartz (3,115,000)
Seat 5: Randal Flowers (3,195,000)
Seat 6: Andy Frankenberger (2,235,000)
First Hand: Action started fairly deep with blinds at 40,000/80,000 and a 10,000 ante. In the first hand, Noah Schwartz raised from under the gun to 215,000 with
. He couldn't find any action, though, since it was enough to get Andy Frankenberger to fold his
and Jason Koon to toss his
in from the big blind. Just like that, Schwartz added 170,000 to his stack.
Frankenberger Looking to Make History: Andy Frankenberger was looking to win his second WPT tournament of the season after having won the Legends of Poker just a few months prior. If he managed to captured the Festa al Lago title, he'd be joining a short list of players to capture two WPT tournaments in a single season: Gus Hansen (Season One), Howard Lederer (Season One), Erick Lindgren (Season Two), Daniel Negreanu (Season Three), and Tuan Le (Season Three).
Wilson Eliminated in Sixth Place: Michael Benvenuti raised to 220,000 under the gun and action folded to Skip Wilson in the big blind. After making the call, Wilson watched the flop fall
and moved all in for 1,010,000. Benvenuti made the call and the cards were turned up.
Wilson:

Benvenuti:
Wilson was in bad shape but the
turn gave him a flush draw. Unfortunately for him, the
on the river was no help and the 2,570,000 pot was shipped Benvenuti's way. Meanwhile, Wilson was eliminated from the Festa al Lago in sixth place ($112,840).
Frankenberger Next Out the Door: Randal Flowers looked down at
and raised to 200,000 only to have Andy Frankenberger move all in for 1,560,000 with
. Action folded back around to Flowers who made the call, creating a pot worth 3,320,000. The
was no help to Frankenberger and he was left looking for a five. The
turn was close, but not quite what he needed. The
river was the final nail in the coffin and Frankenberger's hopes of becoming a two-time Season IV champion came to a halt, at least until the next tournament. He was awarded $161,200 for his fifth-place finish while Flowers jumped out to a significant chip lead.
Check-Raise from Schwartz: Down to four poker pros, all in their twenties, Michael Benvenuti raised to 220,000 with
and Noah Schwartz made the call with his
. It was heads up to the
flop and Schwartz coyly checked to Benvenuti, who threw out a bet of 280,000. Schwartz took his time before check-raising to 645,000. Benvenuti hesitated for a moment before conceding the hand.
Swing and a Miss: Jason Koon limped from the small blind holding
and Noah Schwartz checked his option in the big with
. When the flop fell
, Koon led out for 150,000 and Schwartz made the call with the same gut-shot straight draw. However, it was the
on the river that gave Schwartz a pair of queens and made him a 63 percent favorite.
Nonetheless, Koon bet out 400,000, Schwartz called, and the
was put out on the river. Koon slowed down after missing his straight and flush draws and checked to Schwartz, who checked behind and took down the 1.4 million pot.
The Raw Deal: Tony Dunst was back for another Raw Deal segment where he analyzed Andy Frankenberger's downfall. According to Dunst, this happened for three reasons: (1) almost playable hands, (2) marginal situations, and (3) frustration.
Koon Doubles Through Schwartz: Noah Schwartz raised to 275,000 holding
and received a call from Randal Flowers holding
. Surprisingly, Jason Koon opted to moved all in from the big blind for 1,850,000 with the worst hand, the
. Schwartz took a minute before making the call, and Flowers quickly got out of the way.
It was classic race situation as the flop came down
, giving Koon the lead. The
turn extended his lead and was followed by the harmless
. Koon doubled on the hand to 4,095,000 while Schwartz was left shaking his head.
To Be Continued: Koon's double signified the end to FSN's broadcast of part one of the Festa al Lago, leaving four players to return next Sunday, April 3, 2011, for the airing of part two. Check your local listings or simply check back here on PokerNews to learn who emerges as champion and collects the $831,500 first-place prize.
Past Festa Al Lago Champions
| Season | Player | Earnings |
| --- | --- | --- |
| 3 | Carlos Mortensen | $1,000,000 |
| 5 | Andreas Walnum | $1,090,025 |
| 7 | Bertrand "ElkY" Grospellier | $1,411,015 |
| 8 | Tommy Vedes | $1,218,255 |
| 9 | ??? | $831,500 |
If you love poker, be sure to follow us on Twitter and like us on Facebook for up-to-the-minute poker news.