European Poker Tour Berlin Day 2: Soulier Food - Fabrice Leads Going into Day 3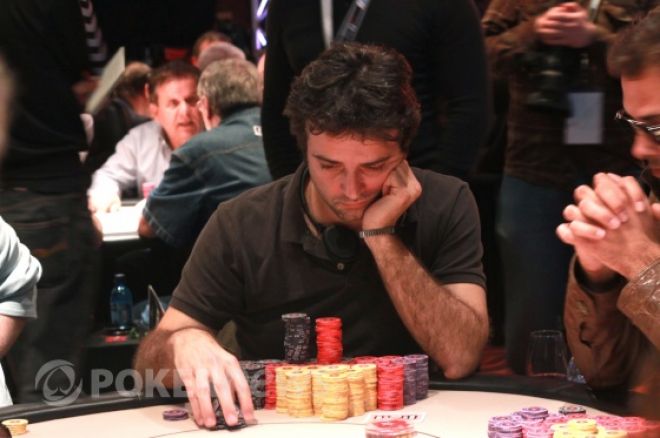 It took just five-and-a-half levels inside the Spielbank Berlin for the 353 Day-2 players of the PokerStars.net European Poker Tour to whittle themselves down to 119. The remaining runners are now in the money (one player actually cashed already owing to a double elimination on the bubble) and guaranteed a minimum of €7,500 and a maximum of €825,000. When we return Friday, Fabrice Soulier will be the man to beat on well over a million in chips.
The exits came thick and fast, right off the bat. Young Dutchman Sander Berndsen was chip leader at the start of the day with 249,200, head and shoulders above the rest of the field. But within a few hours, he was completely Bernd' out and exited well short of the money.
Joining him at the rail over the course of the day were James Mitchell, Sandra Naujoks, Ana Marquez, Marcin Horecki, Fabrizio Ascari, Salvatore Bonavena, Matt Affleck, Ramzi Jelassi and Dermot Blain.
Also failing to make the Day 3 grade was Arnaud Mattern. The Team PokerStars Pro came back with a microstack but almost immediately doubled up with
against
, a king dropping on the flop. He doubled again a little later with pocket nines against
. But it wasn't enough. Still short, he made his final stand with
against fellow Frenchman Hugo Lemaire's
, failed to spike, and hit the rail without any cash monies to show for his efforts.
Mattern's fellow Team PokerStars Pro Jan Heitmann was another player who won't be going any further in this EPT. He had a roller coaster of a Day 1 and it continued on Day 2. "I've been down to less than 6,000 five times in this tournament. It must be destiny - or it's something very cruel," he said only moments after winning a 170,000 pot to put him well above the average. But the cruel forces behind his tournament run saw fit to send him to the rail outside of the money in the end - he doubled up Vegard Vestvik, leaving himself short for the umpteenth time and was finished off not long after by Morten Kjaer.
EPT Snowfest finalist Cristian Dragomir started the day with a big stack but soon dropped to around average when he doubled up online qualifier Jason Helder. Dragomir called Helder's shove on the turn, holding top pair and a flush draw against Helder's set, which made quads on the river. Dragomir's downward spiral continued and he busted out a little short of the money.
Helder couldn't hold on to those chips in the end, and in the process of losing them, propelled Fabrice Soulier into the chip lead. The board read
when all the chips went in, and Soulier turned over
for the Broadway straight and a massive double-up. Helder mucked his hand and was reduced to a mere short stack. Soulier meanwhile went on to further increase his stack, finishing the day on 1,079,400. The next biggest stack is Alessandro Laubinger on a comparatively modest 742,400.
It was an exciting bubble moment as three players found themselves all-in and called on the same hand. Maxim Panyak, all in with
against
, ended up chopping the pot and lives to see Day 3. Up on the feature table, Karl Heinz Klose got his last in with
against Christian Knese's
and lost — but he wasn't the unlucky one. At the same time, Andrey Lobzhanidze was all-in with
against EPT Snowfest winner Vladimir Geshkenbein's
. He failed to spike and duly busted out. Because Klose had more chips than Lobzhanidze at the time of busting, he got to take home €7,500 for 120th place. The unfortunate Lobzhanidze became our official bubbler and left with nothing.
It's still a remarkably stacked field with 119 players left. Aside from chip daddy Soulier, some of those still in the running are Peter Eastgate, Roberto Romanello, Thomas Bichon, Vladimir Geshkenbein and Team PokerStars Pros Henrique Pinho, Sebastian Ruthenberg, George Danzer and Joep van den Bijgaart.
We'll be playing down to 24 players Friday, and whatever happens, it's going to be fun. Join us back at PokerNews.com at 1200 CEST (0300 PDT) for all the action.
Follow us on Twitter for up-to-the-minute news.