Hitting the Nuts: An Interview with Director Joe Boyd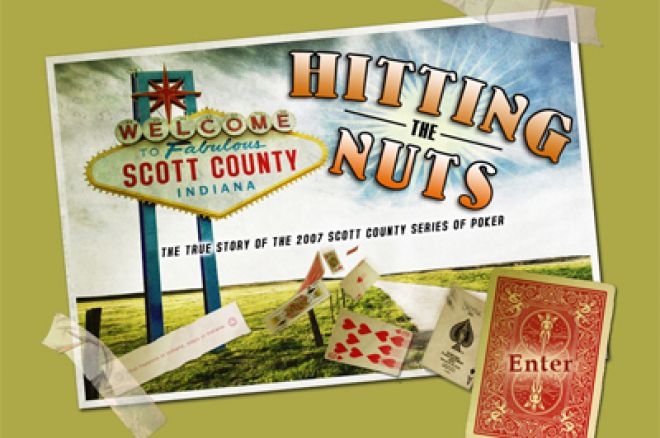 According to the DVD: "HITTING THE NUTS is the 'true story' of the annual illegal poker championship in Scott County, Indiana. When a poker player 'hits the nuts' it means he can't lose—that he's a sure winner. This movie only pretends to be about poker. It is really about an outrageous group of blue-blooded American misfits who have spent a lot less time hitting the nuts in life and a lot more time having life return the favor."
The film has won numerous awards including "Audience Choice Award" at the 2010 Cincinnati Film Festival and the "Best Feature Film" award at the 2011 Derby City Film Festival. It even inspired Kristopher Rommel, the Derby City Film Festival Director, to say of the film: "Perhaps the funniest movie in the history of our film festival."
Hitting the Nuts, a Rebel Pilgrim Production, is an independent film starring Matthew Donnelly, Mike Betette, Megan Soule, Christopher Day, Holly Walker, Sean Michael Murphy, Tara Rice, Bobby Rodgers, and Nick Ghizas. It was written and directed by Joe Boyd, who also stars in the film as the poker-playing Amish man, Ezekiel Yoder.
PokerNews recently sat down with Boyd to talk about Hitting the Nuts and get the complete scoop on what is being hailed as the funniest poker film of all time.
When and how did the idea to make "Hitting the Nuts" come to light?
It has been a long road. About three years ago, I first wrote the script. My background is primarily as an improviser. I worked at a comedy show at the Rio in Las Vegas called Tony and Tina's Wedding. I trained with the Second City Comedy Troupe where most of the Saturday Night Live guys come out of. I was doing live-stage comedy and then moved to L.A. and started to pursue acting. I decided to write a script that I'd be happy to act in myself.
I've always been a huge fan of Christopher Guest movies. The dialogue is all improvised in those movies. Most movie scripts are about 100 pages, but this one was 25-27 pages because there's no dialogue at all typed out. All the scenes were written, but none of the dialogue. I used all improv actors and they made up the dialogue in the moment. A lot of the times when you shoot a real documentary, you'll use that.
How did you set about making the film as far as getting it off the ground?
It was sort of in pre-production hell for about three years. We had some people who wanted to make it on a bigger budget, $3-$5 million, and we were shopping it to some name actors who were going to be in it, but it would always fall through at the last minute for whatever reason. After a long, long time of trying to get it made, I just decided to raise the money and do it myself. We ended up making the movie for $250,000, that's not much money to make a movie with.
We ended up using no-name actors and went for making the funniest movie that we could make. In the meantime, I moved from L.A. to Cincinnati and we decided to shoot it here. A lot of people are having a lot of luck making these sorts of movies outside of the Hollywood system. Actually, shooting in the Midwest was great for us. We got a lot of free locations, people pretty excited to have a movie. A movie is a big deal in Cincinnati, it's nothing in L.A., so we got a lot of local support.
For a film with no big-name actors, the cast was incredibly funny. What can you tell us about some of the actors and actresses and the characters they played?
Most of them were people I met and traveled with doing a tour several years ago. A lot of the key leads, we toured together and did improv. Matt Donnelly who plays "Dirty Rivers;" Megan Soule who plays "Carol the Waitress;" and "Dean Livy's" real name is Mike Betette. I think they were great. When we were shopping [the movie], Dirty Rivers was going to be Larry the Cable Guy. Those sorts of people were almost signed on to do it, and I thought, you know, you can have faces on the cover of the DVD and it'll make money, so it was a little disappointing when none of those name actors worked out. However, as a straight comedian and director, I was delighted with the way it ended up because I think my friends, honestly, did a better job than some of those big names could have done.
What is your association with poker? Are you a player?
I'm from Ohio, but I moved straight to Vegas when I was out of college. I lived there for ten years, from '95 to '05, and about halfway through my time there was the poker boom. I remember when I first moved there, I didn't really know much about poker, but you couldn't find a Texas hold'em table in '95, everybody was playing stud. I was there right when the online poker thing started to happen and ESPN started to focus on poker. I was never a pro or anything, but I'd play about an hour at night when I was waiting for my call time in my comedy show. I made more money for about a year playing poker than I did my show, but that actually just tells you how little my show paid.
I met some people in the poker community and, as a comedian and improviser, I just thought of poker as ripe for comedy. Anything that is supposed to be a game that people treat way to seriously, I think is funny. My script was written before The Grand and was being shopped around by the same people. The debate was that my movie wasn't really a poker movie, it was a comedy about the Midwest. When it's all said and done, poker is more of the backdrop and it's an informed poker movie, the people who made it know poker, but it's really just about funny people taking things too seriously. I think not setting it in Vegas helped us explore some of that, and probably has more appeal since there are more people who play home games than play in the World Series.
The other thing is, I met Jeff Madsen the year he won Player of the Year, and that's when we started raising money for the movie. He invested a little and helped me get a little more connected with the poker guys.
Were any of the characters inspired by people you know or perhaps any real-life poker professionals?
I don't know if any one character was inspired by one person, but I had it in my mind early that Dean idolizes Phil Hellmuth. He even makes a reference to Hellmuth when he never plays the first few hands of the tournament. His character wasn't based on Phil, but I wanted a character that idolized him. Honestly, the inspirations for the characters were more people I grew up with in the Midwest and just imagined if they took poker way too seriously.
Your real-life kids were also in movie, what can you tell us about that?
They played my kids! When you make a low-budget movie, you realize if you hire your relatives you don't have to pay them anything. You know, they look like me so it worked out. They each got one little line at the end, so they did great.
What was the toughest challenge: writing, directing, or acting?
The toughest challenge was doing it all at once. I had never directed before, and I think acting was what I was most comfortable with. Luckily it was improv so I didn't have to memorize lines. I think what I took out of it is I enjoy directing, I want to do it again, but I think I'm a producer and an actor before I'm a director. To be a director, you really have to want to be a director, and I'm not sure that's what I want to do.
You had your official DVD release party recently. How did it go? Any highlights?
It went great actually. We packed out a local comedy club. It was a little under 200 people, a lot of who helped make the movie. It had a real grassroots feelings, a sort of release of six years of hard work.
Will Hitting the Nuts be present at this year's World Series of Poker whether it be a booth or some of the cast making their way out?
We don't know for sure. We're going to be in Vegas this summer. We're waiting to hear back to see if we're in the Las Vegas Film Festival, we think we will be, and I think it may coincide with the World Series. We'll have some presence there with Jeff [Madsen], but we're trying to figure out how big of a presence we'll have.
Hitting the Nuts is available on DVD and can be found, along with more information, on the movie's website.
PokerNews is now on Twitter and Facebook, so be sure to follow us on the former and like us on the latter.