PartyPoker Big Game V and PokerNews Big Game Interactive Huge Success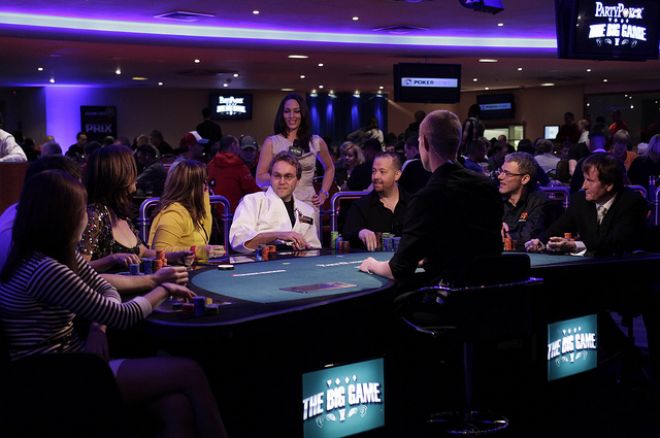 On Friday, April 15 at 1900 GMT, PokerNews began its live interactive stream of the PartyPoker Big Game V, a live cash game held at Dusk Till Dawn in Nottingham, England. The game was not only streamed live for viewers over the entire 48 hours of play, but the PokerNews Big Game Interactive was in full effect and allowed our readers to affect the outcome of the live event — a first in the poker industry.
Among the elite field in this one-of-a-kind 48-hour cash game were Tony G, Annette Obrestad, Dave "Viffer" Peat, Luke Schwartz, Dave "Devilfish" Ulliott, Jennifer Tilly, Sam Trickett and Mike Matusow.
Peaking at over 3,400 chat users on the final day (plus thousands more viewers), our presentation generated over 10,000 unique chat messages. Both of those numbers are amazing and prove that live interactive coverage is the way of the future for live poker.
What exactly is the PokerNews Big Game Interactive? It is an interactive live interface that allows viewers to chat about the show, talk with players, play along in exclusive promotions, and most importantly, evict the players they like the least from the game. Combining these interactive factors with the marathon cash-game play made this the best poker to watch of all time, hands down.
Making this the best poker to watch of all time couldn't have been done without the help of both PartyPoker and Matchroom Poker. Viewers had complete access to the hole cards of the players, full graphics and TV commentary from Jesse May. Throughout the course of play, various co-commentators joined May for analysis and color commentary.
Barry Carter caught up with Eddie Hearn, managing director of Matchroom Sport, to discuss the success of the live stream. "I think it's fantastic, I mean, we've always looked at streaming our events and we trialed it in a WPT. 'Over the moon' was the response from the poker community," Hearn said.
"The interaction element is a must in this sort of thing," Hearn said. "I just think, the event itself is a TV show and it's definitely the most interactive event of its time. And to stream it now, full jet out with the best players in the world, poker fans get to watch every single hand and I think that's the beauty of it. You watch TV shows over an hour or two hours, after a while you think 'Well, I wonder what happened here.' Poker fans want to see everything, even if it's a raise-fold, they want to see the hands. To watch every hand over 48 hours and the level of play and the personality of these guys, it's ground-breaking.
"What I like about the mix of the votes is one time you're finding out what the players think and another time you're finding out what the public thinks. So you're getting that mix and I think that's quite interesting. I like the way they integrated with each other. Players want to get off a player who is maybe quite good, but quite tight and the fans might want to get off someone who is more a loud mouth, arrogant and annoying. So, you actually find out who's popular out there and I think a few people got a few shocks this week."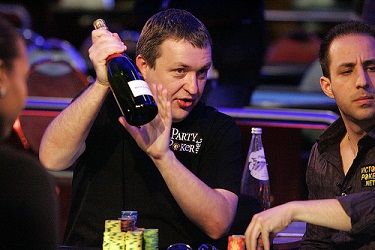 Throughout the live stream provided on PokerNews, thousands of viewers joined the interactive CoveritLive module to get further involved and for the first time actually effected evictions in the live game. It's very rare that viewers can watch a live stream of a cash game or tournament and chat along. There was an immense interest in this component around the clock and the chatter never seemed to stop from poker fans around the world.
One of the largest hands that sparked a lot of chatter involved Tony G during a massive three-way all-in situation.
Kristijonas Andrulis opened with a raise to £150 before Rob Yong reraised to £700 holding the
. A couple of seats over, Martins Adeniya made the call holding the
and then Tony G was next up. Tony G announced that he was all-in, having a stack of about £80,000 that covered everyone else in the hand. This really sparked the interest of the table and surprised them all.
Action folded back over to Yong and he thought for a bit before calling all-in. Next was Adeniya and he too tanked for a few minutes. Tony G talked and talked, looking to get Adeniya to call, as well. Eventually, the young and rising star made the call and created a giant three-way all-in pot worth over £63,000. From there, the board ran out
and Tony G's aces held up to scoop him the enormous pot.
Thanks to this pot and a few others, Tony G won the most money over the 48-hours of play. He banked over £150,000, which is an amazing feat.
Biggest Winners
| Player | Profit |
| --- | --- |
| Tony G | £150,450 |
| Jennifer Tilly | £66,925 |
| JP Kelly | £27,775 |
| Robert Williamson III | £26,350 |
| Roland De Wolfe | £25,675 |
| Kristijonas Andrulis | £18,625 |
| Ben Carpenter | £16,875 |
| Andy Moseley | £12,625 |
As mentioned before, there was much more available to the viewers than just a live, ongoing chat. Included in the exclusive promotions were a couple of PokerNews freerolls held on PartyPoker (for players in regulated markets). Two freerolls ran during the cash game, and PokerNews attracted 3,254 players, producing the largest fields in PokerNews freeroll history on PartyPoker.
After the 48 hours of play were over, Carter caught up with May to find out how he felt the entire experience went. Even though he only had a tiny break for a short nap during the entire two days, he was excited about what had taken place.
"This is what poker can be," he siad. "We've all been excited for about ten years for poker and hole cards and poker on TV, but the drama. Poker is not just a technical game, the drama of a reality show over 48 hours, to me, it's like you're just there. You see not just the hands, but everything that builds up to it. I just think there were so many great stories that went on. It just gives toy so much energy to watch it. It's been a great two days. And then the atmosphere — you can't give up that Dusk Till Dawn was the venue for this. The vibe in here, even among the people. You know, people have been saying that, well, poker's not a great live audience thing, but this was. This was a live audience thing and this is poker as a sport."
With all the success of the PartyPoker Big Game live stream and PokerNews Big Game Interactive, it's evident that this was some of the best poker to watch. It also shows that this may be the wave of the future for televised poker shows, and that we should be seeing much more of this entertainment in the near future.
What did you think of the live stream? Let us know in the comments section below, and as always, follow us on Twitter for up-to-the-minute news.