Greg Raymer on the WSOP-C St. Louis, Fossilman Training, and Leaving PokerStars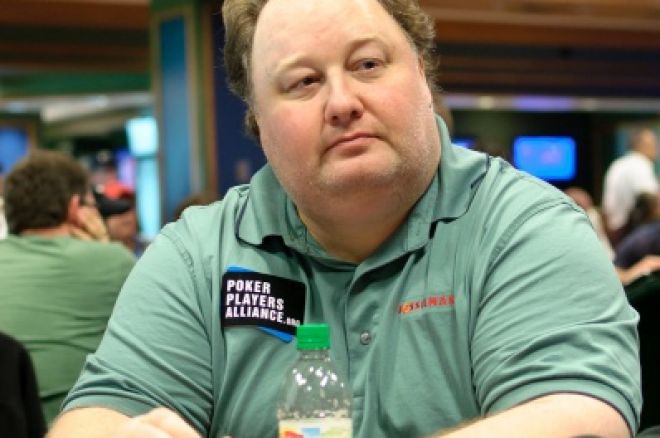 After his win in the 2004 World Series of Poker Main Event, and near-successful title defense in 2005, Greg Raymer instantly became one of the most recognizable faces in the poker world. Known as "Fossilman" for his signature card protectors, Raymer has made headlines as of late after parting ways with long-time sponsor PokerStars and subsequently sporting a Full Tilt Poker patch at this year's NBC National Heads-Up Championship.
Raymer was recently at the WSOP Circuit at Harrah's St. Louis to play in the Main Event and host one of his new Fossilman Poker Training courses. The addition of a former world champion was a treat for all and Raymer, ever the ambassador, was more than happy to sign autographs, answer questions, and socialize with the fans. PokerNews caught up with Raymer during the Main Event* to discuss his visit to St. Louis, the new training course, and, of course, his sponsorship status.
*Raymer went on to make a deep run into Day 2 but ultimately fell short of the money.
How long have you been teaching the Fossilman Poker Training courses?
The ones that are under the brand name Fossilman Poker Training, you were in the second one ever. I did one at home in Raleigh, kind of tested it out, it was the beta you might say. When I got a call from Paul [Harris] and Dennis [Phillips], they were saying 'Hey, if we ask Harrah's St. Louis to fly you in for their Circuit event, would you come play?' I said yeah but ask them to buy some seats [in the training course] and I'll teach a seminar too. Then they'll have these seats that they can give away in super satellites or one-table satellites toward a promotional giveaway or whatever, and Harrah's immediately said yes, they'd love to do that, so they bought some seats and I sold some others on my FossilmanPokerTraining.com website.
You used to teach for the WSOP Academy. Is that something you still do or does Fossilman Poker Training conflict with that?
The WSOP Academy is kind of going through a reorganization you might say, but I expect everything there to be great and expect to teach those seminars going forward. It's sort of a different demographic that we're looking at. I've got a one-day camp for $300 and they're teaching a two-day camp with a tournament the first night, and they tend to go more toward big destinations like Vegas for their academies. I intend to do most of these in locations where the they're probably not going to try to run their WSOP Academy.
You seem to have a strong connection to St. Louis. Are you from here?
High school. I moved around a lot and have lived in like 12 places in my life, so it was high school here and other parts of my life all over the country.
We saw some supporters of yours on the rail earlier. Were those your parents?
Yes, my parents live in Kansas City right now, as does my brother and his wife and four kids. So when my parents had finally retired and jobs no longer had anything to do with where they lived, they kind of had to pick. At the time, I was in Connecticut and my brother was in Kansas City. I have one of their grandchildren, he has four of their grandchildren, and my dad isn't an East Coast guy, so he wanted to go to Kansas City.
Do either of your parents play poker?
My dad plays [poker] online in the play money games and that's it. He refuses to play for cash. I'm like 'let me give you ten dollars and you just play ten-cent tournaments or something,' and he's like, 'No, no no. I won't do that. I don't actually want to lose money.'
What is the story behind your split with Pokerstars? Was it an amicable split?
Well, it was amicable, but we just failed to agree on a contract. They decided when my last contract expired, and when we were negotiating my contract, they were offering less money. They seemed to be focused right now on their members of Team Pro mostly being non-American players and mostly very young players. So they want twenty-somethings, preferably early twenty-somethings, and people who are from countries where they feel they have a current opportunity to gain lots of new customers. They're losing customers in the American market right now, I think everyone is, so they're just not that interested in American pros.
You're known as one of the best ambassadors of the game and most people in the industry agree that your representation is highly sought after. We saw you wearing the Full Tilt patch at the NBC National Heads-Up Championship. Is there a possible future there or do you have any other sponsorship opportunities before you?
If Full Tilt wanted to open a dialogue and make me an offer, and it was a good offer, I would probably say yes. They're a good company also, but really, when it comes to the American market, it's pretty much PokerStars and Full Tilt. The other companies are way, way down in market share compared to those two, so I really don't expect anything to happen online immediately, not because I would say no, or that I'm not interested or anything like that, I still like playing online poker, I'm just not doing it at the moment.
If the American market ever opens up and the World Series of Poker launched an online poker room endeavor, do you feel that would be a good fit for you?
Oh yeah, it'd probably be a good fit for any Main Event Champion.
If you're not doing it already, be sure to follow us on Twitter and like us on Facebook for all the latest in the poker world.