Poker After Dark: Recap of Idol Week and the $100,000 PLO Cash Game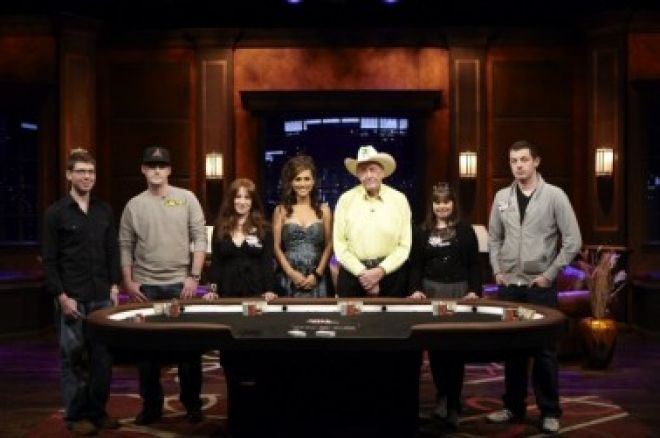 Over the past couple of weeks, NBC has aired new episodes of Poker After Dark. The first week was a $50,000 winner-take-all tournament featuring five young guns against a poker legend. The following week proceeded to switch gears and set history by offering the first PAD pot-limit Omaha cash game. Here is a look at some of the highlights from both weeks.
Idol Week on PAD
The first set of new episodes came in the form of "Idol Week", which saw five young guns of poker take on the godfather of poker, Doyle Brunson. While Brunson was making his 13th appearance on PAD, Eric Baldwin, Andrew Lichtenberger, and Melanie Weisner were making their first. The lineup was rounded out by Tom Dwan, a PAD regular, and Annette Obrestad, making her second appearance.
Idol Elimination: Action folded to Baldwin on the button and he threw in a raise to 2,000. Action reached Brunson in the big blind and he settled upon a reraise to 7,300. Baldwin wasted little time in moving all-in, and Brunson called off for 21,900.
Baldwin:

Brunson:
It was a classic race situation as the flop came down
. Needless to say, this was a big flop for both players, but Brunson still needed another ace or queen to take down the pot. Unfortunately for him, the
turn and
river were neither and Baldwin sent the idol out in sixth place.
Obrestad Eliminated in 5th Place: In a blind versus blind situation, Weisner opened for 3,600 holding
and Obrestad three-bet to 8,200 with
. Weisner responded by moving all-in for 30,300 and Obrestad called off her remaining stack, creating a pot of 60,600. The
flop paired Weisner and put her in the lead. The
turn gave Obrestad a slew of flush outs, but the
river was no help. She was eliminated from Idol Week in fifth place.
"Lucky Chewy" vs. "durrrr": Dwan raised to 3,800 from the cutoff with
and received a call from the
of Lichtenberger. When the flop fell
, Dwan led out for 5,600, Lichtenberger called, and the
appeared on the turn. At this point, Dwan bet 11,400, Lichtenberger moved all-in for 32,200, and Dwan called off his remaining stack. With 89,600 in the pot, the
hit the river and improved Dwan to a full house; on the other hand, Lichtenberger missed his big draw and was left crippled.
Lichtenberger Finished: A short time later, Dwan raised to 3,800 with
and Lichtenberger moved all-in for 12,500 with
. Dwan made the call and managed to win the hand after the board ran out
. Lichtenberger was eliminated in fourth place.
Weisener Hits the Rail in Third Place: With her stack growing short, Weisner looked down at
on the button and moved all-in for 25,500. Dwan, who reraised with
in the small blind, isolated and forced Baldwin out of the hand. Weisner was in the lead but not after the flop came down
. The
turn and
river changed nothing and Weisner was eliminated in third place, leaving Baldwin and Dwan to battle heads up.
Baldwin Finishes Runner Up; Dwan Pockets $300,000: With a 3-2 chip lead, Baldwin raised to 7,500 on the button holding
. Dwan, who held
, made the call and watched the flop come down
. He bet 9,500, Baldwin made it 24,000, Dwan reraised to 45,500, Baldwin moved all-in, and Dwan made the call. The
turn gave Baldwin some more outs, but the
river blanked. Dwan won the hand and took a 6-1 chip lead.
Not long after, Dwan limped on the button with
and Baldwin checked his option with
. Both players checked the
flop as well as the
turn. When the
peeled off on the river, Baldwin bet 5,500 and Dwan called to win the pot. Needless to say, Baldwin continued to slide.
In the final hand, Dwan picked up
and moved all-in. Baldwin snap-called with
and was in good shape to double, especially after the
flop missed Dwan. The
turn brought him one step closer, but the
spiked on the river and crushed Baldwin's PAD dreams. Just like that, Dwan took down his first PAD title and the $300,000 winner-take-all prize.
The $100,000 PLO Cash Game — Week I
Last week, PAD introduced PLO to the show with a $100,000 buy-in cash game. With blinds set at $300/$600, the game was expected to be action-packed, especially with an star-filled lineup that included Brandon Adams, Patrik Antonius, Tom Dwan, Phil Ivey, Brian Hastings, and Phil Galfond. Jared Bleznick was slated to join the action later in the show. In addition to this being the first PAD appearance for both Hastings and Bleznick, it was the first time PAD used a four-color deck in the graphics.
Off and Running: After Antonius straddled to $1,200 and Ivey double-straddled to $2,400, Dwan called holding
as did Adams, who looked down at
. When action got back to Antonius, he raised to $12,300 with
and Ivey made the call holding
. Dwan quickly got out of the way while Adams came along to see a flop of
.
After Adams checked, Antonius bet $14,000, Ivey folded, and Adams called. Both players checked the
turn, leading to the
river. It was an action card as it gave Adams a flush and Antonius a full house. Adams checked and Antonius decided to bet $57,000. Adams settled on a fold and explained, "I thought there was a reasonable chance that I was ahead, but on balance I felt it was a marginal fold. I think that Patrik has a full house there too often for me to call."
Adams vs. Hastings: Action folded to Hastings on the button and he threw in a raise to $1,600 holding
, which Hastings called from the big blind with
. The
flop was gin for Hastings, giving him trips, and Adams check-called a bet of $2,300.
When the dealer burned and turned the
, Adams check-called a bet of $6,500, leading to the
on the river. Once again Adams check-called a bet, this time $16,500, and the $54,100 pot went to Hastings' trips.
Big Laydown by Durrrr: Ivey limped on the button with
as did Dwan in the small blind with
. After Hastings checked his option in the big blind holding
, the flop came down
. Dwan had flopped the best hand with kings, but Ivey had a big wrap. Dwan led the flop for $1,300, Hastings folded, and Ivey made it $5,000. After Dwan called, the
hit the turn.
This time Dwan checked, Ivey bet $10,000, Dwan called, and the
came on the river. Dwan had made a straight but little did he know that Ivey had hit a full house. Dwan checked and Ivey took the opportunity to bet $30,000. Dwan quickly folded and stated, "I was pretty confident in my fold, I guess I'll need to watch it on TV to see if I was right or not, but hopefully I was."
Monster Pot: With an Antonius straddle, all six players limped to see a flop of
. Action checked to Antonius and he bet $5,000, which only Ivey and Galfond called. When the
was put out on the turn, Antonius bet $21,000, and both his opponents made the call, leading to the
on the river. This time Galfond led out for $56,000, Antonius called all-in, and Ivey called the bet.
Antonius:

Galfond:

Ivey:
Each player had hit the river, but it was Ivey's king-high flush that would scoop the $198,600 main pot and $36,400 side pot.
More to Come: The $100,000 PLO Cash Game is a two-week long affair, so PokerNews will be sure to bring you a recap of all the action from Part II, including the first appearance of Bleznick.
PokerNews is here to bring you all the latest poker action. Be sure to follow us on Twitter and like us on Facebook.