PokerStars.net NAPT Mohegan Sun Day 2: Overton Over the Field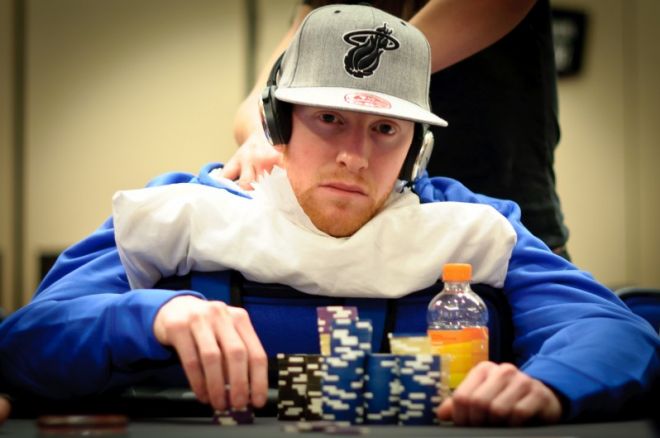 On Sunday, the surviving players returned to continue thinning the field at the PokerStars.net North American Poker Tour Mohegan Sun. Fewer than expected, 387 players started the event on Saturday. Chris Tryba, doing the most work in the room, set the pace after the first day. Still in contention heading into Day 2 were 229 others, though, including a swarm of sharks with familiar names like Victor Ramdin, Matt Glantz, and Jason Mercier.
Another recognizable shark, Vanessa Rousso rode a late-day charge into the top ten of the overnight chip counts, and her Day 2 began much as her Day 1 ended – with her dragging pots. She moved up close to 150,000 early on when her
rivered Broadway against a player holding
. A few orbits later, she was cresting 200,000 and very much in charge of her table. Her momentum began to fade as the day progressed, however. She dropped a chunk on a
board when, after calling a check-raise on the turn, her opponent showed down
. We never saw Rousso's cards, a trend that would continue a bit later in a confrontation with Aaron Overton. Rousso raised on a
flop, and she and Overton checked through the
turn. When Rousso called his half-pot bet on the
river, he turned over
, and Rousso mucked her hand. Overton got the rest of her chips during the penultimate level of the day when Rousso shoved the river on a
board. Her nemesis snapped with
, and once more Rousso's cards remained a mystery as she gathered up her belongings and shuffled briskly out the door. Overton took over the chip lead with that knockout and did not relinquish it for the rest of the day.
Rousso wasn't the only Team PokerStars Pro to run into some difficulties on Day 2, though. At the start of play, Table 2 included three Pros, among them the a former WSOP Main Event champion, as well as the current WSOP Main Event champion. Jonathan Duhamel was eliminated very early on when his
fell in a three-way pot that fellow Team Pro Joe Cada won a piece of. Those chips didn't stay with Cada long, either. He was eliminated just a short while later, followed out by Canadian Pat Pezzin, American Jason Mercier, and Team Online member George Lind III.
While players continued to fall by the wayside, a few of the Team Pros were finding themselves on very much the better side of the chip exchange. Ramdin and defending champion Vanessa Selbst both habitually enjoy playing more pots than your average player, and both were able to add to their stacks significantly during the six-level day. Ramdin had a mostly steady climb despite his volatile style. He managed to win one particularly noteworthy pot during the final level when his
cracked Steve Happas' pocket aces, drawing the loudest expletive we've heard in quite some time. The money got in on a
flop, and Ramdin found his out card as the
river boosted him up toward his finishing count of 296,100.
Selbst's chip trend was more of a mixed bag than Ramdin's, but she came out unscathed, clawing her stack up to an impressive 339,200 by night's end. In fairness to the player she eliminated, we should disclose that Selbst's biggest pot came right at the end of the night when she five-bet shoved with the monster that is
. She ran her rags right into an unfortunate soul with
, and the
board is the reason Selbst is still alive and kicking. Greg DeBora (the other Pro from Table 2) and Andrew Brokos round out the field of surviving PokerStars-sponsored players.
A few of the other familiar figures also managed to scarf up big stacks of chips as the field was whittled all the way down to just 74 players. Adam Geyer faded Bill Jennings' flush draw very early in the day to knock him out and move close to 200,000, and it was good foreshadowing of things to come. Geyer claimed the tournament life of Jim "Mr_BigQueso" Collopy on a coin flip a few hours later, and he moved over 300,000 when his
took care of Mike Trelski and his
, as well. Geyer five-bet shoved in a pot against Nick Binger late in the day, boosting his stack even further. He lost a big chunk back to Binger who managed a late double-up, but Geyer still has 267,300 chips to return to for Day 3.
In the not-so-flush-with-chips category, however, are about 175 people who failed to survive the rigors of the day. Cliff "JohnnyBax" Josephy, Tyson Marks, David Paredes, and Tony Cousineau were out within the first couple of levels, followed to the door by Craig Bergeron, Allie Prescott, Faraz Jaka, John D'Agostino, and former November Niner Eric Buchman. In the final level of the evening, Matthew Waxman dropped, as well, while Eric Froehlich and Binger survived their late all-ins to double back into contention.
After all the drop-outs, 74 players are still in the mix, and the bubble is near. The final 56 will get paid, which means 18 have made Day 3 in vain only to leave empty-handed on Monday. Play will begin again at high noon (1600 GMT), and the field will be reduced further down to the final three tables of eight. It's a pair of Aarons in the lead, but Overton is in front of Mermelstein and the rest of the chase pack by more than 200,000 chips. Olivier Busquet and Taylor von Kriegenbergh round out the top ten.
Between now and Monday, you should follow us on Twitter and become our fan on Facebook. It's the best way for you to get bits of poker news on your mobile device, and it makes us feel all tingly and warm inside too!